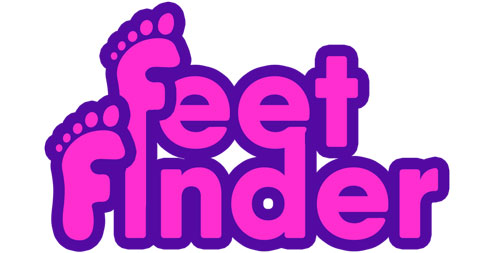 Trustpilot Rating – 4.8/5
With a 4.8 rating on Trustpilot, FeetFinder is an innovative online marketplace where individuals can connect to buy and sell personalized foot-related content. This platform offers a discreet and secure environment, allowing sellers to offer custom foot pictures, videos, and live sessions. Buyers can explore a diverse range of content and connect with sellers who share similar interests.
A re you looking for FeetFinder reviews? If you want to sell feet pics online and are considering signing up with FeetFinder, you've come to the right place.
Creating premium feet content can be challenging; finding a platform that rewards its creators doesn't have to be.
FeetFinder is an excellent platform that brings sellers and buyers together. 
Interestingly, selling feet pics is a legit business that can earn you thousands of dollars—you must be 18 and above to sell feet photos.
I understand that many websites and apps promise the moon but are just scam sites.
FeetFinder is a leading website to sell your twinkle toes pics and make extra dollars.
I combed through this site to see if it is legit! This blog is a complete FeetFinder review.
FeetFinder Rating
FeetFinder is rated 4.8 out of five on Trustpilot!
FeetFinder Quick Facts
FeetFinder was established in 2019 by Patrick Nielson.

FeetFinder is an adult content site focusing on feet pics and videos.

It is Payment Card Industry (PCI) compliant.

FeetFinder has over 1000,000 verified users!
FeetFinder is a niche site focusing on feet pics and videos.

You can sell feet pics anonymously.

Millions of verified users trust it.

FeetFinder offers a ready market for feet phones and videos.

Verified buyers, so you don't have to deal with scammers.
You can close your account whenever you want.
FeetFinder has dozens of content categories.
Sellers pay a subscription fee to use FeetFinder.

FeetFinder charges 20% of your sales.

Low sales for beginners.

Double fees.

FeetFinder doesn't have an app.
What Is FeetFinder And How Does It Work?
FeetFinder is a website exclusively for feet content sellers and buyers. Sellers sign up, list, and sell feet photos to feet lovers.
FeetFinder is free for feet buyers to join, so you'll have a ready market interested in your feet pics.
You can upload your feet photos and videos with eye-catching descriptions, and FeetFinder will automatically blur them to ensure you get paid.
Buyers can have a preview of your content before buying. 
The best thing is that FeetFinder ensures buyers provide their card information beforehand to eliminate scammers.
The FeetFinder platform uses Paxum and Segpay to secure payments, ensuring creators get value for their content.
Creating a FeetFinder account is pretty straightforward. You'll need your ID to verify that you're a legit seller. 
Is Selling Feet Pics A Legit Way To Make Money?
Before the detailed FeetFinder review, let's address the elephant in the room.
Is it legal to sell your feet pics? Yes! No law prohibits persons 18 and above from selling feet photos.
Selling feet photos and videos online requires only a camera and creativity. You can make it a side hustle or full-time business. 
Many people make decent income selling photos online, and feet pic are one of them.
There is a significant demand for foot photos by people who love beautiful feet and agencies for commercial purposes. 
If you love snapping cute feet photos, why not make money? Finding the right marketplace to sell feet pics is critical to earning decent money. 
FeetFinder Sign-Up Process
Click the sign-up button at the top right side of the website.
Choose your account; pick the sell feet pics button if you're a creator and want to sell pictures. 
Fill in your information, including your age, country, and specific location. Only people 18 and above can create a FeetFinder account.
The next step is age verification. FeetFinder needs your government-issued ID and a photo of you to verify your age.
Age verification is a must to eliminate fake accounts and underage users. 
Once you upload these documents, you'll complete your account creation by paying the subscription fee.
Your account will be ready in minutes, and you can start uploading your feet pics and videos.
FeetFinder Membership Packages
FeetFinder has two membership categories. You can sign-up for the basic or premium membership.
1. Basic Membership
This membership plan gives you the basic premium features to start making money.
With this plan, you can access the blur feature, chat, unlimited uploads, tips, and marketing tools.
How Much Is The Basic Membership On FeetFinder?
It'll cost $4.99 if you pick the monthly subscription or $1.25 for an annual plan.
Do you want a lifetime membership? The basic account costs $40 for a lifetime account.
2. Premium Membership
The premium membership offers all the features in the basic plan plus more.
Your content as a premium subscriber will appear at the top feed before anyone else's, which means more exposure and sales.
This membership place costs $14.99 if billed monthly or $2.5 per month, billed annually.
The lifetime option for premium membership is available for $80.
FeetFinder Features
Many creators prefer FeetFinder over other platforms for its many incredible features.
If you're looking for a secure platform that guarantees payment, FeetFinder is it. 
1. Security
Security is the biggest concern for many content creators. I'd be wary of a site that requires my personal information yet has no airtight security. 
FeetFinder complies with PCI standards! No third party can access your confidential information.
Additionally, it is SiteLock verified; FeetFinder is spam and malware free and uses the Secure Socket Layer to protect you.
Furthermore, FeetFinder can blur your albums and videos so only paying buyers can access them.
Importantly, you can delete your account with ease. 
2. Anonymity
Do you want to sell your feet pics but don't want to show your face? FeetFinder is the place!
You can reveal your face and other details or remain anonymous.
Understandably, FeetFinder may require your phone number when signing up.
They need your contact number to send instant dms so you can stay in the loop with your clients. 
FeetFinder will keep your phone number private from anyone else. No creeps bugging you here!
3. Chat Feature
The chat feature on FeetFinder is avant-garde!
You can talk to your clients in real-time, offering them personalized content. 
Conversation with your potential feet pics buyer can help you understand their interests better, so you can tailor-make premium content. 
Remember, FeetFinder encrypts your chat conversations, and no one else can access them, not even the FeetFinder admins!
4. Hundreds Of Content Categories
Having a niche can help you create a unique brand. FeetFinder has hundreds of content categories to list your albums.
Whether you want to focus on high heels, dancer, pedicure, tattoo, or nail polish content, FeetFinder has many options.
Various categories are an excellent opportunity to push your content to the right buyers, which means more money to your wallet.
5. Subscription Feature
Another thing setting FeetFinder apart is the subscription feature. This feature enables you to offer custom content to your raving buyers.
Instead of having them buy individual feet pics, they can pay a monthly fee to view all your content.
Furthermore, you can use this feature to ensure that only subscribers can chat with you or ask for custom feet pics. 
6. Upload Unlimited Content
Do you want to list as many photos as possible? With FeetFinder, you can upload an unlimited number of albums.
Adding more than 15 photos per album gives your buyers various options.
The maximum album size you can upload at a time is one GB, and the video size should be ten minutes.
Importantly, uploading content is easier and faster. 
7. Dedicated About Page
You can add and customize an About page on the FeetFinder website.
This dedicated page enables you to add links to your social media profiles. 
Create a stunning About page to stand out more.
8. Analytics Feature
The analytics tool on FeetFinder helps to track content performance.
This feature lets you check content views, profile visits, and revenue. 
Understanding your content performance on the platform can help tweak where necessary for the best results. 
9. Live Cam
The live cam feature lets you provide real-time foot content to your buyers.
10. Verification Badge
Do you want to be a verified feet content model? FeetFinder has got your back! It has a verification feature for famous models.
Apply for a verification badge once you have many subscribers on the platform.
A verification badge solidifies your credibility and will likely earn many buyers' trust. 
11. Referral Program
You can tell your friends and social media followers about FeetFinder and earn money.
You'll get a unique referral link once you sign up for the FeetFinder affiliate program. 
Get 10% of the new subscriber fee on anyone who signs up for FeetFinder and pays the subscription fee.  
How To Start Making Money On FeetFinder?
Making money on FeetFinder can be pretty straightforward. Quality content is critical to standing out and generating revenue on FeetFinder.
Once your account is up, create quality and unique content. Utilize keywords on your pic description and optimize your content for the search engines. 
Maximize your earnings by creating attractive packages for your customers.
A subscription bundle is perfect for those who want to view all your content, and you can charge a monthly fee. 
A monthly subscription package is ideal for those die-hard fans.
Create a pay-per-view package for those one-off customers. 
How Much Can You Earn Selling Feet Photos On FeetFinder?
FeetFinder states you can earn between $20 and $1000 selling feet pics. The exact amount you can make from your feet pics depends on your efforts. 
You've got to aggressively market your content through other platforms like Instagram or TikTok. 
Another thing is consistency and quality content. Build a brand unique from everyone else on the platform.
Experiment with various photo categories until you hit the jackpot! Rinse and repeat.
Please get to know your client's needs and tailor-make content to their taste.
Remember, consistency pays; Be creative and publish albums frequently, providing fresh content. 
How Do You Withdraw Your FeetFinder Payment?
FeetFinder will pay you every week, provided you hit the minimum threshold. 
The minimum payout is $30; they pay it through Segpay in the US or Paxum if you reside in other countries.
You don't need to have an account with either of these payment platforms to get your money.
FeetFinder will release 80% of your earnings and keep the 20% to cover the platform services. 
FeetFinder Reviews And User Experience
Many feet content creators love FeetFinder for its simplicity and user-friendliness.
This website has over 5,700 reviews on Trustpilot, and 91% gave FeetFinder five stars.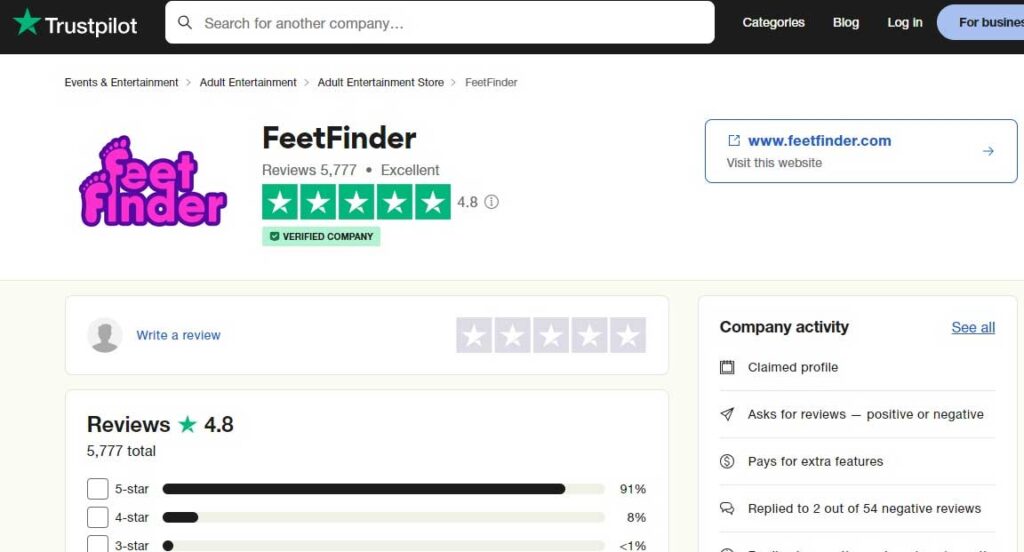 Mermaid Asoona recommends FeetFinder because it is easy to navigate, upload content and check details.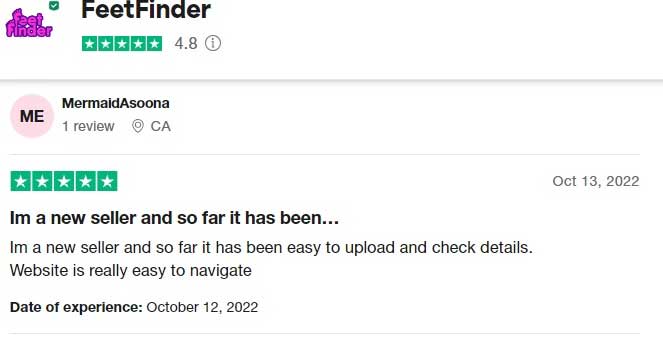 LA, another FeetFinder user, prefers this website over OnlyFans because it is easy to navigate. 
Erik Streep tried this site and got a buyer, and they are hoping to sell more content.
FeetFinder Drawbacks
While FeetFinder swims in thousands of positive reviews and recommendations, there is a downside to it you must know. 
One dissatisfied user doesn't recommend it because making a sale can be challenging.
Not selling anything on the platform can be discouraging since you pay a fee to use the site.
Kathryn says the site is full of scammers. The last thing you want is to fall into the trap net full of scammers hungry for your money. 
The above are some things to consider to save money in the process. 
FeetFinder Reviews On Customer Support
Going by the Trustpilot reviews, FeetFinder has excellent customer support. You can reach them via email hello at FeetFinder.com.
They can help you tackle chargebacks or any issues regarding your account.
Is FeetFinder Worth It As A Seller?
FeetFinder is worth a shot if you're ready to build your brand on the platform consistently. It'll take time if starting from scratch with zero social media presence and marketing. 
Another thing is you need to focus on personal care, especially on your feet. Customers are willing to spend more on appealing feet pictures. 
Furthermore, you might need quality cameras, production, and editing equipment to produce quality photos and videos.
Do you have a significant number of social media followers? Are you looking for a niche platform to sell feet pics? Create a FeetFinder account.
FeetFinder Compared To OnlyFans
FeetFinder is a niche site for foot pics and videos only.
OnlyFans, on the other hand, deals with oodles of content. 
FeetFinder gives you options to generate revenue, while OnlyFans is subscription-based only. 
You can make money on FeetFinder through monthly, pay-to-view, and yearly subscriptions.
Another thing is that the FeetFinder subscription fee is lower compared to OnlyFans.
The minimum cost to create an OnlyFans account is $4.99 monthly, while FeetFinder charges a minimum of $1.25 monthly.
OnlyFans is full of fetishists looking for explicit foot content, which can be annoying if you're not into that content type.
FeetFinder, on the contrary, is a niche site, and you can sell your feet pics to genuine foot worshippers and agencies for commercial purposes.
How To Be Successful At Selling Feet Pics On FeetFinder?
Making a decent income on FeetFinder depends on your effort. Little tweaks here and there can help boost your earnings. 
1. Know the best-selling feet content
Find the right content niche and run with it. Research and understand the feet pics that sell best on FeetFinder.
Best-selling feet pics on FeetFinder include high heels, soles, and painted toenails.   
2. Upload quality feet pictures and videos
Quality images and videos are key; upload high-quality content on the platform to attract paying customers.
Invest in personal care, a good camera, and lighting equipment. Get portable photography lights to shoot content in different locations.
3. Set reasonable feet pics prices
Understandably, selling your first feet pic can be the hardest job.
Set reasonable prices and focus on establishing credibility and solid relationship with your clients.
Consumers on the app pay more for their favorite sellers.
4. Respond to chats on time
Timely communication is another way to succeed on FeetFinder. Set chat notifications and log in to your account regularly to avoid missing a sale.
5. Market your feet pics aggressively
Marketing plays a huge role, too. Use keyword descriptions when uploading your albums and videos.
Interesting keywords will put your content on the right customer's radar. 
Additionally, you can market your feet pics on social media. FeetFinder can link to your Instagram, Twitter, TikTok, Facebook, and Youtube.
Connecting to your social media accounts makes sharing links to your feet pictures on FeetFinder easier.
6. Request for customer reviews
Ask for customer feedback. Reviews will help you gain trust with potential new buyers.
The chat feature makes it easy to ask for reviews.
7. Be consistent on FeetFinder
Building your business on FeetFinder requires consistency. Strive to upload content regularly to boost your visibility on the marketplace.
Showing up consistently also gives your followers a fresh source of interest and entertainment. 
Make Money Selling Feet Pics On FeetFinder
If you love taking feet pictures and videos, you could make good money from selling them on FeetFinder.
With thousands of FeetFinder reviews from sellers, it proves to be a legit website to sell feet pics.
Go to FeetFinder.com to create your account.
The vital thing to note is that you should be over 18 to sign up for sites like FeetFinder. Invest in your photography skills and be creative. 
FeetFinder Reviews is one of the many reviews in our library. Join our mailing list to get reliable and unbiased product/service reviews.