I f you're a resident of Missouri and in search of support for various aspects of your life, there are several programs and grants available to women that can provide valuable assistance. 
Whether you need help securing food for your family, affordable childcare, access to healthcare coverage, or financial support for your college education, Missouri has resources to offer.
10 Grants For Single Moms In Missouri
These 10 grants for single moms in Missouri cover essential areas such as housing, education, and healthcare, providing invaluable assistance to those navigating the complexities of single parenthood.
1. Temporary Assistance For Needy Families (TANF) In Missouri
TANF in Missouri is a state-administered program aimed at providing temporary financial assistance to low-income families with dependent children. 
The program's primary goal is to help families achieve self-sufficiency through a combination of financial support and employment-related services.
Eligibility Criteria:
Families must meet specific income guidelines, which vary depending on household size.

Applicants must be Missouri residents and U.S. citizens, legal aliens, or qualified non-citizens.

Families must have dependent children under the age of 18 (or 19 if they are full-time students in high school).

Able-bodied adults are generally required to participate in work-related activities, which may include employment, job training, or community service.
How To Apply:
1. Online Application: Apply through the Missouri Department of Social Services website.
2. In-Person: Visit your local Family Support Division office to fill out an application in person.
3. Phone Application: Contact the Family Support Division toll-free at 855-FSD-INFO (855-373-4636) to apply by phone.
Required Documentation:
Proof of identity and citizenship or legal residency for all household members.

Income verification (pay stubs, tax returns, etc.).

Social Security numbers for all household members.
Note:- It's crucial to note that eligibility criteria and application processes may be subject to change, so applicants should verify information through official sources or consult with the Missouri Department of Social Services directly.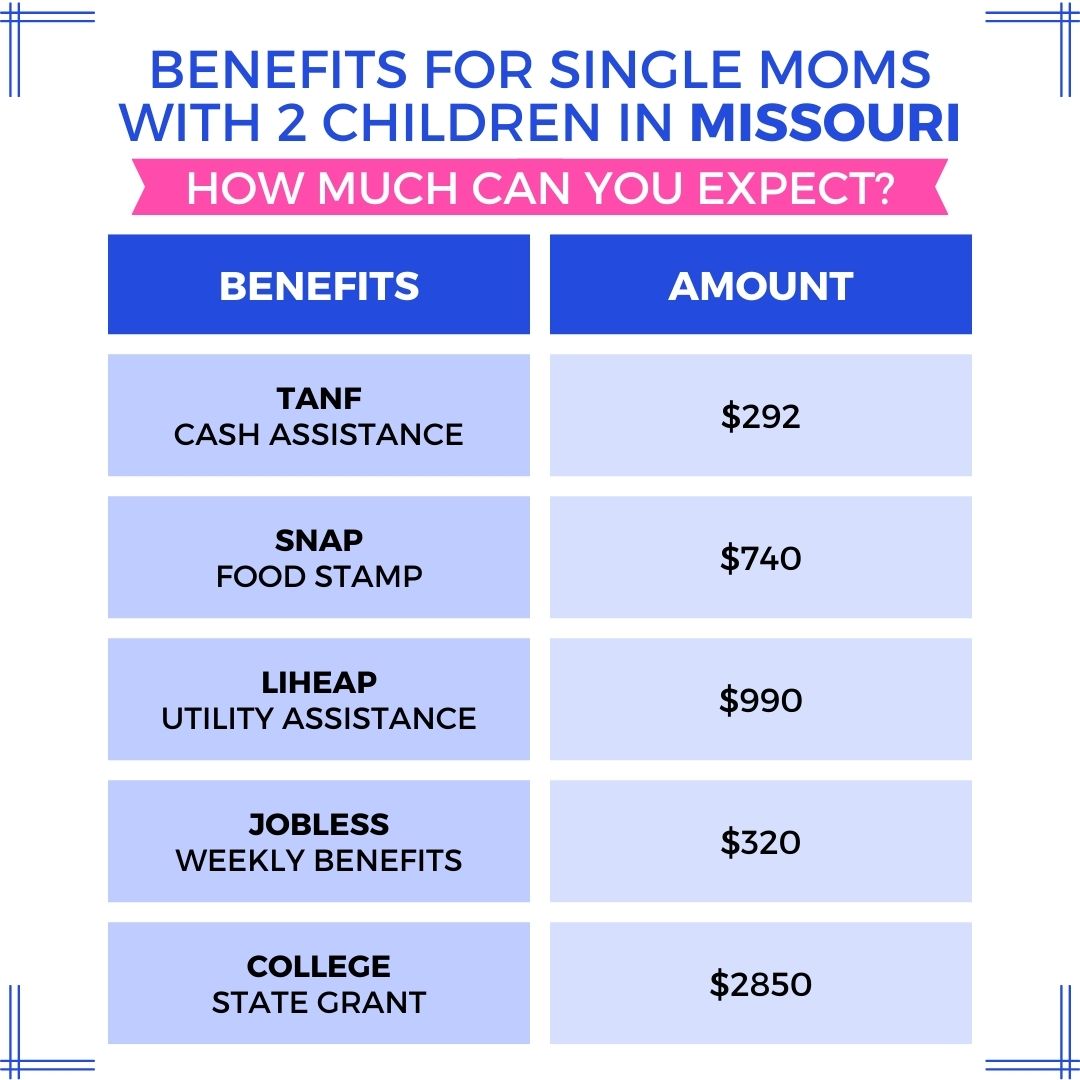 Source: Singlemotherguide.com
2. Supplemental Nutrition Assistance Program (SNAP) In Missouri
The Supplemental Nutrition Assistance Program (SNAP) in Missouri provides crucial support to eligible individuals, families, including children, and those who are employed but still facing financial difficulties. Its aim is to ensure access to nutritious meals.
Eligibility Criteria:
Eligibility primarily hinges on your income and the size of your household. Generally, families with an income below 130% of the federal poverty level may qualify for SNAP benefits.

Applicants must be Missouri residents.
How To Apply:
In-Person Application: Visit your local Family Support Division (FSD) office to complete and submit the application. An interview will be scheduled for application verification and review.
For further information regarding eligibility and benefits, you can contact the Family Support Division at 855-373-4636 or apply from the website.
Benefits And Allotment:
Each participating household receives an allotment of food benefits based on the USDA's "Thrifty Food Plan," which is adjusted annually according to the U.S. Department of Labor's food cost analysis.
Households receive SNAP benefits through the Missouri Electronic Benefit Transfer (EBT) system. 
These benefits can be used to purchase any food or food products intended for human consumption, except for alcoholic beverages, tobacco, hot foods, or foods prepared for immediate consumption.
3. Child And Adult Care Food Program (CACFP) In Missouri
Missouri's Child and Adult Care Food Program (CACFP) plays a vital role in enhancing the nutritional well-being of Missourians. 
By offering reimbursement for meals that adhere to established nutritional standards, the program ensures that individuals in approved facilities receive balanced and nourishing food.
Eligibility Criteria:
CACFP provides nutritious meals and snacks to children enrolled in child care centers, family child care homes, and after school programs.

The program also extends its benefits to eligible adults in emergency shelters and adult day care programs.
How To Apply:
Applying for participation in the CACFP in Missouri involves three essential steps:-
Fill out the necessary application forms to initiate the process.

Provide all required documentation as specified in the application guidelines.

Undergo a compliance review to ensure that the facility meets the program's standards. Upon successful review, approval will be granted.
Calling all single moms to level up their financial game!
(By subscribing, you agree to our terms & conditions, privacy policy, and disclaimer.)
6. Missouri Transitional Child Care
If your income surpasses the threshold set for the regular Child Care Assistance Program, Missouri provides an alternative through Transitional Child Care. 
This program contributes towards a portion of your child care expenses.
Eligibility Criteria:
Parents who are engaged in work, attending school, or participating in job training programs, and have an income ranging from 151 to 242 percent of the federal poverty level, may qualify for Transitional Child Care.
How To Apply:
1. Upon determination of eligibility, you will receive an official notification from the Family Support Division (FSD).
2. You must promptly complete the application provided and return it to your local FSD office before the specified due date.
For further assistance or inquiries regarding your application, feel free to reach out to the Family Support Division at 1-855-FSD-INFO
7. Missouri Special Program For Women, Infants, And Children (WIC)
Missouri's Women, Infants, and Children (WIC) program is a vital supplemental nutrition initiative designed to support pregnant, breastfeeding, and postpartum women, along with infants and children up to age 5, who meet specific income eligibility criteria.
Eligibility Criteria:
In addition to mothers and children, fathers, grandparents, guardians, and foster parents residing with eligible children can also apply for WIC benefits.

To qualify for WIC, you must be a Missouri resident and individually assessed by a healthcare professional to be "at nutritional risk."

WIC is accessible to Missouri families with a household income equal to or less than 185% of the poverty level.
How To Apply:
To initiate the application process for WIC benefits, you must visit a WIC agency in person. If you require assistance in locating a nearby WIC agency, please reach out to TEL-LINK at (800)-835-5465.
(Important Update: Missouri has transitioned from paper checks to the electronic WIC card, known as eWIC. This transition occurred in waves and was completed by early 2020.)
For further details on the program and its application process, please visit the Missouri Department of Health & Senior Services – WIC Program.
8. Missouri Low Income Home Energy Assistance Program (LIHEAP)
The Missouri Low Income Home Energy Assistance Program (LIHEAP) extends critical support to eligible low-income households, aiding in the payment of their energy bills. 
This program offers a one-time payment to help offset heating and cooling expenses.
Components Of Missouri LIHEAP:
1. Energy Assistance (EA):
This component provides eligible households with a payment ranging from $306 to $990, which is directly remitted to the utility company. 
Priority is given to households with the lowest income and the highest heating costs.
2. Energy Crisis Intervention Program (ECIP):
If your energy supply is at risk of being disconnected or has already been shut off, you may be eligible for further assistance through ECIP. 
This program provides up to $1,200 in the summer or $1,600 in the winter.
Eligibility Criteria:
Applicants must be residents of Missouri.

Individuals or families requiring financial assistance for home energy costs are eligible.

Participation in certain other benefit programs like SNAP, SSI, or TANF automatically meets the eligibility requirement.
How To Apply:
The LIHEAP program in Missouri operates year-round, allowing applications for heating or cooling assistance from October through September.
To request an application, call (855) 373-4636. Once received, complete the application and mail it to your local agency.
9. Missouri Unemployment Insurance (UI)
Missouri Unemployment Insurance (UI) offers temporary financial support to workers who find themselves unemployed through circumstances beyond their control. 
The program aims to provide a safety net for individuals during periods of unemployment when suitable work opportunities are not readily available.
Eligibility Criteria:
Eligible claimants in Missouri may receive a maximum benefit amount of $320 per week.

The state provides a potential 20 weeks of unemployment insurance benefits for those who qualify.
How To File Weekly Unemployment Benefits In Missouri?
To initiate your claim for UI benefits, you can utilize either of the following methods:-
1. Phone Filing:
Jefferson City: (573) 751-9040

Kansas City: (816) 889-3101

Springfield: (417) 895-6851

St. Louis: (314) 340-4950
2. Online Claim Filing:
The online system is available 24/7, with the exception of a brief maintenance window from 11:30 p.m. on Saturday to 12:31 a.m. on Sunday, CT. 
File your claim online from the website.
For further details on the program and online claim filing, please visit the Missouri Division of Employment Security – UI Benefits.
10. Access Missouri
Access Missouri is a program crafted to offer Missouri students facing financial constraints the chance to pursue education at institutions of their choice, encompassing both public and private colleges and universities across the state.
Eligibility Criteria:
Expected Family Contribution (EFC) serves as a pivotal factor in determining eligibility. Students with an EFC of $12,000 or less are eligible to apply for this program.

The annual award amount is subject to change based on the state's allocation to the fund.
How To Apply:
To be considered for Access Missouri, applicants are required to file the Free Application for Federal Student Aid (FAFSA) by April 1. No additional application form is necessary.
Students who submit their FAFSA on or before February 1 are assured of receiving an award.
For additional details on Access Missouri, visit the official Access Missouri page.
Conclusion
We trust that the information provided about grants and assistance programs for single moms in Missouri has been valuable to you. 
Our aim is to empower you with the knowledge and resources needed to navigate your journey toward financial stability and personal growth.
Remember, you are not alone on this path, and there are programs and organizations in Missouri dedicated to helping single moms like you thrive. 
We wish you the very best in your endeavors and hope you find the support you need to achieve your goals.
Stay resilient, stay hopeful, and continue taking steps toward a brighter tomorrow!