A re you looking for the grants for single moms in Florida?
Raising children is beautiful and rewarding but comes with a hefty price.
Providing children with financial, medical, educational, and basic needs can be challenging for many parents, and it is harder handling everything for your kids as a single parent.
This blog is a complete guide to the grants for single moms from federal, state, and non-government organizations.
Continue reading to find out about financial aid, medical help, nutritional assistance, grants, or any other available assistance for single mothers in Florida.
You can receive support in whatever city or county in the State of Florida.
15 Grants For Single Moms In Florida
The State of Florida supports single-mom families, ensuring that you and your children can access affordable housing, food, health care, legal support, education, and protection without a hassle.
Below are excellent options to consider if you're a single mother to support your family in Florida. 
1. Florida Temporary Cash Assistance
Do you need help paying your bills as a single mother? Florida's Temporary Cash Assistance (TCA) program can help if you meet the asset, technical, and income requirements. This program supports families with kids under 18 by providing temporary cash for a maximum period of 48 months—for adults and unlimited for children. TCA ensures you can help yourself and your children while staying home.
Who Is Eligible For Temporary Cash Assistance In Florida?
You must meet the set requirements to qualify for Temporary Cash Assistance:
Be a US citizen or qualified and live in the State of Florida.
Earn an income less than 185% of the Federal Poverty Level.
Your total assets should be less than or equal to $2,000. To be eligible, the children must live with you or your relatives and attend school.
You need a social security number, and children under five should've had their childhood immunizations. 
How Much Temporary Cash Assistance Can You Get In Florida?
The amount of cash assistance you can get per month depends on the number of your children. It also depends on your shelter obligation, countable income, and the number of eligible household members. Visit Access Florida to apply for cash assistance. 
How Long Does It Take To Get Cash Assistance In Florida?
Once you submit your application and go through the eligibility interview, you'll get the processing time.
2. Re-employment Assistance Program
Are you a single mom with no job? You can qualify for the reemployment assistance program as a Floridian. Also known as unemployment pay or compensation, this program provides temporary cash relief if you've lost your job without fault or are planning to quit voluntarily as a domestic violence survivor. 
You must have been an employee working in Florida for the past twelve to eighteen months and earning above the minimum wage. File your application for the reemployment assistance program online or offline. Contact the Department of Economic Opportunity at 1-833-352-7759 for more help on the application process. 
3. Temporary Assistance To Needy Families
Another assistance for single moms in Florida is the Temporary Assistance To Needy Families Program. TANF provides cash relief for families to be self-reliant, ensuring that children continue to live in their homes. This program is only available for US citizens or legal aliens in Florida. 
You must have a child below 18 years in your household or are the child leading the home. Are you pregnant and need temporary cash assistance? Pregnant women can also qualify for this program. Apply for TANF online through Florida Access.
4. Supplemental Nutrition Assistance Program
If you need help putting a hot meal on the table, SNAP is the right program. You can use the SNAP benefits to get fresh produce, poultry, dairy, or fish products, providing nutritious food to your family. The federal government sponsors this program, and you must meet specific criteria to qualify. Once eligible, you'll get an Electronic Benefits Transfer Card at any approved food store/retailer nationwide. 
This assistance is strictly for getting food products, including seeds, to grow food for your family. The Supplemental Nutrition Assistance Program can help you provide healthy meals for your family. Apply for this program through the Access Florida website.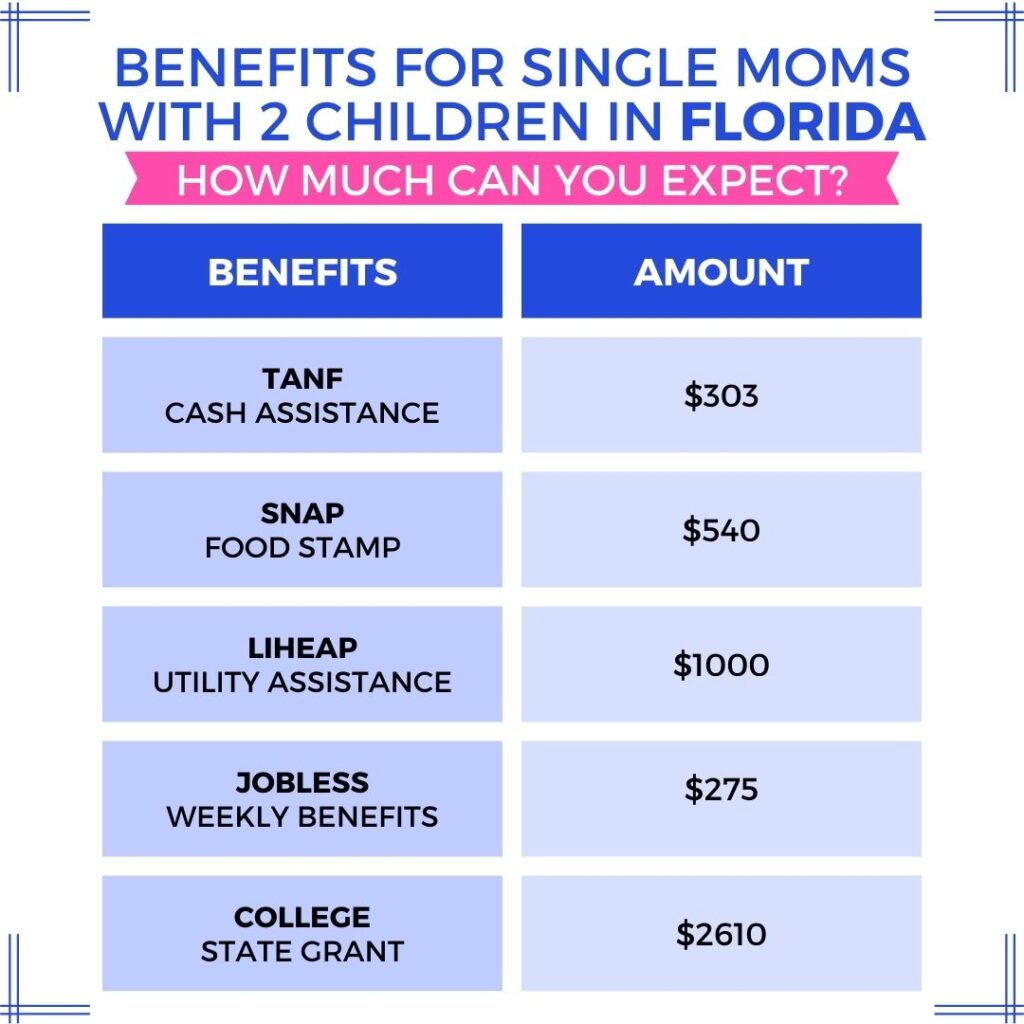 Source: Singlemotherguide.com
5. School Breakfast And Lunch Program
Providing nutritious meals for your child is crucial for their well-being at school. The State of Florida ensures you never have to worry about this as a single mom. 
NSLP (National School Lunch Program) is a federally-funded meal program providing healthy meals for learners. Parents, primary caregivers, and guardians can apply at the start or any time of the school year. 
The amount of relief funds you can qualify for depends on your household's size. For instance, if you're a household of three, you can qualify if you make less than $42,606 pre-taxes.
6. Florida Medicaid
Accessing quality health care is crucial but can challenge many single moms. Medicaid is a federal and state-funded program tailored to provide health insurance to low-income earners. 
This coverage helps you and your kids access quality health care without a hassle. Single moms can qualify if they're pregnant, have a child below 18, are disabled, or caring for a disabled family member. Apply for Medicaid Florida through the Access Florida website. 
7. Energy Assistance Program
Another excellent option to help you cut costs as a single mom in Florida is the Energy Assistance Program. The State of Florida, through various agencies, provides funding to help deserving households afford heating and cooling costs. 
Eligible applicants should be residents of Florida and earn less than 60% of the state median income. You'll need a recent energy bill, proof of income, utility termination notice, photo identification, and your social security card for the application. 
Contact your local LIHEAP agency to apply for assistance. You can qualify even if you enroll in other state or federal benefit programs. 
8. Child Care Assistance Program
Juggling between childcare and work as a single mom can be pretty soul-sucking. Having someone to look after your kids while you go out to fend for them can be a huge relief. 
If you're in this scenario, know that you're not alone, as many families face this challenge. Child care is expensive, and the School Readiness Program can be super helpful. This assistance can help you afford child care and early childhood education. 
Having someone to care for your kids ensures you focus on your income-generating activities or school if you're still studying. The School Readiness Program is available through the Early Learning Coalition. 
Contact a coalition near you to find out the eligibility criteria and requirements. Other childcare programs you can consider include KidCare and Florida Headstart.
9. Florida Resident Access Grant
Are you a single mom looking to return to school but lacking the money to fund it? The Florida Resident Access Grant supports students learning in independent, non-profit universities and colleges in Florida. 
This program assistance can help you earn the degree without plunging into the student loans pit. You must enroll for at least 12 credit hours per semester, undertaking your first undergraduate program. 
Apply to a participating private, non-profit institution. Your institution determines eligibility, deadlines, and application processes.
10. Disaster Unemployment Assistance (DUA)
The Disaster Unemployment Assistance (DUA) program offers crucial support to individuals facing unemployment due to federally declared disasters.
It provides temporary relief for those who wouldn't typically qualify for standard state unemployment benefits, including self-employed and gig workers.
DUA steps in during times of crisis, offering financial aid to help individuals get back on their feet after losing their jobs or self-employment income due to unforeseen disasters. For more information or to apply, call at 1-800-385-3920.
11. State Children's Health Insurance Program (SCHIP)
 The State Children's Health Insurance Program (SCHIP), also known as Florida KidCare, serves as a lifeline for uninsured children in low-income families.
This program ensures access to essential healthcare services, including doctor visits, hospital care, and preventive services.
By providing affordable health insurance coverage, SCHIP aims to safeguard the well-being of Florida's children, offering them the care they need to grow and thrive.
Apply for Florida KidCare at Florida KidCare or call or call 1-888-540-KIDS (5437) for assistance.
Best Survey Sites To Make Extra Money
Bag $300 monthly just for Dropping Your Opinions with Survey Junkie!
Grab Your Piece of the $879 Million Survey Pie with Swagbucks!
Daily Jackpot: Claim your share of $1000 with Inbox Dollars Opinion Bonanza!
Seize up to $50 per Survey with Branded Surveys!
Skyrocket Your Stash by 50% with PineCone's Special Formula!
12. School Readiness Program
The School Readiness Program is a vital resource for working single mothers in Florida. By offering financial assistance for child care services, it alleviates a significant burden on parents, allowing them to pursue their careers or educational goals with peace of mind.
This program plays a crucial role in ensuring that children are well-cared for while their parents work or attend school, creating a stable environment for both parents and their young ones.
Apply for the School Readiness Program through the Early Learning Coalition for further assistance.
13. Voluntary Pre Kindergarten (VPK)
Voluntary Pre Kindergarten (VPK) is a cornerstone of early childhood education in Florida. It provides free pre-kindergarten education for children aged four and older, giving them a strong foundation for success in kindergarten and beyond.
By offering 540 hours of educational instruction, VPK equips children with essential skills in areas like early literacy and social development, setting them on a path towards a bright and promising academic future.
To enroll in VPK, visit Florida's VPK or call (904) 208-2040 for more information.
14. Florida Head Start
Florida Head Start is a comprehensive early childhood development program that addresses the unique needs of low-income families.
By providing a wide range of services, including education, health, and nutrition support, it ensures that children aged three to five receive the necessary resources for their physical, cognitive, and social development.
This program serves as a critical stepping stone, preparing children for a successful transition into formal education and setting them up for long-term success.
Apply for Florida Head Start through the Head Start Locator  for assistance.
15. Florida Low-Income Household Water Assistance Program (LIHWAP)
The LIHWAP provides vital support for low-income households in Florida, including single mothers, struggling to cover their water and wastewater bills.
This program aims to ensure that essential water services remain accessible for those facing financial difficulties. To be eligible, individuals must meet specific income criteria and reside in Florida.
For application details and further assistance, please contact 1-833-352-7759.
Conclusion
The state of Florida offers a variety of grants for single moms designed to provide essential support during difficult times and empower them to build a brighter future for themselves and their children.
These grants cover various aspects of life and aim to alleviate financial burdens, promote education, and ensure access to vital resources.
Remember to stay updated with current program guidelines and requirements to make the most of the opportunities available to you.
Yes, there are special programs to help moms who are on their own in Florida. These programs can give money for things like homes, child care, and more.
Yes, there are special programs that can give you extra money if you're a single mom in Florida. They help with things like rent, child care, and other important stuff.
Some programs look at how much money you make and how many people depend on you. If you don't make a lot, you might qualify for extra help. But it can depend on the program.