I nsurance can be perplexed if you do not know what to look for. And some insurance companies develop a reputation for specific policies that don't necessarily pertain to life insurance. So which Insurance company do you choose for what you need? We've got you covered. Just check out this list of insurance companies and their policies so you can get precisely what you need. Find the best life insurance companies today.
The Zebra 
Need to find other options? The Zebra is here to help compare hundreds of different insurance companies to help you find the best policy. Find the best deals and save big on policies regardless of the company. 
History 
The Zebra is an independent insurance comparison site that helps find the best quote for home and auto insurances. The office is located in Austin, Texas, and has been around since 2012. The company was first founded in Pittsburgh, Pennsylvania. 
Adam Lyon and Joshua Dziabiak co-founded the company. Lyon, at the time, was unemployed, living in his friend's basement. The company went public in 2013.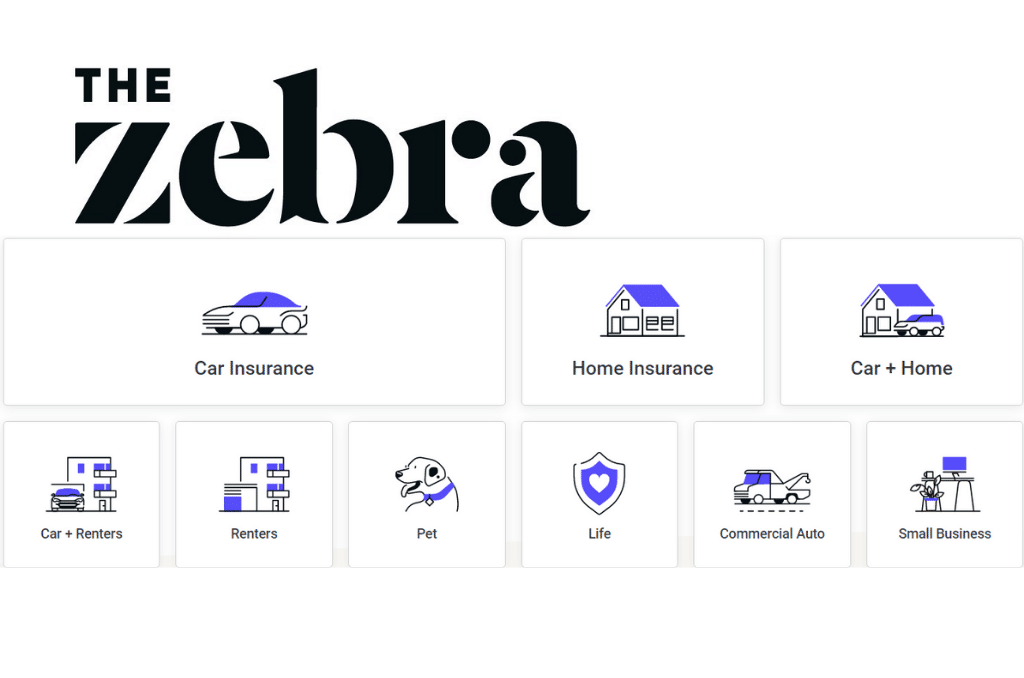 About 
If you want to get real-time online quotes, then The Zebra is for you. You just need to fill out an online form. Of course, the more questions you ask, the more accurate your results. Unlike National Family Insurance, The Zebra is not an insurance agency and an online marketplace. This works for customers since it guarantees that there are no biases in The Zebra's search results. 
Policies 
The Zebra mainly looks for companies dealing with auto insurance. However, that doesn't mean you might find some that sell life insurance along with auto.  Since The Zebra is not a life insurance agency, they can rate other companies without bias.  
Pros: 
Real-time quote tool 
Smooth online process 
Cons: 
Limited company partners 
Mostly for auto insurance 
Bestow 
Bestow is ready to help you get fast and affordable term life insurance. The best part is that you can get nearly instant coverage as soon as you apply.  
History 
This is one of the newest companies on the list, founded in 2017 in Dallas, Texas. However, they didn't start selling policies until 2018.  The company to this date is only four years old, which is youngest on the list. Because of that, there is not much history to the company. Despite this, Bestow has solid financial strength with very few complaints so far. 
About 
Bestow is one of those companies that is straight and to the point. They sell life insurance in a simple and easy process. To qualify for coverage, you must answer a few simple questions. Then, the algorithm will do the rest and set the prices with "algorithmic underwriting." 
Bestow is technologically sound, so no need to travel to an office or call to get your insurance. This simplifies the process needed to get insurance and helps lower prices. You may be able to find coverage for as little as $10 a montNew York is the only state where Bestow doesn't do business in. However, that may change shortly. 
Policies 
The company's biggest asset is the quick and easy turnaround for getting your coverage. You don't even need a medical exam to get fully covered, and you also won't be hearing many complaints from customers of this company. 
Bestow is still a new company, so it has some drawbacks. 60 is the age limit for coverage which is relatively low for most other life insurance companies. You may also figure out a limited number of coverage options. Only time will tell if this company can grow to issue more and better life insurance deals. 
Pros: 
Quick coverage 
No medical exam required 
Available in most states 
Few complaints 
Cons: 
No riders can be added to your policy 
Not available for people over 60 
Not as many options 
New York Life 
Need a dependable company? New York Life is best for reliable insurance. So, let the credentials work for themselves. 
History 
New York Life Insurance Company got its humble beginnings in Manhattan, New York, in 1841. It was called Nautilus Mutual Life to focus on marine insurance back then. Later, they switched their name to New York Life to focus on their life insurance policies.  
The company continued to grow due to a new system employing agents to help find potential customers. Other insurance companies would adopt this system.  In 2019, the company received the highest rating from 4 significant agencies. No doubt about it, It is one of the best life insurance companies around. 
About 
New York Life is the third-largest individual U.S. life insurer and the top mutual insurer. They have many insurance options and are ranked AM Best Rating of A++, and these are some of the highest financial strength ratings you can get. So, you know that you are getting a great deal with this company. 
The company puts a high emphasis on their whole life insurance products. They were also the first company to cover people with disabilities. Indeed, New York Life set a lot of firsts for other insurance companies. Of course, it's to be expected since New York Life holds the status of being the oldest company on the list. 
Policies 
You can get both term and permanent plans. There are also universal plans available, and veterans and groups members like AARP can also benefit from these plans. 
New York Life gives you plenty of rider options, including an accelerated death benefit rider. Let's not forget you also have options for paid-up additions. With all these good things to say about New York Life, you'd think there'd be no hiccups, right? Not exactly. New York Life needs a company specialist to identify the best options for you. 
Pros: 
Strong rating 
Great discounts 
Cons: 
Mutual of Omaha 
Want a customizable insurance plan? Then go for Mutual of Omaha.  
History 
Mutual of Omaha is based in Omaha, Nebraska. The company was founded in 1904 as a joint company, and it was called Mutual Benefit Health & Accident Association until 1950 when it was changed to Mutual of Omaha. It wasn't until 1926 until they started selling life insurance for groups and individuals. 
About 
I don't think you need to settle with just life insurance. Mutual of Omaha sells a wide variety of insurance products, from general insurance to Medicare. They also benefit both  businesses and individuals. That coupled with the plethora of life insurance plans means Omaha's got you covered. For customization purposes, it is the best life insurance company.
Insurance isn't the only thing Mutual of Omaha is famous for. For example, in the 1960s, they set the standard for wildlife documentaries with its wildlife show Mutual of Omaha's the Wild Kingdom. 
Policies 
Ranked #5 for affordability, Mutual of Omaha has a wide variety of customizable life insurance policies. That, and the number of potential riders is outstanding. Did we also mention you are insured for up to 120 years? Long-lasting customized loans are a great feature few other companies have.  It may be hard to keep up with so many options to choose from, especially with the lack of online tools to help new customers. But, despite that, Mutual of Omaha will likely have something just for you. As long as you are able to keep up. 
 Pros: 
Lots of different products 
Highly customizable insurance policies 
Long age coverage 
Cons: 
Limited resources 
Need an agent to purchase life insurance policies 
Ladder 
Does getting coverage for up to 3$ million sound appealing to you? We think so too. Not to mention the process is done %100 online.  
History 
The Ladder is based in Menlo Park, California, and is a relatively new company founded in 2015. Ladder Financial Inc. is an insurtech company whose life Allianz lives in New York issues insurance policies. 
About 
Their application process is quick and easy, with everything done online. They also set themselves apart by waiving policy fees, and Ladder only offers term life insurance options. 
Policies 
While there are fewer options available for its customers, the company does offer a %100 online process that's simple and easy to navigate. Their policies are also able to cover you for up to 3 million dollars. That's a lot more than most companies on this list. 
It is another company that can only cover you up to 60 years. If you are approved, the limits on the number of riders and customizable options may turn some people away. However, if you need something simple, it shouldn't be a problem. 
Pros: 
The process is %100 online 
No policy fees 
Up to $3M if approved 
Cons: 
Not available to people over 60 
It doesn't offer any optional riders 
Fewer customization options 
State Farm 
While State Farm is best known for bundling, that doesn't mean they don't have great life insurance. You can even look into bundling your life insurance with other insurances to get a better deal. 
History 
State Farm specializes in a little bit of everything, including life insurance. Since 2020 they even started offering pet insurance. The company began in 1922 with auto insurance and has risen to be the largest insurance provider in the U.S.  
About 
While they have fewer discounts than most, they have many coverage choices available. Availability is a vital asset for State Farm. In total, there are about 19,000 independent agents around the U.S. ready to help customers with insurance. However, please note that you. You can't get your insurance through an independent agent. 
The company has a high A++ rating. 
Policies 
Despite State Farm being known for home or auto insurance, that doesn't mean that they don't offer extensive coverage on other types of insurance. You can get a life, liability, health, and so much more, and you can even bundle some together for even more savings. As of 2020, they now offer pet insurance. 
Pros: 
Available in all 50 states 
Strong rating 
Lots of local agents 
Cons: 
Fewer discounts than competitors 
Insurance policies are not available through independent agents 
Transamerica 
Once in a while, you may find a company that surprises you. Transamerica is one of those companies that offer some unique features.  
History 
This company is one of the oldest. It was founded in 1904 and served both individuals and companies as it does today. The company base used to be located in San Francisco, California, when it was first founded.  The Transamerica Pyramid, which served as the company's headquarters, still stands. Now, the company is located in Cedar Rapids, Iowa. Back then, it was all about providing customers with banking services. Today, the company includes life insurance policies along with mutual funds, retirement services, and more. 
About 
Transamerica prides itself on innovation. That innovation comes from partnerships from institutions dedicated to research plans for financial planning. This strategy helps them with simple ways to help their customers find the best insurance. Suppose you need some professional help. In that case, you may need to find another company as Transamerica has no professionals available. Though, there are available resources. They are the eight largest life insurance providers in the U.S. Despite this, customers don't always find the company helpful. This doesn't mean the company is terrible, and their customer rating is average. When compared to other large companies, the average can seem pretty low. 
Policies 
Transamerica offers standard life insurance policies, including term, whole, and universal. One most important thing that sets the company apart from the others is that they also provides Final Expenses. Insurance Policy, which helps people deal end with living costs. They have one of the most significant age ranges for insurance ranging from 0 to 85, and most policies are guaranteed issued.  
Pros: 
Final Expense Insurance Policy 
Available in all 50 states 
Large range for issuance 
Cons: 
Not the best customer rating 
No access to professionals 
Petplan 
Ok, so we may be cheating here a little, but pets are part of the family too. A pet life insurance plan can help keep you covered when an emergency strikes. 
History 
The company was started in 2003 by Chris and Natasha Ashton. It all started with a very. Expensive vet bills they received. Since then, the couple has wanted to help others relieve the cost of their pets. However, it was not until 2006 that they started selling their policies. Its headquarters are located in New York City. 
About 
When it comes to pet health insurance, Petplan is one of the best companies to choose. They are one of the leading pet insurance providers, and they help pay for regular vet visits and those emergencies we just mentioned. However, a big downside is that they only cater to dog and cat owners. They also produce a quarterly magazine called fetch! for pet owners. The magazine focuses on healthy pets. 
Policies 
Petplan isn't stingy with its age range. You can get coverage for your pets starting at six weeks until they are well into their senior years. The amount of coverage you get is extensive, and you can have up to %90 of your vet bill covered from unexpected emergencies. There is also a plan covering exam fees, hereditary conditions, chronic conditions, and dental. Not to mention programs that help with holistic care, boarding, and virtual visits. You don't even have to worry about visiting a different vet.  Sounds too good to be true? Petplan doesn't cover preventative care, nor do they have any multi-pet discounts.  
Pros: 
You get to choose your vet 
Extensive coverage 
No age limit for animals 
Cons: 
No multi-pet discounts 
No preventative care coverage 
It only covers cats and dogs 
John Hancock 
No, we aren't talking about a signature here. John Hancock is arguably the most unique life insurance company on our list with its innovative policies. 
History 
John Hancock Life Insurance Company, U.S.A was named after one of America's Founding Fathers, John Hancock. The company was founded in 1862 in Boston, Massachusetts. Their headquarters is often called the "Old John Hancock Building."  John Hancock is one of the oldest companies on the list, being in business for almost 160 years. 
About 
Getting your insurance from an older company doesn't mean you are getting a weak deal. In fact,John Hancock is the 5th largest life insurer in the U.S. In addition, this experienced company has created unique and innovative ways to help its customers.  
The uniqueness comes from the innovative way John Hancock deals with its policies. The company is very health-oriented, and it is possibly the only insurance company that actively encourages its customers to live a healthy lifestyle by offering guidelines and discounts. These are specifically for people who are either sick or to encourage customers to make healthier choices. 
Policies 
Ever heard of Aspire? This innovative life insurance policy is a John Hancock exclusive, and it's a policy entirely for people with type 1 and type two diabetes. John Hancock also has a program that provides a fitness tracker so you can earn refund points. These are only just a few of the programs available for their customers to encourage healthy living. 
The company also helps with mutual funds, retirement plan services, and college savings plans with no medical exams required. 
Pros: 
Health-oriented policies 
Refunds for healthy living 
No medical exam requirements 
Cons: 
Below average customer rating 
No permanent coverage for term policies 
Guardian 
With a name like "Guardian," you know you're partnering with someone wanting to protect you and your interest with reliable insurance plans. Protecting your wealth is what The Guardian Life Insurance Company of America is designed for. 
History 
The Guardian was founded by a German immigrant named Hugo Wesendonck in 1860. The company was initially called Germania Life Insurance company and specifically catered to the large amounts of German immigrants and refugees entering the U.S. at that time. In 1868 they became the first Insurance company from the U.S. to open in Europe. 
About 
Guardian is one of the largest insurers in the world.  They focus on their customer's wealth by enacting tax-advantaged plans to help with wealth transfer, which allows customers to build and borrow tax-free cash values.   Guardian has a solid A++ rating, but complaints have caused the company to fall below average with the NAIC. This may be due to a 2009 controversy involving Guardian canceling insurance to Ian Pearl without offering a replacement plan. Ian had muscular dystrophy, and his medical costs added up to a million a year.  The Guardian ended up reinstating Ian's plan due to the controversy, and "Ian's Law" was created to help those in similar conditions. The law requires insurance companies to offer a replacement in the case of canceling a current plan. 
Policies 
EstateGuard Whole Life Insurance is a life policy designed to transfer your wealth. Suppose you're not worried about the lengthy approval process. In that case, you'll be able to enjoy the perks of this policy's built-in life benefits. Not to mention the excellent selection of riders you can add, like a child or spouse. Note that you need to talk to a representative to get a quote for EstateGuard. Other products include dental, disability, and more. In addition, you can get both term and permanent life insurance. 
Pros: 
Life plan designed to transfer wealth 
Plenty of available riders to add on 
Cons: 
No online quotes are available for Long approval process.
Did you find what you were looking for? This list has some definite odds and ends to help you find the best company to help fit your needs. Are you looking for dependability? New York Life is for you. Do you favor ideas that John Hancock promotes? Perhaps some policies appeal to you more? Whatever the reason, you're sure to find a company to help you out.