T ax season always brings questions with it. Usually, these questions are things you have to look up every year, just to be sure. You find your search history full of searches like, "What's a tax bracket? How do I file my taxes? Where should I file my taxes this year?"
Filing taxes in 2023 brings even more questions than usual. The COVID pandemic continuing all the way through 2021 means the government made some financial changes in the last year. These changes have included the child tax credit, stimulus payments, and changing deadlines. 
Finding information on filing your taxes can be time-consuming and difficult. That's why Penny Calling Penny has put together one big resource for surviving the 2023 IRS tax season. Since each state has different rules, we'll focus mostly on filing your federal tax return.  This guide will help you come out of filing with your sanity (and a big return). 
How to File Your Tax Return
No one likes doing their taxes. Taxes are so hated, they're usually something of a joke. When it comes to surviving the 2023 tax season, there's one important thing to remember about filing a tax return. 
It's only paperwork. So how do you file a tax return? You just need to fill out the paperwork as accurately as possible. How do you fill things out accurately? Prepare ahead of time.
Most people who find filing a tax return difficult and stressful aren't well-prepared for tax season. When you have everything ready, filing your tax return can be quick and easy. So what do you need to file your tax return?
Well, first, you'll need some official forms for your income. These can include W-2s, W-4s, 1099s. These forms are usually sent to you by your employer, though 1099s are for self-employed people.
Income forms are to let the IRS know how much money you made in the previous year. This helps them to sort you into a tax bracket and determines how much you'll pay in taxes. (More on that later.)
Next, you might need some deduction forms. These can include 1098s, 1095s, and 1040-As. These forms record how much money you spent on things that are considered "tax-deductible". "Tax-deductible" means this amount will be removed from your income, which can lower you by a tax bracket so you pay less in taxes.
Finally, you'll put all of this info into a Form 1040. There are a few different versions of this form depending on what your primary source of income is.
Basically, the better prepared you are to check the boxes on your form 1040, the easier filing taxes will be. Depending on your situation, you might have other forms to fill out, so ask your tax expert about any special circumstances.
2022/2023 Tax Brackets
Now that you know how to file your tax return, let's take a quick look at tax brackets. First of all, what is a tax bracket? In short, a tax bracket determines how much you pay in taxes.
This is because your tax bracket is (roughly speaking) the amount of money you make in a year. The amount you pay in taxes is based on your yearly income, so knowing your tax bracket can help you avoid nasty surprises.
Your tax bracket will also change based on your status. For example, the tax bracket for a single person is different than someone who is married and filing jointly.
Now, this is where it gets a little tricky. When you're in higher tax brackets, you'll pay different tax rates for each bracket. So for a single person, any income up to $9,950 is taxed at 10%. Any income from $9,951 to $40,525 is taxed at 12%. Income from $40,526 to $86,375 is taxed at 22% and so on.
This is why deductions are crucial. When you add a tax deduction, you reduce the amount of taxable income the IRS counts. This means you won't be paying taxes on that income, and can even switch the tax bracket you're filing your taxes in.
If you're working on filing your taxes in 2023, you'll actually need to know your 2021 tax bracket. You'll need to know your 2023 tax bracket when you go to file your 2023 return. Our friends over at Nerdwallet made a great chart for identifying tax brackets. They update it every year, so save the link for future filing!
Child Tax Credit 2023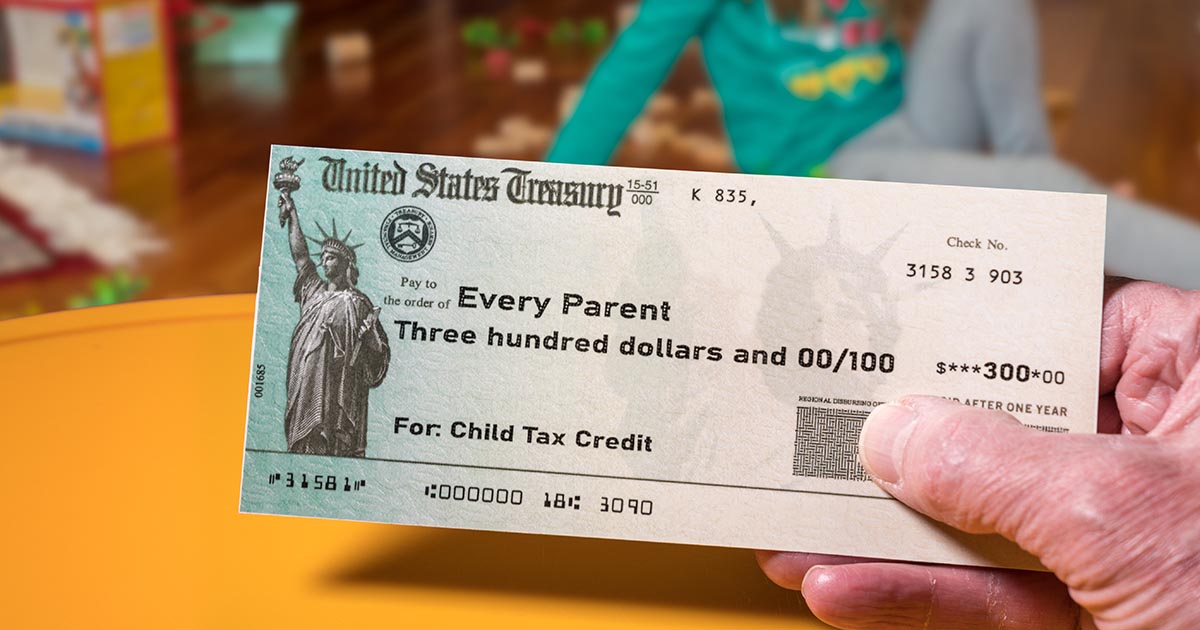 The child tax credit has been around since the 90s, believe it or not. When most people refer to the child tax credit, they're referring to the credit that was part of the 2021 COVID-19 relief package.
In 2021, the government did two things with the existing child tax credit. First, they increased the amount that families received from up to $2,000 per child to up to $3,600 per child. Secondly, for the first time ever, they allowed families access to this credit before filing their 2021 tax returns in 2023. 
So what does this mean for your taxes this year? First off, the 2021 child tax credit is not part of your taxable income. Secondly, if you opted out of the monthly payments, now is the time to claim them!
If you didn't opt-out of payments, you should be on the lookout for Letter 6419. This letter outlines the amount you received in child tax payments ahead of time. Using this letter, you can calculate how much of the child tax credit should be part of your 2021 tax return.
Also, keep an eye out for accidental overpayment. There are very specific qualifiers for the amount you receive from the child tax credit in 2023. Circumstances such as the amount of money you make, the number of children in your home, or the country you live in, all play a factor. 
If any of these changed in 2021, you might have accidentally been paid more than you were owed in the monthly payments. This means that rather than getting another child tax credit payment, you'll have to pay back the difference.
You can check your eligibility on the IRS's website or ask your tax expert.
Best Tax Return Software in 2023
Filing taxes on your own can be tricky if you have any kind of special situation. And, let's be honest, who doesn't have something out of the ordinary to report on their taxes? You might have a life event, like getting married, having a baby, or buying a home. You might be self-employed, have a side gig, or have a combination income.
No matter who you are, there's probably something on your taxes that gives you pause. Even if you don't have any questions at all about your taxes, how do you file your tax return? You could file a paper return, but the IRS, this tax season, has requested that you file your returns electronically if possible.
Electronic filing makes things quicker and easier for the IRS, meaning you'll get your tax return sooner. That's why the last section of our guide is dedicated to the three best tax filing software options out there.
TurboTax
During tax season, you can't take two steps without hearing about TurboTax, and for good reason. We can't get enough of Intuit's products, so you've probably heard us talk about CreditKarma and Mint in other articles. TurboTax allows you to file for free if you have a simple tax return.
What's a simple tax return? If you only have a W-2 and you work and live in the same state, you probably have a simple tax return. People without simple returns will love TurboTax's paid options that give you access to a tax expert over the phone or chat.
TurboTax is the best tax software for: Tech-savvy people who feel confident about doing their own taxes. People who don't have much info to input just have to check out TurboTax to get their taxes done as quickly as possible!
H&R Block
Of course, we'd be remiss not to mention tax and accounting giant H&R Block. Since 1955, this company has been helping you file your taxes, keep track of expenses and deductions throughout the year, and even manage your money better.
In the 2023 tax season, they have online and in-person options for filing. Their free option covers simple returns, too. When you need help, you can choose from one of their paid plans that allows you to speak with one of their tax experts. The average H&R Block rep has around 10 years of experience, so this is a perfect fit for those who have complex tax returns. 
H&R Block is the best tax software for: People who prefer to work in person, people who are unsure about filing taxes, and people who have complicated tax situations. People who are looking for complete peace of mind filing their tax returns will find it when they visit H&R Block.
TaxSlayer
TaxSlayer is beloved for its easy-to-use interface and uber-affordable prices. It's similar to TurboTax in many ways, but two things really set it apart.
With TaxSlayer, you can reach a tax expert even on their free plan. You might see a longer wait, but there will always be someone to help you. Their upgraded plans give you access to quicker support and more in-depth walkthroughs.
The second piece of the puzzle is their prices, especially for people who own a small business or freelance. While some tax sites have prices of up to $90 for this kind of tax return, TaxSlayer charges just $47!
TaxSlayer is the best tax software for: People who have complicated tax situations and are looking to save some money. If your budget is tight, check out TaxSlayer for professional help with your 2022/2023 taxes.
Surviving the 2023 Tax Season
There's no doubt about it: tax season is stressful. No one likes going over their finances with a fine-tooth comb at the best of times. When you need to fill out a load of paperwork about your finances, it's even more stressful.
We all wish we could skip the bureaucracy, but filing for your tax return is worth it. That bonus can help you take steps to greater financial goals, and the time you spend dealing with your finances can open the door to better financial literacy.
A kickstart for your savings goal and something to start us on the path to financial wellness? Yes, please! Find tips for budgeting your tax return right here on Penny Calling Penny, and stick around for more financial wellness tips. You can survive and thrive during the IRS 2023 tax season, so don't be afraid to start today!