T hanksgiving, a time-honored tradition that brings families and friends together, centers around a bountiful feast that warms hearts and delights palates.
As you plan your Thanksgiving dinner this year, why not infuse your menu with a delightful blend of cherished classics and innovative creations? 
We've compiled a list of 50 Thanksgiving dinner ideas that are sure to make your holiday gathering an unforgettable culinary experience.
Traditional Turkey Dinners
1. Roast Turkey With Classic Stuffing
A beautifully roasted turkey takes center stage, accompanied by a stuffing made from a medley of aromatic herbs, vegetables, and day-old bread. 
The stuffing absorbs the savory juices of the turkey as it cooks, creating a harmonious blend of flavors.
2. Herb-Roasted Turkey With Gravy
Elevate your turkey by infusing it with a fragrant mix of fresh herbs such as rosemary, thyme, and sage. 
As the turkey roasts, the herbs impart their essence, infusing each tender slice with an earthy, garden-fresh aroma. 
Rich gravy drizzled over the slices adds an extra layer of indulgence.
3. Smoked Turkey With Cranberry Glaze
For a smoky twist on tradition, opt for a succulent smoked turkey. 
The smokiness adds depth to the meat, while a glossy cranberry glaze imparts a sweet and tangy flavor that compliments the smokiness perfectly.
4. Deep-Fried Turkey With Spicy Rub
Deep-frying a turkey results in crispy skin and succulent, tender meat.
Coated in a spicy rub, each bite packs a punch of flavor.
The frying process seals in the turkey's natural juices, making for a memorable dining experience.
Get Ready to host the perfect Thanksgiving gathering!
Our checklist has you covered from start to finish, Check off tasks as you go. From planning the menu to decorating the dining room, we've got you covered, step by step.
Here's how it works:
Tick off each task as you complete it.
Stay on track and watch your preparations come together seamlessly.
Enjoy a relaxed and memorable Thanksgiving with loved ones, knowing everything is perfectly in place.
(By subscribing, you agree to our terms & conditions, privacy policy, and disclaimer.)
5. Citrus-Glazed Roast Turkey
A zesty and vibrant twist on the classic roast turkey. 
A citrus glaze, typically made with a combination of orange and lemon, adds a burst of freshness that balances the richness of the meat.
Alternative Main Courses
6. Honey Glazed Ham With Pineapple
This option offers a contrast of flavors with the ham's natural saltiness harmonizing with the sweet, sticky honey glaze. 
The addition of caramelized pineapple rounds out the dish with a tropical twist.
7. Prime Rib Roast With Horseradish Cream
A prime rib roast is a show-stopping main course, known for its marbling and tenderness. 
Served with a horseradish cream sauce, the dish strikes a balance between the richness of the beef and the pungency of the horseradish.
8. Vegetarian Stuffed Acorn Squash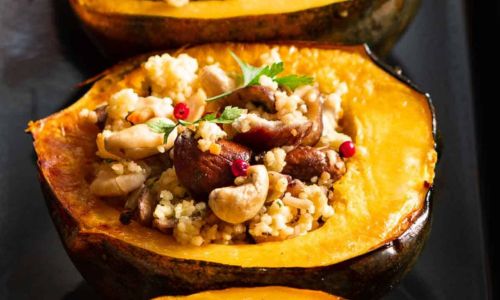 A visually appealing and flavorful vegetarian option. 
Acorn squash halves are roasted until tender and then stuffed with a mixture of grains, vegetables, and cheese. 
The result is a dish that's both hearty and wholesome.
9. Mushroom Wellington
A sophisticated vegetarian main, the mushroom Wellington features a savory filling of sautéed mushrooms, onions, garlic, and herbs, all encased in flaky puff pastry. 
It's an elegant option that even non-vegetarians will enjoy.
10. Lentil Loaf With Mushroom Gravy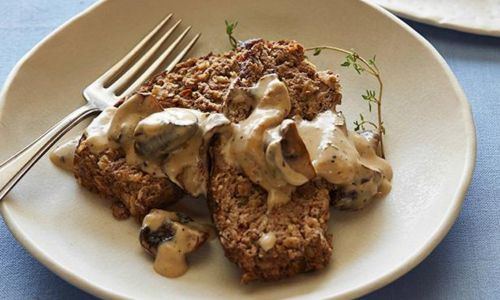 This plant-based alternative delivers a dense, satisfying texture reminiscent of a traditional meatloaf. 
The accompanying mushroom gravy lends a depth of flavor that's both comforting and hearty.
Sides And Accompaniments
11. Classic Mashed Potatoes
Creamy, buttery mashed potatoes are the ultimate comfort food. 
The velvety texture and rich flavor make them the perfect canvas for gravy.
12. Sweet Potato Casserole With Pecan Streusel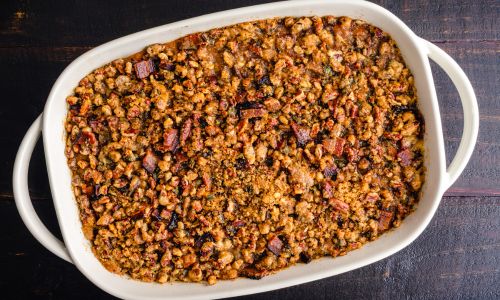 A beloved Thanksgiving side, sweet potato casserole is adorned with a crunchy pecan streusel topping. 
The sweet potatoes are often seasoned with warm spices like cinnamon and nutmeg.
13. Garlic Parmesan Roasted Brussels Sprouts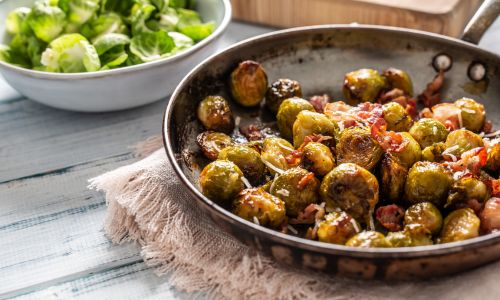 Transform Brussels sprouts into a gourmet delight by roasting them with olive oil, garlic, and grated Parmesan cheese. 
The roasting process caramelizes the sprouts, mellowing their bitterness.
14. Cranberry Sauce With Orange Zest
Homemade cranberry sauce takes on a new dimension with the addition of orange zest. 
The citrusy notes brighten up the sauce, balancing its natural tartness.
15. Green Bean Almondine
A classic French side dish, green bean almondine features crisp-tender green beans sautéed with toasted almonds. 
The almonds add crunch and nuttiness to the dish.
16. Creamy Macaroni And Cheese
Creamy and decadent, macaroni and cheese is a nostalgic favorite. 
The gooey cheese sauce blankets al dente pasta, making for a comforting and satisfying side.
17. Buttery Cornbread
Cornbread's slightly sweet, crumbly texture is a delightful contrast to the other savory dishes on the table. 
Serve it warm with a pat of butter.
18. Roasted Garlic Mashed Cauliflower
A lighter alternative to mashed potatoes, roasted garlic mashed cauliflower offers a creamy texture and a mild, nutty flavor.
19. Roasted Root Vegetables
A colorful medley of root vegetables, such as carrots, parsnips, and turnips, are roasted until caramelized and tender. 
The roasting process enhances their natural sweetness.
20. Maple Glazed Carrots
Glazed carrots are elevated with a touch of maple syrup, creating a sweet and savory side dish that's a hit with both kids and adults.
Unique Stuffing Variations
21. Sausage And Apple Stuffing
This stuffing variation balances savory and sweet with the inclusion of crumbled sausage and tender apple chunks. 
The flavors meld together beautifully as the stuffing bakes.
22. Cornbread And Chorizo Stuffing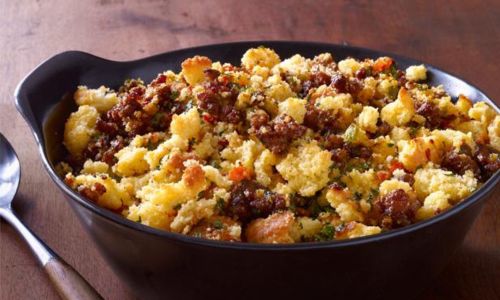 A bold twist on stuffing, this version features crumbled chorizo sausage and crumbled cornbread, creating a combination that's both spicy and comforting.
23. Wild Rice And Mushroom Stuffing
Wild rice lends a nutty flavor and chewy texture to this stuffing, while sautéed mushrooms add an earthy depth that complements the rice.
24. Cranberry-Pecan Stuffing
The combination of tart cranberries and crunchy pecans provides a delightful contrast of textures and flavors to the stuffing.
25. Quinoa And Spinach Stuffing
Offering a dose of plant-based protein, this stuffing features fluffy quinoa, sautéed spinach, and a medley of aromatic herbs..
Soups And Starters
26. Butternut Squash Soup
Creamy butternut squash soup is a comforting way to start the meal. 
The addition of warming spices like nutmeg and cinnamon enhances the natural sweetness of the squash.
27. Creamy Roasted Chestnut Soup
Chestnuts bring a unique nutty and slightly sweet flavor to this velvety soup. 
The creamy texture and subtle richness make it a luxurious starter.
28. Pumpkin Bisque
A silky smooth pumpkin bisque showcases the essence of fall. 
Its velvety texture and delicate pumpkin flavor make it a sophisticated yet approachable option.
29. Spinach And Artichoke Dip
This crowd-pleasing dip features a blend of creamy cheeses, tender spinach, and artichoke hearts. 
Serve it warm with crusty bread or tortilla chips.
30. Stuffed Mushrooms
Elegant and delectable, stuffed mushrooms are filled with a flavorful mixture of breadcrumbs, herbs, and cheeses. 
They're a savory bite-sized starter.
Breads And Rolls
31. Soft And Fluffy Dinner Rolls
Soft, pillowy dinner rolls are the perfect vehicle for mopping up gravy and savoring every last bit of the meal.
32. Rosemary Focaccia Bread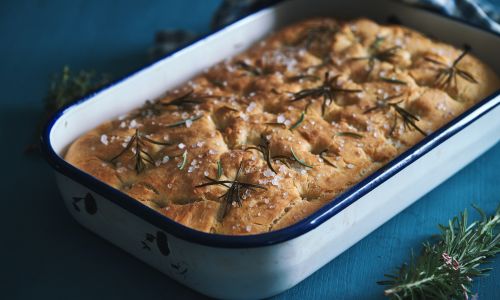 Homemade rosemary focaccia adds a touch of artisanal flair to your table. 
The aromatic rosemary and the chewy texture make it an irresistible choice.
33. Pumpkin Cornbread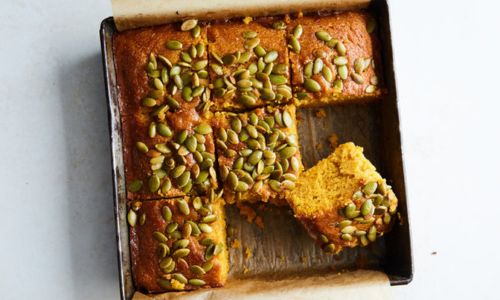 By infusing traditional cornbread with pumpkin puree and fall spices, you create a seasonal variation that pairs perfectly with your Thanksgiving spread.
34. Cheddar And Chive Biscuits
These flaky biscuits, speckled with cheddar cheese and fresh chives, offer a burst of flavor that perfectly complements the main course
Salads
35. Fall Harvest Salad With Apples And Pecans
A celebration of autumn's bounty, this salad combines crisp apples, toasted pecans, dried cranberries, and a light vinaigrette.
36. Roasted Beet Salad With Goat Cheese
The earthy sweetness of roasted beets is paired with creamy goat cheese and a drizzle of balsamic reduction, resulting in a visually stunning and flavorful salad.
37. Cranberry Walnut Salad
This refreshing salad features a mix of greens, tart cranberries, crunchy walnuts, and a tangy vinaigrette for a balanced and invigorating dish.
38. Spinach And Pomegranate Salad
A vibrant spinach salad topped with jewel-like pomegranate seeds and a citrusy dressing. 
The combination of textures and flavors is both refreshing and invigorating.
Desserts
39. Classic Pumpkin Pie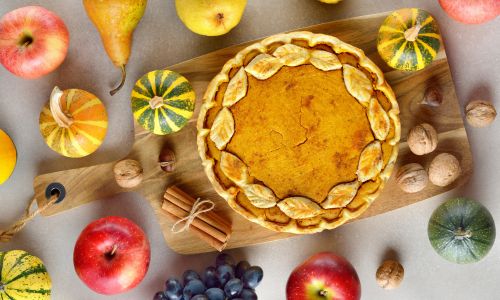 A Thanksgiving staple, classic pumpkin pie boasts a spiced custard filling in a flaky crust. 
It's a slice of comfort and nostalgia.
40. Pecan Pie With Whipped Cream
The indulgent sweetness of pecan pie is enhanced by the crunch of toasted pecans and a dollop of airy whipped cream.
41. Apple Crisp With Vanilla Ice Cream
Warm and gooey apple crisp, baked until bubbly and topped with a scoop of creamy vanilla ice cream, is the epitome of comfort.
42. Chocolate Bourbon Pecan Pie
A luxurious twist on traditional pecan pie, the addition of chocolate and a splash of bourbon creates a dessert that's rich and sophisticated.
43. Cranberry Orange Bread Pudding
Bread pudding takes on a holiday twist with the addition of tart cranberries and zesty orange. 
It's a cozy and flavorful dessert option.
44. Maple Cheesecake
A velvety cheesecake infused with the warm sweetness of pure maple syrup, offering a sophisticated twist on the classic dessert.
45. Pumpkin Roll With Cream Cheese Filling
A pumpkin cake roll filled with luscious cream cheese frosting, creating a delightful combination of flavors and textures.
Drinks
46. Spiced Apple Cider
Warm and fragrant, spiced apple cider captures the essence of fall with a blend of cinnamon, cloves, and citrus.
47. Cranberry Punch
A vibrant and tangy cranberry punch is both a festive and refreshing option for guests of all ages.
48. Hot Mulled Wine
The warmth of mulled wine, infused with aromatic spices like cinnamon and cloves, creates a cozy and inviting drink for holiday gatherings.
49. Pumpkin Spice Latte
A quintessential fall beverage, the pumpkin spice latte combines espresso, steamed milk, and a blend of spices for a comforting and familiar flavor.
50. Maple Old Fashioned Cocktail
A sophisticated cocktail that marries the flavors of rich maple syrup, bourbon, and bitters, offering a refined way to toast the holiday.
Conclusion
Now that you have an array of delightful Thanksgiving dinner ideas, it's time to roll up your sleeves and start creating a feast to remember. 
Gather your ingredients, fire up the oven, and let the culinary magic unfold. 
Whether you're hosting a small family gathering or a grand affair, these dishes are sure to impress. 
Let the aroma of roasting turkey and freshly baked pies fill the air as you embrace the joy of the holiday season. 
Happy cooking and even happier feasting!