Trustpilot Rating – 3.8/5
It provides quality products and monitoring in the home security field. With professionals involved in setting up of home security systems, it has 3.8 stars rating on Trustpilot. It offers various products like security cameras, smart sensors, thermostats, car guard etc. It has different plans and packages to offer. 
D o you want to update your home to a safer and smarter home? Perhaps you recently bought your home and are worried about your security.
You've probably heard about Vivint Home Security and read a dozen Vivint reviews. Cutting-edge home security and professional home monitoring are indispensable for peace of mind.
This article reviews Vivint's products and services to help you determine if Vivint Home Security is worth the money.
How Does the Vivint Innovative Home Security System Work?
Unlike DIY home security and intelligent home systems, the Vivint Smart Home  system provides comprehensive products and services. Once you purchase Vivint equipment, a professional technician will come to your home to guide you through and install the Vivint Smart Home system. 
Moreover, your home security equipment connects to 24/7 monitoring by Vivint. If an alarm goes off, it relays a message to the monitoring specialist, who will, in turn, reach out to you or call first responders if you aren't available or reachable. The message relays in seconds, which means that you don't have to worry about a security threat or an emergency going undetected.
Also, Vivint offers quality security and innovative home equipment alongside comprehensive monitoring and support, which makes it the number #1 go-to for home security products. You can rely on the round-the-clock Vivint monitoring whether you are at home or away.
Once the tech installs and activates the system in your home, you don't have to lift a finger. Vivint Support will do the leg work to ensure that your abode is safe all the time.
What Security Equipment Can You Get at Vivint?
Vivint offers a range of security equipment that fits every homeowner's needs. When you sign up for Vivint's services, you must purchase the Vivint equipment upfront or through financing options and pay monthly fees to cover the home monitoring service. 
Also, each piece of equipment has top-notch features and integrates seamlessly with the control panel for tight-knit home security. You can customize what security equipment you need to include with your preferred home security package. Some of the must-have Vivint equipment includes Security Cameras, Smart Sensors, Thermostats, Car Guard, Smart Plug, Control Panel, and Smart Locks:
Security Cameras
Vivint offers high-quality and best-in-class security cameras for home security. There are several Vivint camera devices you can consider for your home. You can get a doorbell, indoor, and outdoor camera.
Vivint indoor security cameras are top-notch and have clear footage, even at night.
Indoor cameras make it easy for you to keep an eye on your home while far away. You can even talk to your loved ones right through the camera. The lens offers a wide angle so you can see the entire room. The cameras start rolling when they detect a motion or when an alarm goes off.
Vivint's outdoor cameras will put you on top of the game if you need to secure your yard. Vivint's outdoor camera does more than detect intruders—it deters lurkers, relays a notification to the monitoring crew, and sends you a message instantly.
The outdoor camera has intelligent features to differentiate pets, cars, and people. Its Smart Deter technology scares intruders away by setting off the LED light and a warning sound.
Like the indoor cameras, the outdoor cameras have night vision, a 4k high-definition sensor, and a 140 degree angle to ensure that you can monitor a more expansive space in your yard.
With Vivint's outdoor security camera, you can capture all the details whether you need to zoom a face, a license plate number, or anything else you need to know about outdoor activities.
Additionally, there is a Vivint doorbell security camera. See activities happening on your front door in full view.  This equipment features a 180 by 180 degree field of view; you can see things happening on your front porch through a broad perspective.
The doorbell camera protects your packages and notifies you when there is someone on your front porch. The Smart Deter technology scares intruders away by setting off the LED light and a warning sound, similar to the outdoor cameras.
Smart Sensors
If you need additional security to keep your home secure, then Smart Sensors will help. You can have Smart Sensors installed on your doors and windows and integrate them with your thermostat. 
Vivint Smart Sensors detect movements and burglars and set the alarms off. There is also a Glass Break Sensor to detect anyone breaking in through your windows. Once the alarm goes off, it alerts the monitoring center and sends you a notification. The thermostat integrated with your sensors will detect and adjust the room temperatures accordingly.
Additionally, Vivint offers smoke and flood detectors to keep your home safe from fires and water damage. It also has a Carbon Monoxide Detector to detect and alert you whenever there is CO in the air.
Thermostats
Vivint offers the best Smart Thermostat in the business. Not only does the device adjust itself, but you can also control it from anywhere with the help of the Vivint app.
Also, the thermostat can protect your home against fires by seamlessly coordinating with smoke sensors to switch off the HVAC system to prevent the spread of fires.
Furthermore, you can connect your thermostat with smart assistants like Google Assistant and Amazon Alexa, and you can operate it with a voice command.
Car Guard
If you are looking for a device to  complete your car's security and diagnostics, then Vivint Car Guard is it. Unlike other vehicle security devices, Vivint Car Guard can protect your car from theft and perform car diagnostics whenever there is a problem with your vehicle.
This device is imperative, especially when you need to keep tabs on your teen who recently got their first car. With the Car Guard, you can know your vehicle's location in real-time, and it also helps deter thieves. You can also sync the Car Guard with your home security system, which is secure when you park it on the driveway.
The smart detectors in  Car Guard can help detect vehicle break-ins and notify the monitoring center and your phone.
Smart Plug
If you need to automate your lighting and appliances at home, then a Vivint Smart Plug is the smart choice. Once you plug in your Smart Plug to an outlet, you can activate it and enjoy hands-free lighting and appliances.
You can set your lighting to turn on and off automatically, and you can also configure it with smart assistants so you need only say a command.
Control Panel
The Vivint Control Panel is the ultimate device that gives you control over your entire Vivint Smart Home system. You can use the Control Panel to automate your home system, contact support, view video footage, arm your home security systems , and much more.
Smart Locks
Another home security device you can get at Vivint is a Smart Door Lock. These locks give you complete control over the property entries. The Kwikset Door Locks do more than secure your doors — you can customize entry codes for each of your family members, and  it is used to adjust other systems like the thermostat and lighting.
What Services Does Vivint Offer?
Vivint offers turnkey home security services. And this means that they handle everything for you to ensure that you get top-tier home system services.
Professional Equipment Installation
Vivint ensures that you have a tech come to install, customize and help you understand your Smart Home System. Once you order Vivint Smart Home devices, a professional will show up at your door to help you set them up.
The technician will also help you learn how to use the Vivint app. The cost of the equipment installation service is $99, and there may be deals to get it for free.
Round-the-Clock System Monitoring
Another essential service you can get from Vivint is comprehensive system monitoring. When you arm your security system, the professionals at the monitoring center will be able to keep tabs on your property's security.
The monitoring center  gets an instant notification when an alarm goes off or anything unusual happens, and they will act swiftly. Also, the monitoring crew can read between the lines when an intruder is trying to disarm your security system.
Furthermore, the crew can contact first responders and police for you if you are in distress. The monitoring service comes with  a subscription fee, though, and you pay it monthly.
Vivint monitoring service starts at $19.99 and you will pay a separate fee for the equipment. If you choose the equipment financing option, your monthly monitoring fee will  go up depending on the value of Vivint equipment you install.
Vivint Packages and Pricing
Vivint offers a custom home security system, and the prices can vary depending on your needs and the package you create. Vivint's Starter Kit offer has two identical options for upfront payment: $1,799 for base panel pricing and $19.99 in monthly fees for the monitoring service or $599 for base panel pricing and $39.99 monthly. A flexible financing plan is also available and varies depending on the value of equipment you purchase; it can start as low as $9, additional to monitoring fees, each month.
Below  is a standard bundle of Vivint equipment and its price.
Vivint Starter Offer
The Vivint Starter Kit is comprised of a  Control Panel, 4 door sensors, 1 motion sensor, 1 Doorbell Camera, and 1 Outdoor Camera Pro.
The equipment costs as follows: $1,799.99 for the Control Panel and 5 sensors, $249.99 for the Doorbell Camera, and $399.99 for the Outdoor Camera Pro. Paying upfront, an option for low credit score customers, lowers your monthly fees to $29.99: $5 per camera and $19.99 for monitoring services.
However, if you choose to pay with a flexible financing plan you will have two options, 42-month or 60-month financing – both with 0% APR.
This bundle, with a 42-month financing plan, would equate to $98.32 a month: $58.33 for equipment and $39.99 for monitoring services.
This bundle, with a 60-month financing plan, would cost $80.82 a month: $40.83 for the equipment and $39.99 for monitoring services.
Additional fees vary by state. The flexible payment plan means committing to either a 42-month or 60-month service period, unless you want to pay for your equipment upfront at any point.
Pros of Vivint Products and Services
One benefit of using Vivint is the customization of your equipment and home system to fit your budget and needs. Also, Vivint has top-tier technology and offers exclusive home security features.
Furthermore, they have a financing option that makes it affordable.
Cons of Vivint Products and Services
Vivint offers best-in-class wireless tech, but it sure does have some disadvantages. They don't have a DIY option, so you have to utilize their professional service, which comes at a price. Also, their equipment costs a pretty penny if you compare it with other home system providers.
Vivint products and services are ideal for homeowners, so you will need to look into other smart home systems if you rent. Additionally, the flexible payment can be a hassle to cancel. Lastly, many consumers complain of Vivint's lousy customer service (more on this below).
Reviews on Vivint's Customer Service
Reviews based on Vivint's customers' experience can help you make a decision. If you check Vivint's reviews on Trust Pilot, you will realize that its rating has an average of a 4-stars.
Here is one of the positive Vivint reviews on Trust Pilot.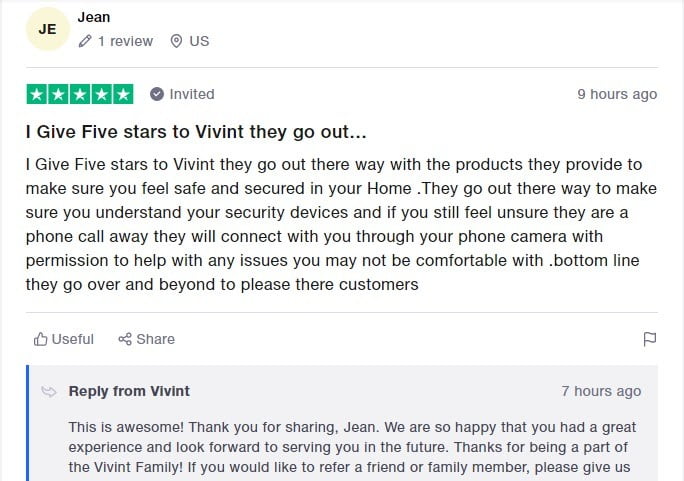 (Image Source: Trust Pilot)
However, many reviews share about bad Vivint customer service — which expectedly should be top-notch. Some customers complain that Vivint has long waiting times on calls, and sometimes the customer support cannot troubleshoot and resolve the problem.
Here is one of the poor Vivint reviews on Trust Pilot.
How Do You Order Vivint Home Security?
To get your Vivint Smart Home system, you will need to contact a sales rep. They will review your needs and help you customize your smart home security system. Once you pay a scheduling fee, they will dispatch a professional team to handle the installation and configuration at your home on an agreed upon date.
Although costly, Vivint Smart Home products and security system can be worth the money if you need premier services. Hopefully, our Vivint review can help you make an informed decision.