As long as holidays are magical, they put you under a giant stress ball, don't they? Significantly, some amazing Christmas home decor ideas are always on your mind that force you to be in the anxiety box of how you can impress your guests.
That unspoken pressure constantly hits your calm nerves and forces you to want everything to look flawless and jaw-dropping. You wish to go for every small detail that contributes to making your house look perfect.
However, the reality is that sometimes even the most straightforward decor ideas can make your dream home look chic and demand the most attention. Decking up your house with these stunning decorations can easily set your mood.
It's time to take critical clues from these festive and creative home decor ideas for small and big spaces. Whether you are up for something more or want to go for traditional decor, we've got your back.
So whenever you are ready to trim your tree, these decor ideas are the ones that are jam-packed with good cheer and will last the entire Holiday season.
Christmas Home Decor Ideas
Get ready to deck the halls you have been waiting for all this year.
1. Wonderful Christmas Village Stocking Hangers
Did you ever guess that those stocking hangers are crafted? You can make one customized stocking hanger for every member of the family!
2. Use Planter as a Stand
It's an obvious thing to say that holidays are all about extravagant things! Instead of trying a tree skirt, you can go for a planter or vintage fishbowl. Such a decor idea will magnify the tree and offer you more space for Santa's surprises.
3. Channelize Your Inner Artwork
You can turn your ordinary mantle into an extraordinary one by stuffing greenery into it. You can even add ornament and ribbons for displaying popping colors.
Also, you can match your beautiful garland accessories with your home decor and wall art throughout your room instead of using the traditional Christmas colors for a low-key yet festive look.
4. Use Unique Wrapping
You can match up your gift wrapping, complementing the color scheme in your living space. Also, you can use the same craft for your ornaments for the perfect wholeness.
5. Fabric Christmas Stockings
You can handicraft your very own Christmas stockings by adding a little more finish with some ribbon and delicate fabric.
6. Cast a Magic Glow
You can stuff the see-through glass lanterns with fascinating LED twinkling lights. You can also put this striking lightning along your stairs, inside your fireplace, or in front of your door to light the entrance.
7. Personalize The Dining Place – Christmas Home Decor Ideas
Once your guest list is wrapped up, you can create a monogram napkin ring that you can place at every sweat. Or, twist and style out a pipe cleaner that looks like your guests' first name letter, and you can attach it to a napkin ring in the xerox shade.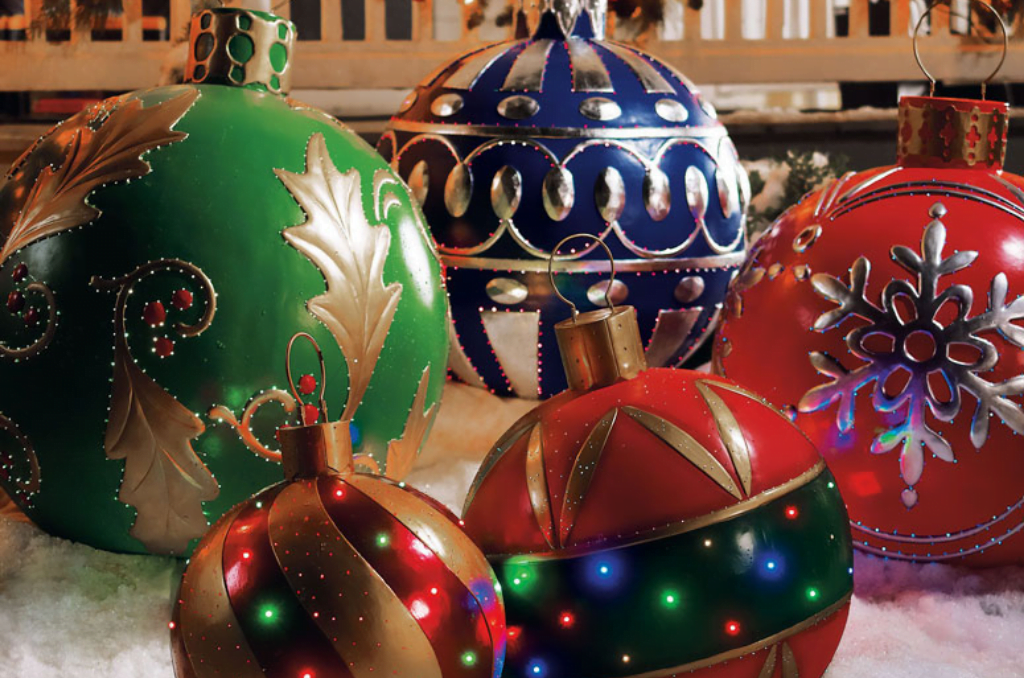 8. Oversized Balloon Ornaments
Sometimes, people love going oversized during Christmas, and these large balloon ornaments will create an uncanny ambiance for you.
9. Fuse Glitter and Greens
Combine the glittery pillar candles and the metallic garland with rejuvenating greens for adding the glam touch to your lovely space.
10. Make an Artistic Advent Calendar
You can turn around your kitchen garland into a creative advent calendar. Try attaching a ribbon across it and further hang small tin containers tagged with every day of the month and swell them up with treats. A giving tree is all you want? So here it is!
11. String Up Bells
Know the trickier thing to decorate? Banisters can be one of them! For an airy, cheerful, and light look, experiment with attaching white and red paper bells all together with the help of a fishing line.
12. Round Up Vintage Bulbs
Get a bundle of merrier, lighthearted, and festive-colored bulbs from the local flea market or your grandma's attic! Now, glue these bulbs around in the circular decor form while dusting a few of them with the glitter with every step you go creative.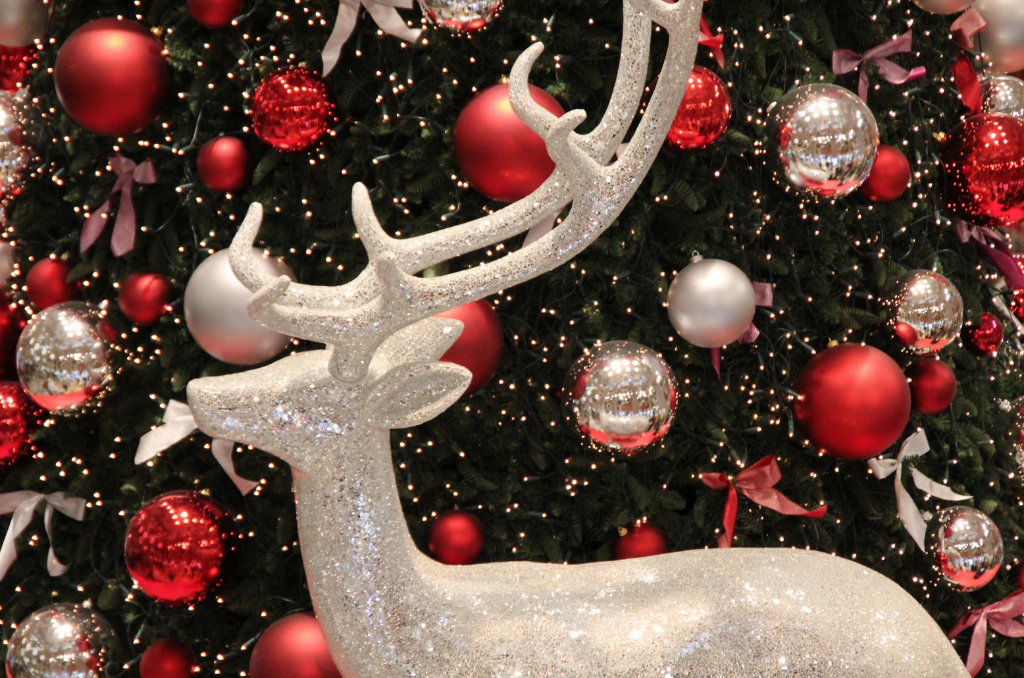 13. Reindeer Sign – Christmas Home Decor Ideas
Have you been in a troublesome situation while remembering all the names of Santa's reindeer? Then, no need to look further as this attractive signboard can make your holiday decor even more beautiful!
Also, you can craft friendly-faced reindeer by wrapping their antlers with silver and gold glitter. You can place them around your bookshelf, table, or mantle throughout the month. Also, for your holiday fiesta, use them as adorable place cardholders.
14. Deck Up With Sweets
Grace up this evergreen with edible decor items, including gumdrops, ribbon candy, cookies, garlands of cranberries, and popcorn.
15. Put Your Mugs On Display
Are you a fan of collecting mugs? Then, it's time to showcase your creativity to display this art during the festivity.
16. Decorate the Bar
Don't forget to embellish your bar this holiday season. Apart from stocking it with all the must-have beverage ingredients, style it by adding a dash of greenery along with placing a cheery candlestick holder.
17. Don't Forget the Nursery.
Is it your baby's first Christmas? Then deck up their crib and space with a metallic Christmas garland without disturbing the current color pattern.
So we hope you would love these Christmas home decor ideas and hook in one of them this festive season!