A s magical as the holidays are, they sure can be stressful.
Christmas home decor can transform your space, but that magic comes at a cost – a whole lot of pressure.
You want everything to look flawless, every detail attended to, everything on-theme… the perfect winter wonderland.
The truth is that you don't need to spend thousands of dollars and countless hours to make your home magical.
The smallest changes can transform a space and set the mood perfectly.
Whether you think outside the box or want to go for traditional decor, these idea can help turn your home into the Christmas haven of your dreams. 
65 Christmas Home Decor Ideas Of 2023

It's time to deck the halls!
Decorating can be fun, easy, and (most importantly) inexpensive.
Use these tips as inspiration for your own Christmas decor ideas.
Checklist for hosting a budget-friendly Christmas eve Party
(By subscribing, you agree to our terms & conditions, privacy policy, and disclaimer.)
1. Create Christmas Village Stocking Hangers
You'd never guess that these Christmas village stocking hangers are DIYed.
And since you're making this yourself, you can customize it to fit your family – large or small!
2. Use Planters As Stands
You might have some empty (but lovely) planters in your garage now that the summer is over.
Try repurposing these for a unique tree stand!
As an extra fun bonus, you can wrap them so your tree itself looks like a Christmas gift!
3. Channel Your Inner Artist
Don't be afraid to get creative with the art supplies you already have at home – like ribbons, paints, garlands, and greenery.
One of the pillars of decorating is sticking to a color palette, so as long as all your colors match up, let your creativity run wild!
4. Don't Forget The Wrapping Paper
When it comes to Christmas decor ideas, wrapping paper might not be your first thought.
But don't sell this gem short!
You can match your wrapping paper to your decorations, tying everything in your space together.
You can even use wrapping paper to create some fun tree ornaments or garlands to hang around your home!
5. DIY Your Christmas Stockings
Christmas stockings always add a special something to your decorations (and Christmas morning, of course!).
Luckily, there are tons of ways to DIY them. 
From hand-knitting or crochet to buying plain stockings from a dollar store and dressing them up, you can make stockings that fit with any kind of decor. 
6. Cast A Magical Glow Over Your Space
Who says lights are only for outside?
Stuff see-through glass lanterns with fascinating LED twinkling lights.
You can also put striking LEDs along your stairs, inside your fireplace, or in front of your door to light the entrance.
7. Decorate Your Dining Space
Christmas decor ideas often leave out the dining table, but it's another great place to add your own flair.
Once your guest list is wrapped up, create a monogram napkin ring that you can place at every seat.
Or twist and style out a pipe cleaner to looks like your guests' initial, and use it as a napkin ring. (This one is especially great if you have kids.)
8. Mix Glitter And Greens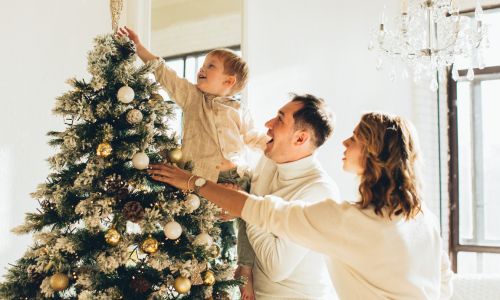 Christmas decor ideas tend to lean more towards an all-natural green and brown color palette or a shiny silver and blue. 
Why not try both?
Warm up cool, glittery decorations with a touch of greenery and add some sparkle to more natural tones.
The combo will make your decorations gorgeous and memorable!
9. Make An Artistic Advent Calendar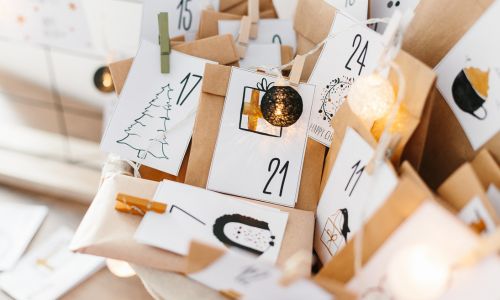 Advent calendars have a reputation for being tacky, but you can make them a classy part of your Christmas decor.
Start with some of your favorite garland and find some ball ornaments – the kind that come apart in the middle.
Coat the inside of the ornaments with paint whatever color you choose and then fill them up with treats!
Alternatively, you can use small drawstring bags, with tags indicating which day they should be opened.
10. String Up Some Bells
For an airy, cheerful, light look, experiment with attaching white and red paper bells (or metal ones!) together with fishing line.
Then, string them up anywhere you'd put a garland.
11. Round Up Vintage Bulbs
Get a bundle of merry, lighthearted, festive-colored bulbs from the local flea market or your grandma's attic!
Glue them bulbs around in a circular form while dusting a few with glitter.
You'll end up with a totally unique wreath that stands above the crowd.
12. Welcome Santa With A Reindeer Sign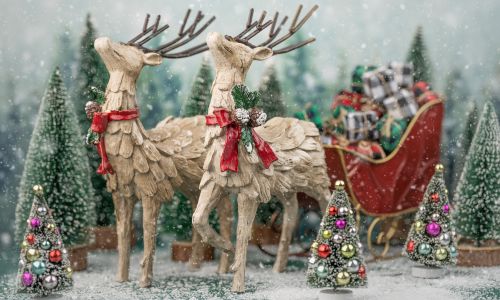 There are dozens of ways to incorporate all of Santa's reindeer.
Dasher, Dancer, Prancer, Vixen, Comet, Cupid, Donner, and Blitzen (and of course Rudolph!) can show up in a variety of Christmas decor ideas. 
You can paint some reindeer forms silver or white for an abstract look, find some friendly wooden reindeer faces at the dollar tree to decorate, or outline the whole gang onto some up-cycled wood and add their names in pretty lettering – hand-drawn or traced.
13. Decorate With Sweets
Add an homage to classic Christmas decorations by decorating with sweets like popcorn strings, candy canes, gumdrops, and more!
Even if you make your sweet treats out of paper, they'll make a lovely addition to your decor.
14. Put Your Mugs On Display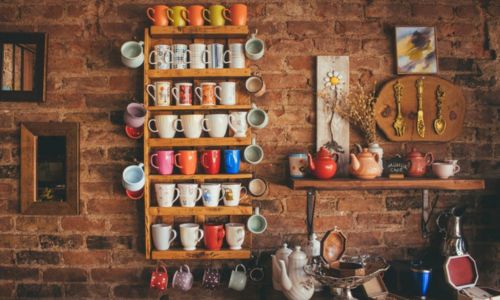 Do you have dozens of holiday mugs?
This is the perfect time to put them on display!
Some floating shelves, festive hooks, or even repurposed stocking hangers are perfect ways to show off your mugs and add to the holiday look.
15. Add Some Festivity To Your Bar
Don't forget to embellish your bar this holiday season.
Apart from stocking it with all the must-have drink mixing ingredients, style it by adding a dash of greenery and a cheery candlestick holder.
16. Create A Whimsical Fairy Tale Scene
Create a magical winter scene right on your mantel.
Imagine a cozy village covered in snow – DIY miniature houses in various sizes, arrange them on your mantel, and sprinkle faux snow or soft cotton for a snowy effect.
Place LED tea lights among the houses to make them twinkle like stars.
Don't forget to add adorable figurines like snowmen and deer to complete the enchanting village.
17. Craft A Rustic Wooden Advent Calendar
Craft a captivating countdown to Christmas with a rustic wooden advent calendar.
Think of small wooden drawers or boxes arranged in a creative pattern.
Decorate each one with festive designs or numbers from 1 to 24.
Fill these compartments with tiny treats, heartfelt notes, or small surprises for each day leading up to the big celebration.
18. String Up A Stunning Pinecone Garland
Bring the outdoors in by making a delightful garland out of pinecones.
String them together with twine, creating a rustic and earthy decoration.
Hang this garland along your stair railing or across the mantel, letting the natural beauty of the pinecones shine.
For a touch of elegance, consider painting the tips with a metallic hue.
19. Craft A Nostalgic Ice Skates Wreath
Give your front door a touch of nostalgia with a wreath made from vintage ice skates.
Hang the skates by their laces on a wreath hanger or ribbon.
Fill them with lush faux greenery, berries, and pine branches.
Consider tying a festive ribbon around the laces for a pop of color.
This wreath brings back memories of frosty adventures.
20. Showcase Your Classic Nutcracker Collection
Transport your home to a festive realm with a collection of nutcracker figurines.
Gather nutcrackers of different sizes and styles – they could be traditional soldiers or whimsical characters.
Arrange them on your mantel or a display table, allowing them to stand tall amidst shimmering lights and holiday decor.
21. Transform Your Space With A Frozen-Inspired Theme
Bring the magic of "Frozen" to life in your home.
Think icy blues, silvers, and whites as your color palette.
Adorn your Christmas tree with snowflake ornaments, twinkling lights, and silver baubles.
Add plush snowflake pillows to your seating area and drape faux fur throws over furniture for an elegant and cozy ambiance.
22. Design A Delectable Edible Centerpiece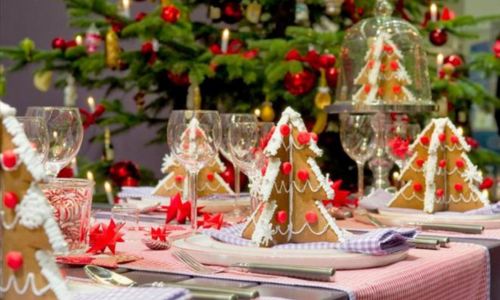 Make your centerpiece a treat for both the eyes and the taste buds.
Set up a tiered cake stand filled with delicious holiday goodies – cookies, candies, chocolates, and even mini gingerbread houses.
This centerpiece isn't just decorative; it's a conversation starter and dessert destination.
23. Create Ornament Magic With Your Chandelier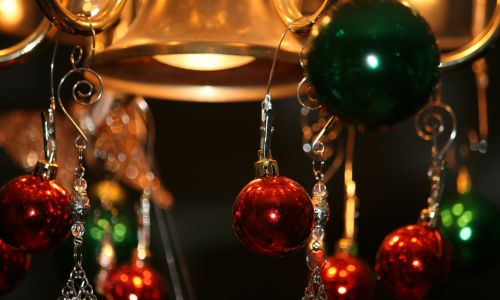 Turn your chandelier into a mesmerizing ornament display.
Attach a variety of ornaments – big and small, shiny and matte – to the chandelier arms with ribbons or fishing line.
As they catch the light, they'll create a dazzling and festive atmosphere from above.
24. Transform Your Space With Playful Holiday Pillows
Give your couch or chairs a holiday makeover with whimsical pillow covers.
Choose designs featuring reindeer, snowflakes, or Santa Claus.
With just a swap of covers, your seating area transforms into a cozy and spirited space.
25. Elevate With A Vibrant Poinsettia Table Runner
Elevate your dining table with a vibrant poinsettia-adorned table runner.
Imagine lush faux poinsettias, green leaves, and bright red blooms stretching along the center of your table.
The colors burst forth, making every meal a festive occasion.
26. Set Up Your Hot Cocoa Magic Station
Create a delightful corner where guests can indulge in warm cocoa.
Arrange mugs, cocoa mix, marshmallows, and a variety of toppings.
Hang a charming sign with instructions, and string fairy lights above the station for an inviting and cozy atmosphere.
27. Adorn With Joyful Holiday Window Clings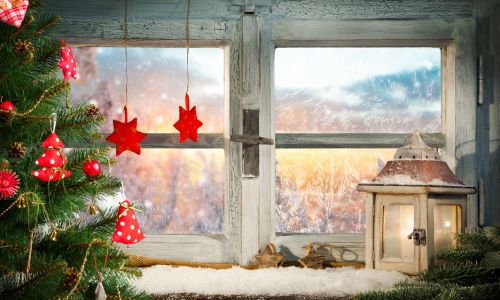 Decorate your windows with playful and reusable window clings.
Choose designs like snowflakes, snowmen, and reindeer.
These clings add a touch of festive whimsy to both the inside and outside of your home and are easily removable.
28. Add Color With Ribbon Candy Vases
Infuse color and nostalgia with ribbon candy vases.
Fill clear vases of different heights with these vibrant candies.
The stripes of candy create a delightful visual, making the vases perfect for tables, shelves, or countertops.
29. Craft Delicate Snowflake Candle Holders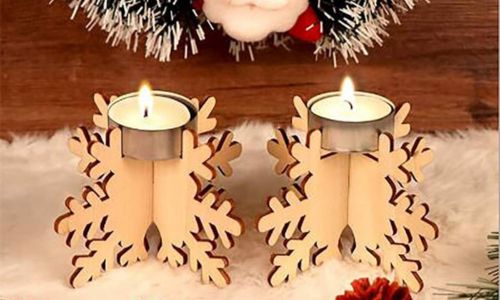 Transform your candle holders into winter wonders with faux snow and snowflake candles.
Arrange these holders on a mantel, side table, or as a centerpiece.
When lit, the candles cast a gentle snowflake pattern, adding magic to the atmosphere.
30. Create Rustic Magic With A Vintage Sled Display
Lean a vintage-inspired sled against a wall and enhance it with faux garlands, bows, and ornaments.
This sled evokes feelings of warmth and coziness, reminding us of winter's past.
31. Infuse Playfulness With A Mini Stocking Garland
Decorate your space with a charming garland made of mini stockings.
String them along a ribbon or twine, alternating colors and patterns.
Hang the garland on your mantel, staircase, or even above doorways.
These stockings add anticipation and holiday cheer.
32. Add Sparkling Snowflakes To Your Decor
Elevate your windows with the beauty of sparkling snowflake decals.
Place them strategically for a delicate snowfall effect.
When sunlight or indoor lights touch the decals, they shimmer and shine, creating a captivating dance of light.
33. Craft A Fragrant Candle Centrepiece
Craft an elegant centrepiece using scented candles of different heights.
Place them on a decorative tray surrounded by pine cones, sprigs of greenery, and berries.
As the candles burn, the room is filled with the delightful scents of the season.
34. Elevate With Wooden Slice Coasters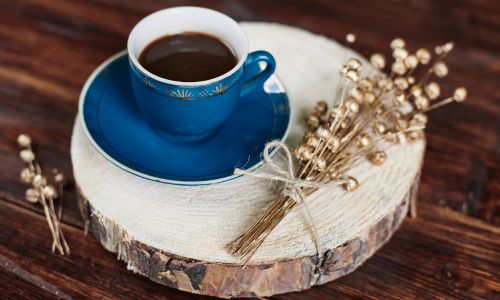 Add rustic charm to your holiday decor with wooden slice coasters.
Paint or stencil festive designs like snowflakes, reindeer, or ornaments onto each coaster.
These coasters protect surfaces while also acting as decorative accents.
35. Create An Enchanting String Light Canopy
Create an enchanting atmosphere by draping fairy lights above a designated area, such as your bed or dining table.
The twinkling lights form a canopy that adds a touch of magic to any space.
36. Set Your Table With Winter Charm
Set an elegant table with a winter wonderland theme.
Start with a white tablecloth as your snowy canvas.
Add silver chargers, crystal glasses, and white dishes.
Enhance the table with metallic accents and intricately folded white napkins.
37. Welcome Guests With Candle Lit Window Sills
Illuminate your home's interior with battery-operated candles on windowsills.
Opt for candles with warm LED lights for a cozy and inviting glow.
These candles create a sense of warmth and comfort on chilly evenings.
38. Greet With A Cheerful Holiday Doormat
Extend a warm welcome with a cheerful doormat that sets the tone for holiday joy.
Choose one with a festive message, image, or pattern.
Place it at your front door to invite friends and family into your festive home.
39. Adorn With Joyful Holiday Wall Art
Adorn your walls with festive wall art or prints.
Opt for pieces that feature classic holiday scenes, heartwarming quotes, or intricate designs.
These artworks become focal points that capture the spirit of the season.
40. Create A Meaningful Nativity Scene Display
Create a special display that embodies the essence of Christmas with a nativity scene.
Arrange nativity figurines on a designated table or shelf.
You might even include a backdrop of twinkling lights or a serene starry night scene to enhance the ambiance.
41. Illuminate With A Snowy Lantern Glow
Decorate both indoor and outdoor spaces with lanterns filled with faux snow.
Place battery-operated LED candles inside to create a warm and inviting glow.
The lanterns exude a charming winter charm that complements various decor styles.
42. Set A Festive Poinsettia Place Setting
Add a touch of elegance to your dining experience with poinsettia-inspired place settings.
Picture poinsettia-shaped chargers or place-mats, red napkins folded into poinsettia blooms, and personalized place cards for each guest.
43. Infuse Enchantment With Woodland Creatures
Bring the magic of nature indoors with woodland creature decor.
Incorporate figurines, prints, or ornaments featuring deer, owls, foxes, and other forest animals.
These elements add an enchanting touch and evoke the spirit of the outdoors.
44. Elevate Your Space With Reflective Elegance
Transform your mirrors into holiday centerpieces by adding decorative elements.
Adorn the mirror frame with garlands, ribbons, or wreaths to reflect the festive spirit.
The mirror becomes a canvas for your creative expressions.
45. Design A Starry Birch Log Display
Imagine arranging birch logs in a decorative container or basket.
Sprinkle faux snow or cotton batting between the logs to create a snowy effect.
This rustic display adds charm and a touch of the outdoors to your holiday decor.
46. Craft A Delightful Village Of Gingerbread Houses
Craft a charming gingerbread house village centerpiece for your dining table.
Assemble and decorate miniature gingerbread houses of varying sizes and styles.
Arrange them on a festive tray or cake stand to create a delightful holiday village.
47. Add Magic With Candy Cane Place Cards
Incorporate a classic holiday treat into your table setting by using candy canes as place card holders.
Attach small name tags to the candy canes and place them on each plate for a sweet and personalized touch.
48. Elevate With Rustic Ribbon-Tied Chair Backs
Add a festive touch to your dining chairs with rustic ribbon-tied chair backs.
Tie holiday-themed ribbons around the backs of the chairs and embellish them with bows or ornaments.
The ribbons give each seat a festive flair.
49. Host A Creative Homemade Wreath Workshop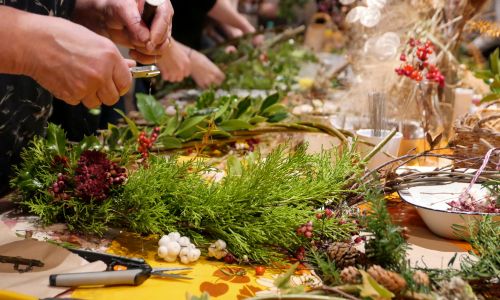 Host a fun wreath-making workshop for family and friends.
Provide various wreath forms, greenery, berries, and ornaments.
Each participant can create their own unique wreath, fostering creativity and holiday togetherness.
50. Personalize With An Initial Ornament Display
Create a personalized ornament display by hanging family members' initials from a decorative branch or garland.
Use wooden or metal initials that you can paint or decorate with festive accents.
51. Simulate Snow With A Snowy Birch Log Display
Arrange birch logs in a decorative container or basket to evoke a cozy cabin vibe.
Add faux snow or cotton batting between the logs to simulate a snowy landscape.
This display adds a rustic touch to your holiday decor.
52. Transform With A Winter-Themed Table Runner
Lay a table runner featuring winter motifs like snowflakes, mittens, or snowmen across your dining table.
The runner serves as a playful backdrop for your Christmas eve meals and gatherings.
53. String Up Whimsy With A Felted Garland
Craft a tactile garland using felted balls in assorted colors.
String the felted balls along a ribbon or twine to create a colorful and textured garland.
Hang it along your staircase, mantel, or wall for a whimsical touch.
54. Craft A Heartfelt Advent Candle Display
Incorporate the tradition of Advent by arranging four pillar candles in a decorative holder.
Light one candle each Sunday leading up to Christmas.
Personalize the candles with numbers or symbols representing the Advent season.
55. Create Ornaments From Corks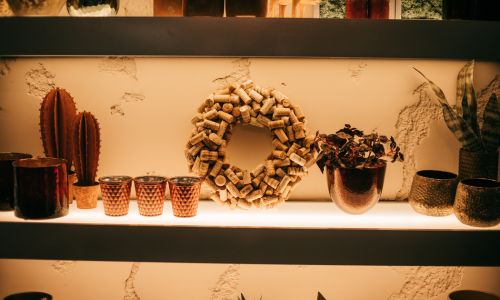 Transform wine corks into unique and sentimental ornaments.
Paint or decorate the corks with holiday motifs, then attach ribbons for hanging.
These ornaments add a touch of nostalgia and creativity to your tree.
56. Add Charm With A Decorative Mantel Scarf
Give your mantel a cozy and decorative touch with a festive scarf.
Imagine draping a scarf with holiday patterns or motifs along the front edge of your mantel.
This scarf adds texture and visual interest to the space.
57. Elevate With Festive Chair Sashes
Enhance your dining chairs with festive chair sashes or ribbons.
Imagine tying them around the backs of the chairs and adding bows or ornaments for extra flair.
These sashes create a cohesive and celebratory look.
58. Create Charm With Cinnamon Stick Candle Holders
Craft aromatic candle holders using cinnamon sticks.
Wrap the sticks around the base of pillar candles and secure them with twine or ribbon.
When the candles are lit, they release a delightful holiday scent.
59. Craft A Playful Snowman Centerpiece
Craft an adorable snowman centerpiece using stacked foam balls or ornaments.
Attach a top hat, scarf, and carrot nose to create the snowman's face.
Place the snowman on a decorative tray or platter surrounded by faux snow.
60. Elevate With Elegant Silver And Gold Decor
Elevate your decor with a sophisticated silver and gold color scheme.
Use silver and gold ornaments, garlands, and accents to create a glamorous and elegant ambiance.
61. Light Up With Mason Jar Lanterns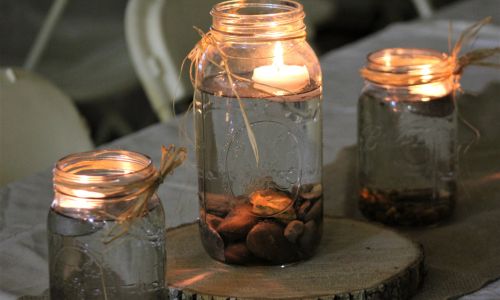 Craft glowing lanterns using Mason jars and battery-operated tea lights.
Fill the jars with faux snow, berries, and pinecones.
Place the tea lights inside to create a soft and enchanting glow.
62. Create Magic With Winter Village Silhouettes
Create a picturesque winter village scene using black paper or vinyl cutouts.
Attach the silhouettes to windows or glass doors, creating a serene starlit village atmosphere.
63. Repurpose With Snowflake Window Frames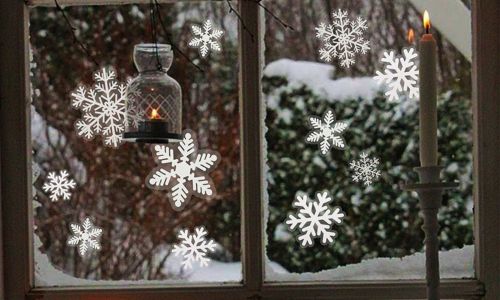 Repurpose an old window frame as a decorative accent.
Attach adhesive snowflake decals to the glass panes.
Hang the frame on a wall or lean it against a surface for a unique and enchanting display.
64. Display Cheer With A Holiday Garden Flag
Extend the holiday cheer outdoors with a joyful garden flag.
Choose one featuring a seasonal image, message, or design.
Display it near your front door, porch, or garden for a cheerful welcome.
65. Transform With Starry Night Ceilings
Transform your ceiling into a starry night sky with adhesive star decals or glow-in-the-dark stars.
Arrange them to mimic constellations.
When lights are dimmed, your ceiling becomes a captivating night sky.
Conclusion
Christmas home decor ideas can span all kinds of budgets, styles, and sizes.
When it comes to decorating your home for the holidays, the most important part is to have fun and create something beautiful.
After all, your house doesn't need to look like it belongs in a magazine – it just needs to make you feel at home.
Here at Penny Calling Penny, our holiday blogs are only a part of our growing library.
We're dedicated to helping you learn to manage your money, no matter where you're at on your financial journey.
Subscribe to our newsletter so you never miss a Penny, and we'll see you next time!