Home insurance is one necessary insurance to have. In this home insurance guide, you will get to learn a lot. It is a way of protecting your home and possessions from robbery, damage, and other unplanned events, as stated in your policy. Before buying a home insurance policy, there are certain things you need to know. Below is a summary.
How Much Does Home Insurance Cost?
There is no fixed price for the cost of home insurance. But, according to experts, the average cost is $1,312 per year for a $250,000 coverage. Nevertheless, certain factors can affect how much home insurance costs. Such as;
1. Your Place of Residence:
Those who live in places prone to natural disasters or places with high crime rates tend to pay more insurance costs. However, if you do not live in a place like that, other local factors like weather and proximity to an emergency department may affect your insurance cost.
2. Your Policy:
There are different kinds of policies available for homeowners at varying prices based on the type of home and what the policy is protecting. This means that the type of policy you are buying will determine how much you pay for insurance.
3. Coverage:
A typical home insurance policy covers three major things – personal belongings, liability, and additional living expenses. Any coverage added to these three may increase your insurance cost.
4. The Condition of Your Home:
The state of your home is another deciding factor for your insurance cost. If your home is declining or aging, you are likely to pay more for insurance. However, if the structure is in good condition, you will be charged less.
5. Your Insurance Company:
Your insurance company can also determine how much your home insurance cost. For this reason, you may compare quotes from several agencies to get a good policy at the best price. Most of these agencies provide a quote for free, so feel free to shop around.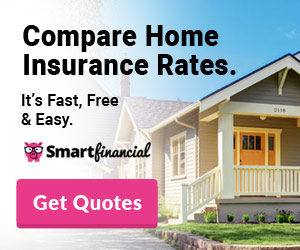 How To Lower Home Insurance?
There are certain ways to reduce the cost of your home insurance. These include;
1. Limiting Your Claims:
A claim is a formal request made to an insurance company to have them cover a loss. Although your insurance company is there to cover any risk to your home, they are also out to make money. Meaning that if you have fewer claims on your record, you may enjoy lower insurance cost.
2. Increasing Your Deductible
A deductible is an amount you pay for damage or repair before your insurance company pays a claim. When buying a policy, you can either choose a higher or lower deductible. The higher your deductible, the lower the risk to your insurance company. Meaning that your insurance cost is reduced if you pay a higher deductible.
3. Sticking With The Same Insurance Company
Some insurance companies give discounts to long-time customers, especially if they have good credit scores and fewer claims on their record. You may also enjoy reduced insurance costs when you buy other policies from the same company.
4. Keeping a Good Credit Record
Your credit record includes your payment history, how much insurance debt you owe, your punctuality in paying your premium. A good credit record may score you some points and lower your insurance.
5. Maximizing your Home Security
Improving your home security will reduce the chances of your home being bugled. This, in return, reduces the risk to your insurance company. There are several steps to improve your home security, like installing an alarm system.
How Much Home Insurance Do I Need?
In case of any disaster, you want to have the certainty that you have the damage covered. So your next question will be how much insurance you need and whether or not your insurance is enough. There are factors to consider when calculating how much insurance you need. These factors include:
1. Home Structure
The size and style of your home will determine your coverage. A sophisticated house with intricate style and designs may require more insurance due to the cost of recreating the features of the home.
2. Cost of Rebuilding
After considering the structure of your home, you should also consider the cost of rebuilding it in case of a disaster. The kind of material initially used in constructing the house may affect insurance. This material may go out of stock or get more expensive.
3. Possessions In Your Home
An inventory of your possessions will give you an estimate of how much insurance you need. There are limits to standard coverage for expensive items like jewelry and artwork, and you may need to insure them separately.
4. Liability
Your liability coverage should be robust enough to protect you from a lawsuit. Although most insurance policy provides minimum liability coverage of $100,000, the insurance information institute recommends purchasing $300,000-$500,000 liability coverage.
5. Additional Living Expense
The additional expense of securing other accommodations and the cost of moving when your home becomes inhabitable should be considered. These situations cannot be predicted, so it is better to prepare for them.
How To Get The Most Out Of Your Home Insurance Claim?
There are many ways to take full advantage of your claim when filing for one. Here is a step-by-step guide;
1. Keep Evidence of The Damage
The first thing to do after a disaster to your home is to keep evidence of the damage. The evidence can be a photograph or a video recording of the damage. This is important because it will help insurance adjusters to understand the extent of the damage fully. Also, it is advisable to keep evidence of any out-of-pocket expense like the receipts. This will help you get the most out of your insurance claim.
2. Fully Understand Your Coverage and Policy
Complete knowledge of your policy will help you understand your coverage, its' limits, and exclusions. This way, you will not be taken advantage of by your insurance company when you file for a claim.
3. Consult With an Adjuster
After filing for a claim, your insurance company will send in an adjuster to access the damage and determine the amount for settlement. An adjuster is in charge of processing your filed claim. During this process, you will be asked some questions; however, be prepared to answer this question with your interest at heart.
4. Evaluate the Adjuster's Report
After assessing the damage, the adjuster will make a report of the damage and the estimated cost of repair. Before accepting a settlement amount, it is advisable to review your adjuster's report and his offer to know whether or not it is favorable.
5. Negotiate With Your Insurance company
Another way to get the most out of your insurance claim is to negotiate with your insurance company. This is possible in a situation where you are dissatisfied with your adjuster's settlement amount. However, you need to have a thorough knowledge of your insurance to support your claim for more settlement.
Best Home Insurance Companies – Home Insurance Guide
There are lots of insurance companies present today, that is why we are compelled to pick the best for you. These companies were chosen based on their customer service and claims satisfaction, according to J.D. power's study. Here are some of the best home insurance companies.
1. Amica Mutual Insurance
Amica Mutual has one of the best customer services and ranks high in claim satisfaction. Its policy offers a dividend of 5%-20% per annum. In addition to that, you can get a quote from them online.
2. USAA
USAA is an insurance company exclusively for military personnel and their families. This company offers premiums lower than average and unique coverage. It also offers discounts to policyholders. So if you are in the military or a veteran, this is the best insurance company for you.
3. State Farm
Just like its name, State Farm is available in all states. It is among the top ten insurance companies with good claim satisfaction and fantastic customer service. It also provides a platform for making an online purchase without an agent.
4. Lemonade
Lemonade coverage is very affordable. They offer policies starting as low as $25 per month. These policies can be bought online through the companies app or website. In addition to this, a portion of customer premiums that don't go toward paying out claims is donated to charitable causes. Their customer service is nearly flawless, with both user-friendly AI bots and customer service representatives attending to customer needs quickly.
5. Allstate
Allstate insurance is best for first-time policy buyers. Their rates are good, and they offer fantastic customer service. They are also good at discounts.
6. Travelers
Travelers have a very good credit rating due to their financial stability. It also has good customer service ratings and claims satisfaction.
7. Hippo
Hippo has excellent customer service and is good at prices. You can save up to 25% when you purchase a policy. In addition, you get a smart home monitoring kit that can earn you discounts when it is activated. They also offer home care services to provide quick fixes for your home. Hippo provides a platform where you can not only get a quote online, but also purchase a policy.
In all, you can conclude that "Home insurance" is a great way to ensure the protection of your home and possessions. Why not consider it today. The above insurance companies are always available to help you with the coverage best for you. Reach out to them now to get a quote! We hope this home insurance guide will help you to buy your dream home.