Y ou know that moment when the air gets crisp, and the world turns into a patchwork of fiery colors?
That's when you feel it – Halloween is on its way. And with it comes the excitement of throwing a killer Halloween party that everyone will remember.
But here's the thing: you're not looking to spend a fortune on this shindig. We get it.
That's why we're here – to help you host a Halloween bash that's as unforgettable as it is easy on the wallet.
No tricks, just treats. Let's dive into some savvy party planning so you can have a spooky good time without breaking the bank!
10 Ways To Throw A Halloween Party On A Budget
1. Early Budgeting Is Your Secret Incantation
The key to a successful budget-friendly Halloween bash lies in meticulous planning. Start by setting your budget well in advance.
By knowing your financial boundaries, you can allocate funds wisely, ensuring each element of your party receives the attention it deserves.
2. Effortless Invitations
Sending out invites? No problem! It's a breeze.
Just grab your favorite invitation template, download it for free, print it, add the details, and you're good to go.
Simple as that! No need to stress, no extra work – just stylish and easy invites, your way.
Ready to get started? Download free sample invitations here!
3. Choosing The Perfect Venue
Hosting your party at home isn't just budget-friendly; it's a chance to weave your unique magic.
Consider lighting. Instead of costly decorations, LED lights and carefully positioned candles can create an enchanting ambiance that's easy on your wallet.
Imagine the play of LED candles in glass jars, transforming into lanterns that add a touch of mystery.
And the magic doesn't stop inside. Extend your haunted realm to the outdoors.
Convert your backyard into a bonfire haven. Friends gather around, sharing ghost stories and roasting marshmallows.
It's a cozy touch that adds warmth, both to your gathering and your budget.
4. Crafty And Budget-Friendly Decor
This is where the real savings magic happens, along with some easy Halloween decorating ideas.
Hunt for treasures at thrift stores, dollar shops, and craft outlets.
Create your decorations using budget-friendly materials like construction paper and repurposed items.
An Insider Tip: Ask friends for leftover craft supplies – you'll be surprised what hidden treasures you can find.
Here are 4 Budget-Friendly Theme Ideas:
A. Ghoulish Graveyard
You can make tombstones from cardboard and use things around your house to make spooky stuff.
B. Cursed Carnival
Instead of buying new decorations, you can borrow or rent old-fashioned things that give a carnival vibe.
C. Wicked Woods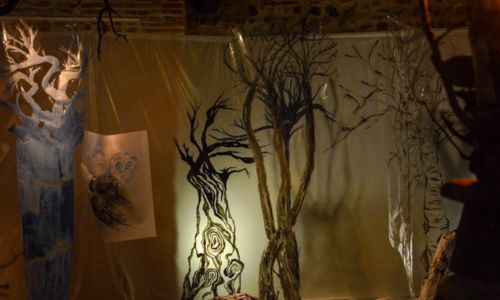 For a forest-like theme, use fallen leaves, branches, and pinecones. It's natural and free!
D. Classic Movie Monsters
Swap costumes with your friends or family to save money. It's like a costume exchange!
5. Crafty Costume Contest With A Twist
Ever been stuck between wanting to rock an epic costume and not wanting to spend a fortune?
We're with you! Here's a fun trick to save your wallet while keeping the fun alive.
Forget about being the fanciest – challenge your buddies to do something hilarious instead!
Think spooky stories or busting a move to the "Monster Mash".
No need for pricey getups, just loads of laughter and crazy memories.
6. Musical Haunt With Speakers Everywhere
You're all set to throw a killer Halloween party, but your wallet's giving you that "uh-oh" look.
No need to panic! Put away thoughts of expensive DJs and grab your speakers instead.
Place them around your place, hit play, and woah– you've got yourself a spooky dance floor that's going to rock the party. The best part?
Your budget stays happy, and the dance vibes? They're totally on fire! 
7. DIY Haunted Photos
Wanna capture all those hilarious and spooky moments?
Check this out – your own budget-friendly photo booth!
Grab some cheap props, make a cool backdrop, and let your guests do their thing.
They leave with fun memories, you leave with your budget intact. High-five to that!
8. Budget-Friendly Buffet
Now, let's talk buffet without the budget blues.
We're talking simple finger foods that taste amazing and won't cost you a haunted arm and leg.
Think easy-to-make snacks with a Halloween twist.
And here's the secret ingredient: seasonal stuff that gives you a spooky vibe without scaring your wallet.
9. Spooky Trivia
Think you need a treasure chest of gold for an awesome party?
Nah, just Challenge your pals to a round of spooky trivia.
It's like a mini brain-battle that's easy on the wallet.
Everyone leaves smarter, and your budget leaves untouched. How cool is that?
10. Haunting Hide-and-Seek
Want a party that's spooky without splurging? Here's a twist on a classic game that's all treats, no tricks.
Dim the lights, grab some flashlights, and boom – you're in for a hauntingly good time.
No big setups, just pure ghost-hunting adventure.
Your wallet's safe, and your party's making memories.
Conclusion
With these budget-friendly tips in your cauldron of tricks, you're well-equipped to host a Halloween party that stands out from the rest.
Remember, it's not about the money you spend but the memories you create.
By infusing your event with creativity, spookiness, and a dash of your own unique flair, you can throw a Halloween party that will be the talk of the town.
So, prepare to host a bone-chilling bash that will have everyone howling with delight. Happy haunting!