W e all look forward to that scary time of the year when we get to dress up in our favorite costumes and hand out delicious candies to all the boys and girls – Halloween.
Most of us want to make a good impression, so we buy the best costumes or throw the scariest parties.
Sometimes that can get costly, but it doesn't have to. Check out these ways to spend less on the most terrifying night of them all.
To keep the tradition of Halloween alive, you'll need to creative with your decorations. That means it's time to get smart about how you're going to make your house the spookiest on the block. 
Thankfully, you don't have to worry about spending as much on Halloween decorations as there are many ways to get scary effects without having to spend as much.
You may even be able to invest any loose change through Acorns when purchasing your paper and paint to make these crafts.
20 Best Decoration Ideas For Halloween Party
(1) Spider Webs
To be honest, the cheapest way to get this spooky effect is to not clean your house for a while to get free creepy crawly tenants to help you out.
But, of course, we understand you may not appreciate their help, so instead, try getting your claws on some fibrous cotton material to hand all over your house.
You can even make some out of paper, like how you would make a paper snowflake.
Remember that while they aren't real cobwebs, that doesn't mean that they are easier to clean up.
(2) Pumpkins, Pumpkins, And More Pumpkins
Nothing says "Happy Halloween" like a good old traditional pumpkin.
For years, pumpkins have been the product most associated with Fall and Halloween, and the best part is, that they're usually very cheap. 
If you've got a green thumb, a pack of seeds only costs a couple of bucks at most. A wonderful tradition of Halloween is to carve terrifying faces into them.
You can also paint faces and other scary Halloween symbols on them if you're nervous about using a knife.
(3) Ghost
Ghosts come in all shapes and sizes and are fairly easy to make.
You just need a white, round base made from anything you can find or create. (This is where pumpkins can come in handy again!)
You can also give them a face, using something like black paint or construction paper. That's it! 
The most traditional Halloween ghosts require only a simple bed sheet.
You'll get a great cheap costume that turns into a chilling decoration – just throw it over bent wires in your yard.
Don't forget to draw a face to make it seem like your haunting friend is wailing.
(4) Bring Out The Body Bags
Or, in this case, trash bags. You can also do this with sheets. Just make your bags in the shape of a human.
Then, tie them around your creation 4 or 5 times to get the effect that a dastardly deed took place there.
White sheets with red paint really draw out the spook factor.
Set the "bodies" however you want and enjoy all the horrifying stares from the neighbors.
(5) Creepy Crawly Spiders
You can make your own spiders at home to go with your spider webs.
First, you'll need a black base – like rocks painted black, some black bowls, or any other round-ish black "body". 
Next, googly eyes and some legs. Pipe cleaners make excellent legs, but you can use paper, straws, or even paper towel tubes.
Scatter your spiders all around for a creepy effect. You can also buy cheap plastic spider rings to hang up on your spiderwebs.
(6) Bats Everywhere!
Get those googly eyes out again (or not). Cut the shape you want out of black construction paper and hang it in your window.
Black paint also works well if you have something to paint on. You can hang your bat shapes anywhere you want!
Taped on the walls or hanging on little strings from your gutters, bats are essential to really spookify your house.
(7) Are There Witches In Here?
There are a multitude of ways to craft a witchy feel, especially if you're a seasoned DIY-er. Black cloth and wires can turn into a scary witch hat.
Green and black paint on a recycled plastic container makes the perfect witch face. You don't even have to create an entire witch!
Symbols of witches are good enough to get the idea across, like an old dusty broom sitting against your porch.
(8) Terrifying Tombstones
Have any extra wood lying around? These decorations can be used every year to help save money.
Of course, you can also make these the easy way with paper plates, grey, and black paint.
The best tombstones are ones with clever and quirky jokes on them such as "Here lies Tom, 'What's this button do?'".
(9) Get Your Colors Right
If all else fails, just keep to the traditional color scheme of Halloween.
Whether you're buying streamers or making some other craft, purple, orange, green, black, white, and red is the way to go. (Don't forget that red always looks best against a deadly pale white background.)
(10) Haunted Portraits
Turn your ordinary family photos into creepy haunted portraits. 
Print out black and white images of family members and friends, and use craft supplies like black construction paper, googly eyes, and fake spider webs to add eerie effects. 
Place them in antique frames or hang them on the walls with flickering candles nearby for an extra haunted vibe.
(11) Spooky Silhouettes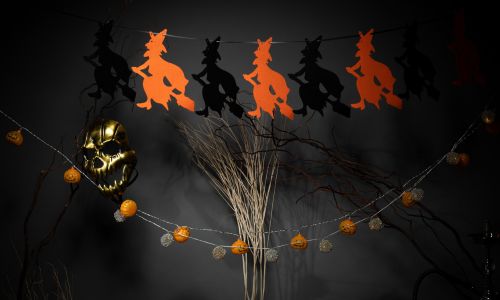 Cut spooky silhouettes out of black construction paper or cardboard and place them on windows, walls, or doors. 
Create shapes like witches flying on broomsticks, bats, cats, or haunted trees. 
When you turn on the lights inside the house, the silhouettes will cast eerie shadows that will surely give a fright to passersby.
(12) Ghostly Greeting
Welcome your guests with a ghostly greeting at your doorstep. 
Hang a white sheet from the ceiling or a tree branch, and cut out eyes and a mouth to create a friendly ghost. 
Add a sign that says, "Welcome to our Haunted House," or "Boo! Enter if you dare!" to set the tone for your Halloween party.
(13) Witch's Broomstick Parking
Craft a DIY witch's broomstick parking sign and place it near your entrance. 
Use a wooden plank or cardboard, paint it black, and write "Witch's 
Broomstick Parking Only" with white or silver letters. Attach a few small broomsticks or broom-shaped decorations to complete the display.
(14) Pumpkin Totem Pole
Stack pumpkins of varying sizes on top of each other to create a pumpkin totem pole. 
Carve or paint spooky faces on each pumpkin to give it a Halloween vibe. 
You can add some LED lights inside the pumpkins to make them glow during the night.
(15) Floating Candles
Recreate the magical floating candles from the Harry Potter series. Hang white taper candles from the ceiling using a clear fishing line or invisible thread.
Make sure to place battery-operated tea lights on top of each candle to create the illusion of floating candles without the risk of fire.
(16) Eerie Eyes In The Bushes
Cut out eye shapes from glow-in-the-dark or reflective paper and place them in the bushes or trees in your yard.
When the sun sets and the lights go out, these eerie eyes will glow and follow your guests as they walk by, adding an element of mystery to your Halloween decor.
(17) Mummy Door
Turn your front door into a mummy by wrapping it with white streamers or bandages. Add two large googly eyes to create the mummy's face.
This simple yet effective decoration will catch the attention of trick-or-treaters and passersby.
(18) Zombie Hand Planters
Repurpose old rubber gloves or buy some cheap ones from the store. Fill them with soil and plant small indoor plants or succulents inside.
Arrange the gloves in a way that makes it look like zombie hands are coming out of the ground.
(19) Haunted Mirror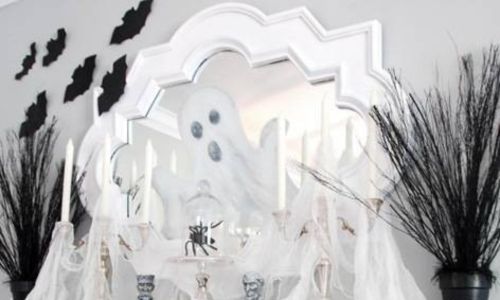 Cover a mirror in your home with a thin layer of baby powder or cornstarch. Write spooky messages or draw creepy images on the powder-covered surface.
When someone walks by the mirror, they'll see ghostly messages or faces appear, giving a haunted effect.
(20) Pumpkin Pathway
Line your front pathway or driveway with carved or painted pumpkins to create a pumpkin trail leading up to your doorstep.
Use LED tea lights inside the pumpkins to guide the way for trick-or-treaters, making it both spooky and safe.
Conclusion
Halloween crafts are super easy and fun to do with the whole family, making Halloween traditions even more fun every year.
Your bank account shouldn't scare you on Halloween night. Try out these new crafts to help save you money and make your haunted house stand out. 
You can use credit cards when buying your crafts to save more money by getting cash back on anything you buy. However you plan to celebrate, stay safe, and have a happy Halloween.
FAQs