W
e all look forward to that scary time of the year where we get to dress up in our favorite costumes to hand out delicious candies to all the boys and girls. Yes, this is Halloween. Similarly decorating for halloween party on a budget is also essential along with
holloween party food
. Most of us want to make a good impression, so we buy the best costumes or throw the best scary parties. Sometimes that can get costly, but it doesn't have to. Check out these different ways to spend less on the most terrifying night of them all.
To keep the tradition of Halloween alive, you must get creative with your decorations. That means you need to be smart about how you're going to make your house the spookiest on the block. Did you know that some people are just as serious about their Halloween decorating as others are with their Christmas decorating?
Thankfully, you don't have to worry about spending as much on Halloween decorations as there are many ways to get scary effects without having to spend as much. You may even be able to invest any loose change through Acorns when purchasing your paper and paint to make these crafts.
Spider Webs
To be honest, the cheapest way to get this spooky effect is to not clean your house for a while to get free creepy crawly tenants to help you out. But, of course, we understand you may not appreciate their help, so instead, try getting your claws on some fibrous cotton material to hand all over your house. You can even make some out of paper, like how you would make a paper snowflake. Remember that while they aren't real cobwebs, that doesn't mean that they are easier to clean up.
Pumpkins, Pumpkins, and More Pumpkins
Nothing says "Happy Halloween" like a good old traditional pumpkin. For years, pumpkins have been the product most associated with Fall and Halloween, and the best part is, they are usually very cheap. So be sure to grab a couple, or if you've got a green thumb, a pack of seeds only costs a couple of bucks at most. A wonderful tradition of Halloween is to carve terrifying faces into them. You can also paint faces and other scary Halloween symbols on them if you're nervous using a knife.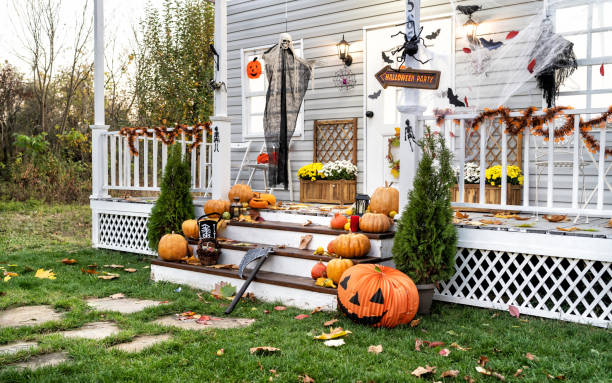 A G-G-Ghost!
Ghosts are fairly easy to make and come in all shapes and sizes. You just need a white rounded shaped base made from anything you can find or create. You also may need something to give them a face like black paint. That's it. The most traditional Halloween ghosts require a simple bed sheet, so you end up getting a great cheap costume as well as a chilling decoration with it being thrown over bent wires in your yard. Make sure you have something black like paint or paper to make it seem like your haunting friend is wailing.
Bring Out the Body Bags
Or, in this case, trash bags. You can also do this with sheets along with decorating for halloween party on a budget. Just make your bags in the shape of a human and tie around your creation 4 or 5 times to get the effect that a dastardly deed took place there. White sheets with red paint really draw out the spook factor. Set the bodies however way you want and enjoy all the horrifying stares from the neighbors.
Creepy Crawly Spiders
If you don't want to go free and invite these guys into your home, we'll understand. Thankfully, you can make your own spiders at home to go with your spiderwebs. You'll need a black base and some googly eyes. Tube cleaners make excellent legs, but you can use something else. Paint some rocks black, add the crafts, and scatter them all around for a creepy effect. Moreover, you can also buy cheap plastic spider rings to hang up on your spiderwebs.
Bats Everywhere!
Get those googly eyes out again, or not. However, you make your bat is up to you, but we prefer to use good old-fashioned black construction paper. Cut out the shape you want and hang it in your window. Black paint also works well if you have something to paint on. You can hang your bat shapes anywhere you want, whether it be taped on the walls or hanging on little strings from your gutters, bats are essential to really spookify your house.
Are there Witches in Here?
There are a multitude of ways to craft a witch, and if you're a seasoned Do It Yourselfer. Black cloth and wires can turn into a scary witch hat. Green and black paint on a recycled plastic container makes the perfect witch face. You don't even have to create an entire witch. Even symbols of witches are good enough to get the idea across, like an old dusty broom sitting against your porch.
Terrifying Tombstones
Have any extra wood lying around? These decorations, when made with suitable material, can be used every year to help save money. Of course, you can also make these the easy way with paper plates, grey, and black paint. The best tombstones are ones with clever and quirky jokes on them such as "Here lies Tom, his famous last words are 'What's this button do?".
Get Your Colors Right
If all else fails, it's good to remember to keep to the traditional color scheme of Halloween. Whether you're buying streamers or making some other craft, purples, Oranges, greens, black, white, and red are the best ways on decorating for halloween party on a budget. Make any number of crafts you want using traditional Halloween symbols in the correct colors to celebrate the spirit of Halloween this year. Don't forget that red always looks best against a deathly pale white background.
Is there anything that we missed? Halloween crafts are super easy and fun to do with the whole family, making Halloween's tradition even more fun for every year. Your bank account shouldn't be the only thing scaring you on Halloween night so try out these new crafts to help save you money and make your haunted house stand out from all the rest on the block. You can also use Aspirations debit card when buying your crafts to save even more money by getting cash back on anything you buy. Whatever your plan is – always remember to stay safe and have a happy Halloween.