October is just around the corner, and it's an exciting time! The arrival of October brings with it cool weather, stunning foliage, the opportunity to snuggle up in cozy sweaters, and, most importantly, Halloween.
More and more people are getting into the spooky season spirit all month long, hosting movie nights, bonfires, and parties.
Even if it's just the people in your home, adding some themed food adds to the vibe and makes your event magical.
You're excited for your event, so you head to the web (pun intended) to find some recipes. 
It doesn't go well. Looking at all these recipes feels overwhelming. Who has the time to make two dozen pumpkin-shaped hand pies?
Who has the budget for personalized candies or the supplies to make and decorate cookies from scratch? Don't panic!
We've got tips for making any food into a spooky treat fit for Frankenstein.
Best Halloween Party Food On A Budget
First, decide what kind of food you'll have at your party. Will they be sweet or savory? Are you having grown-up guests who'd enjoy some spooky cocktails? Will your guests be mostly hungry kids popping in from trick-or-treating?
No matter who your guests are, you'll probably be busy playing games, watching your favorite scary movies, trick-or-treating, or all of the above! It's a good idea to have some finger foods on the list. That way, you, your kids, and your guests can enjoy the food and the fun.
When you're planning fun food, you can go in two directions. On the one hand, you can theme everything with sweets and candy. After all, it's Halloween! If there's a day to make your dentist shudder, it's this one. 
On the other hand, you can use your snacks to add some much-needed nutrition in between all that candy. This can help kids (and grownups) from getting too hyper and help prevent the dreaded sugar crash.
You can even mix it up and pick a little of everything. That might sound like more work, but it doesn't have to be. After searching through hundreds of Halloween recipes, there are a few things that stand out.
Here are three simple guidelines for making your Halloween food pop, as well as a few easy recipes.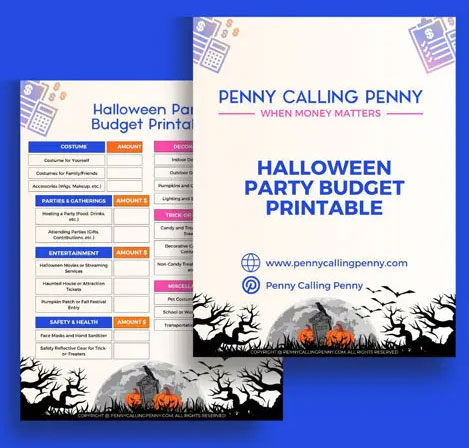 Plan, Party, and Save Like a Pro!
(By subscribing, you agree to our terms & conditions, privacy policy, and disclaimer.)
(1) Make It A Mummy
First up, the easiest of all. You don't need to be an artist to make a mummy, and you don't need any special skills. You can use this trick on sweet or savory foods, often for under $5! You can even watch mummy-themed movies for a perfect themed party! Making your Halloween snacks into mummies is perfect for guests of all ages.
All you'll need is something to act as your mummy's "bandages." This is anything that can be easily cut, drawn, or arranged into strips. Some great examples are puff pastry (or any kind of dough), white chocolate, and mozzarella cheese.
Once you've paired your snack with your "bandage" of choice, you can add another garnish for eyes. Herbs, candies, or even dots drawn in food-safe markers are all great choices. You can also just leave the space where the eyes should be blank for an added spook factor.
Just like that, you've got some fun (and cheap) Halloween treats that took no time at all! For some added inspiration, here are a few of the best mummy-inspired recipes you can make on a budget:-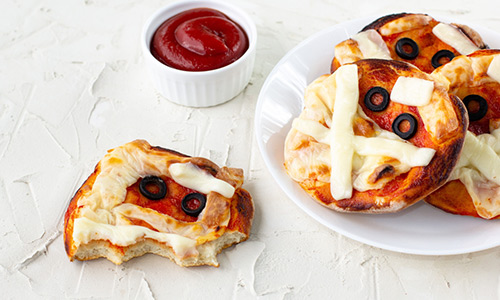 (2) Find A Face
Another hallmark of Halloween is faces — Jack O'Lanterns, Ghosts, Skulls, and Monsters of every kind can haunt your snacks with ease. This trick covers any kind of snack you can think of in some Halloween magic. 
Carving a pumpkin is a classic, but did you know that people used to carve turnips instead? It's true! And while chomping down on a raw turnip or pumpkin might not be so appetizing, you don't have to limit yourself. 
Carve a face into a watermelon, an apple, or anything your heart desires! As long as the surface of your snack is firm, you can easily carve a Jack O'Lantern face. 
If Jack O'Lanterns aren't your jam, you can add ghost faces, too! This works best on white foods, like adding olives to a cauliflower or cheese pizza. Or chocolate dots to white chocolate. Ghost faces are one of the easiest faces to draw or add. Three circles and your boo-tiful snack is ready!
If you're more creative, try adding a skull or the face of your favorite spook to a pizza, cookie, or dip.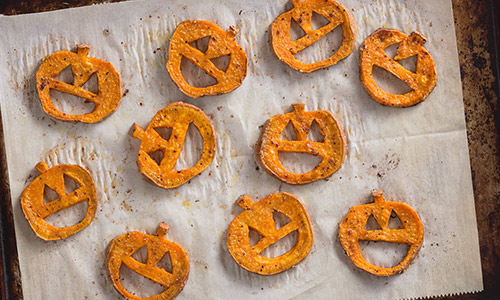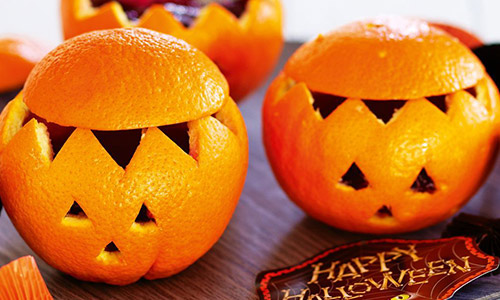 (3) Spooky, Scary Skeletons And Spiders
Spiders and skeletons are Halloween classics, and they make a great theme for your snacks. Best of all, they're easy and cheap ways to dress up your party food. 
If you don't want to do any cooking yourself, you can even get plastic spider rings or bone toothpicks for around $2 at a Target, party store, or dollar store. You can set the spider rings in a bowl of powdered donut holes for "spider eggs" or into cotton candy to be their webs. Your bone toothpicks would go great in a "grave" of spinach dip or oreo pudding. 
You can also get creative with spiders and skeletons. A Ziploc bag with white or milk chocolate is an old standby. Use it to draw rings on your sweet treats and then drag a knife through it to make spider web designs or make "spider chip cookies." Just drag a toothpick through melty chocolate chips to draw legs on fresh baked cookies, and you're done! 
If a savory spider is what you seek, try slicing olives and arranging them on a pizza or arranging veggies and dip to make a big spider centerpiece!
Veggies and dip can make a great skeleton, too. For an extra creepy element, mold a cheese ball into a face shape and over with ham or prosciutto "muscles." For a more kid-friendly cheese treat, cut the ends of string cheeses to look like bones instead.
Looking for a sweet skeleton friend at your party? Good ol' white chocolate can transform pretzels and marshmallows into a sweet and salty treat that looks like a bone. Looking for a skele-sweet idea that doesn't call for white chocolate? Try decorating some gingerbread cookies! 
To get your skeleton and spider snacks going, here are some of the easiest recipes to use at your bash:-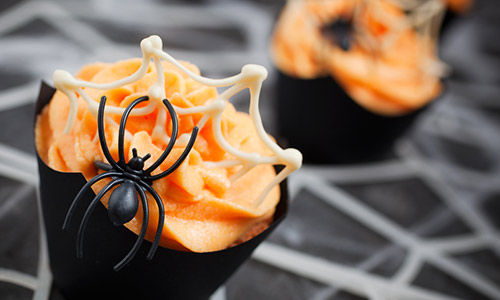 Conclusion
With these budget-friendly Halloween party food ideas, you can still have a spooktacular time without breaking the bank.
Whether you choose to make some creepy cocktails, spooky snacks, or a wickedly delicious main dish, there are plenty of affordable options to choose from.
With a little creativity and planning, you can enjoy a fun and festive Halloween party without worrying about the cost.
When it comes to Halloween party food, it's all about getting creative with spooky and fun themed treats. Some popular options include Halloween-themed cupcakes or cookies, spooky dips or spreads, themed cocktails or mocktails, and snacks like popcorn or candy. You can also incorporate Halloween themes into traditional party foods, like turning pizza into a spider web or making deviled eggs that look like eyeballs.
There are many affordable options when it comes to Halloween party food. Some low-cost ideas include popcorn or snack mix in Halloween-themed bags or bowls, cut-up fruits and veggies arranged in the shape of a jack-o-lantern, Halloween-themed cupcakes or cookies made from boxed mixes or store-bought dough, or themed drinks like orange soda or punch. It's also a good idea to look for sales on Halloween candy and incorporate that into your party treats.