D o you know what is as important as earning money?
Saving the earned money. And it is true it is a daunting task sometimes. 
But what if you could follow a simple challenge and save $5000 in a year? 
It is a great deal in the present economy, isn't it? 
This blog will help you follow a 52-week challenge that will save around $5000 in just 365 days. And it is not as tough as it might seem. 
If you stick to the plan and are motivated to save extra for your Christmas this year, you will get it done.
What Is The 52 Week Money Challenge?
This 52-week money saving challenge is easy to understand and implement. 
This challenge allows you to save money every week until you reach 52 weeks and have $5000 or so saved for you. 
This challenge asks you to start saving from a small amount, and with each week passing by, you add more money.
The trick is to increase or decrease money each week at your convenience. 
The amount to be saved is totally up to you. But it is possible to save $5000 by the end of the year.
For instance, you can save $25 in the jar the first week. 
In the second week, you save $45, and then you raise the savings to $65 in the third week. 
You can go two ways. 
You can keep increasing twenty dollars every week, or you can save different amounts every week. 
The lowest could be $25, and the highest $155 each week.
It might seem like a distant dream to be able to save $155 in a week. 
But it is possible. Even if you go with increasing $20 each week, it would be easier since you would already set a momentum.
Although the challenge will help you save $5000 if you believe it would be difficult for you to save, here is another instance to give you an idea about saving money in 52 weeks. 
For instance, you could begin with $1 to $5 in the first week. Then, increase this amount to $6 to $10.
These weekly amounts will let you save around $2000 at the end of the year. 
So, the amount you could save every week will eventually decide how much you save at the end of the year. 
The bigger the amount saved in the jar every week, the bigger you will get at the end of the year.
The main goal of the challenge is to help you save more. 
This challenge will help you develop better money management practices. 
A challenge like this will help you put into saving habits. 
So, it would help you financially better yourself.
Here is a table with an amount that might help you reach the goal of saving $5000 in 52 weeks.
Note that the amount you put in every week might differ for you as per your ease.
| Week | Amount To Save | Total Contributions |
| --- | --- | --- |
| | | |
| | | |
| | | |
| | | |
| | | |
| | | |
| | | |
| | | |
| | | |
| | | |
| | | |
| | | |
| | | |
| | | |
| | | |
| | | |
| | | |
| | | |
| | | |
| | | |
| | | |
| | | |
| | | |
| | | |
| | | |
| | | |
| | | |
| | | |
| | | |
| | | |
| | | |
| | | |
| | | |
| | | |
| | | |
| | | |
| | | |
| | | |
| | | |
| | | |
| | | |
| | | |
| | | |
| | | |
| | | |
| | | |
| | | |
| | | |
| | | |
| | | |
| | | |
| | | |
Versions Of 52 Week Money Saving Challenge
1. Bi-Weekly Money Challenge
Another way to save more in 52-week is to save bi-weekly. 
If you do not earn a lot together or receive your paycheck in two weeks, you could save every two weeks. 
Although you might have to save larger chunks in these two weeks, it will be easy on your wallet in the long run.
2. Mini Money Saving Challenge
Another way to save more in 52-week is through the mini-version of the 52-week money-saving challenge. 
According to this version, you still have to save every week until 52 weeks, but now you save almost half the amount every week than the standard challenge. 
You will have less stress on your wallet and yet be able to save.
However, as mentioned above, if you put in less every week, you would have less saved up at the end of the year.
For instance, if you were to save $13 every week in the mini-version as half of $25 in the standard version, you would also be increasing less amount of money every week and so would end up getting $2500 at the end of the 52-week challenge rather than $5000, as per the standard.
Pro Tip: Make sure to put some amount in the jar weekly. Consistency is the key to completing this 52-week money savings challenge.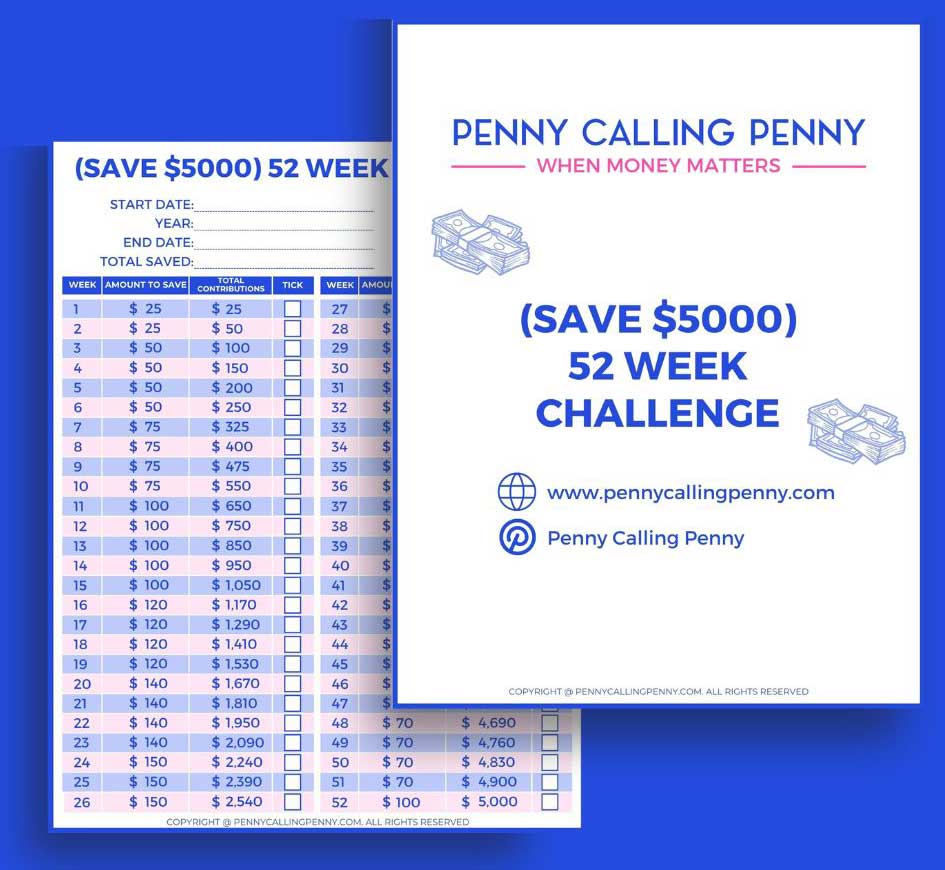 Ready to begin the 52 Week Money Saving Challenge?
(By subscribing, you agree to our terms & conditions, privacy policy, and disclaimer.)
5 Ways To Save Money For 52 Week Money Challenge
Here are some ways to save money to complete your 52-week money-saving challenge.
1. Make A Budget
It is critical to make a budget, which indicates how much Money is spent on different activities. 
There are several apps also which can help you to make a budget and help you save Money. 
There is a very common 50-30-20 budget rule. 
According to this, 50% of your earnings goes into expenditure for necessities like housing, utilities-electricity, water, food etc.; 30% would go for wants, non-essentials and the rest of 20% would go for savings. 
Pro Tip: 30% might be a little extra for non-essentials like eating out, movies, parties, etc. when trying to save more. It is advised to spend even a lesser amount on wants or non-essentials for the challenge.
2. Cut-Down Expenditure
For the challenge, you can even open a savings account. 
Make sure to look for different interest rates being offered on savings accounts. 
Some may be more than others. 
Make sure to choose the one with the most interest rate so that you can save up even more until the end of the 52-week money-saving challenge. 
Further, as mentioned before, spend less on things that are not useful or important. 
Stay on the budget that you made and avoid any wasteful expenditures.
3. Make More Money
You can always earn more money in your 52-week challenge jar. 
Take up an extra job or side hustle like weekend social media manager, freelance writer, babysitting or anything that excites you and you could devote your time to. 
Pro Tip: Make it a habit to put the income from this extra job directly into your 52-week money-saving challenge, and do not spend it anywhere else.
Best Survey Sites To Make Extra Money
Bag $300 monthly just for Dropping Your Opinions with Survey Junkie!
Grab Your Piece of the $879 Million Survey Pie with Swagbucks!
Daily Jackpot: Claim your share of $1000 with Inbox Dollars Opinion Bonanza!
Seize up to $50 per Survey with Branded Surveys!
Skyrocket Your Stash by 50% with PineCone's Special Formula!
4. Wasteful Subscriptions
If you know of any subscriptions that have existed without any use for a long time now, cut them off. 
Think of how much you could add to the challenge every week with just small subscriptions cut. 
For instance, Netflix's basic plan costs $9.99/month, and Amazon Prime Video's basic plan costs $8.99/month. 
This adds up to $18.98/month. This is just when two of the basic plans are added. 
The cost will rise further if you have a Disney or Hulu subscription. 
Cut these non-required subscriptions now.
5. Safety Net
Although the challenge is about saving money, it is more important to save a certain amount of money and not touch it. 
This could be your backup fund for any emergencies. This backup fund will not be part of your challenge. 
You wouldn't know how much you will be earning, saving and spending and when an emergency comes, it is important that you have a safety net to fall back on.
Pro Tip: Create a separate bank account for your backup fund. This will help you not use this money for any expenditure and get you some interest on the amount every month, adding more to your backup fund.
4 Tips To Save More Money
1. Do not buy packaged water: It might seem like a small expenditure, but you could save around $180 with a stoppage of bottled water usage.
2. Make your coffee: Use coupons and deals if you wish to buy Starbucks, but try to avoid such wasteful expenditures. You would be saving around $1000 a year.
3. You spend something over $100 on greeting cards every year. Try to be creative and make them yourself. Along with some love, you would be saving money too.
4. If you are a fashionista, you may want to try a different route. Trends always come and go. But along the way, you lose tons of bucks. Stop buying trendy clothes and save around $500 every year.
4 Benefits Of 52 Week Money Saving Challenge
1. This challenge will help you get $5000 at the end of the year.
2. You might want to use this Money in its entirety on something like fancy Christmas gifts, vacation etc.
3. You could also use this Money for down payments for your car, house or anything else.
4. You can also use this money to pay off any previous debts.
Conclusion
This 52-week money savings challenge might seem like an impossible task at the beginning. 
But as you follow the pace and gain control of your expenses and income, you will realize you are saving more each week. 
Try and aim to save put in more money than the previous week each week. 
The amount you eventually get doesn't matter, $5000 or not, but the fact that you will be saving some money will lead to your financial stability, independence and management.
Here at Penny Calling Penny, our save money blogs are only a part of our growing library. 
We're dedicated to helping you learn to manage your money, no matter where you're at on your financial journey. 
Subscribe to our newsletter, so you never miss a Penny, and we'll see you next time!