S ummer is a time for fun and relaxation, but it can also be a time for financial strain.
With kids out of school and families spending more time at home, the cost of food can add up quickly.
If you're looking for ways to save money on summer meals, you're in luck.
There are many affordable and delicious options available, even if you're cooking for a crowd.

In this blog, we'll share some of our favorite cheap summer meal ideas.
We'll also provide tips for making meal planning and preparation easier, so you can spend less time in the kitchen and more time enjoying the summer weather.
Strategies For Cooking In Hot Weather
Let's pause for a moment and consider your culinary choices during hot weather.
Even if you're aiming for a dish like chilled pasta salad, there's still a need to cook certain components (such as pasta, chicken, and more) at some juncture. 
Employing the stove or oven to prepare these elements could lead to your air conditioning being utilized extensively, resulting in escalated electricity expenses.

1. Cook outside: On extremely hot days, use an outdoor extension cord for appliances to release generated heat outside.

2. Use your slow cooker or instant pot: Utilize a compact appliance like a crock pot, instant pot, or toaster oven to minimize heat in the house compared to using a stove or oven.

3. Stick to raw food: Options that you don't need to cook much (salads, leftovers, sandwiches etc).

4. Cook either early in the morning or late at night when the temperatures are lowest.
Inexpensive Summer Meals Starring Pork
1. Pulled Pork Tacos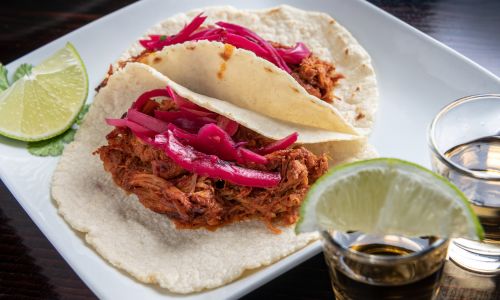 This is a classic summer meal that is easy to make and can be customized to your liking.
You can use either pork shoulder or pork butt, and you can add your favorite toppings, such as shredded cabbage, pico de gallo, and sour cream.
2. Grilled Pork Chops
Grilled pork chops are a quick and easy meal that is perfect for a hot summer day.
You can season the pork chops with your favorite herbs and spices, and grill them to your desired doneness.
3. Pulled Pork Burrito Bowl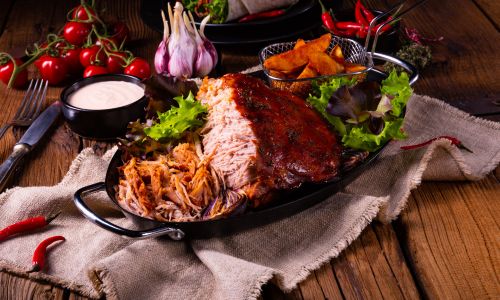 Pulled pork is one of those meals that can just overwhelm you if you don't have an army of hungry teenagers.
These burrito bowls are a great meal to make use of 2c pulled pork leftovers and repurpose them.
4. Instant Pot Peppers & Sausage
After indulging in peppers and sausage at a delightful street fair this week, we were inspired to recreate the flavors at home.
For those without an instant pot, a wonderful alternative is to prepare the vegetables by encasing them in foil and placing the packet alongside sizzling sausages on the grill.
Summer Beef Meals On A Budget
5. Marinated Beef Kabobs
A slightly upscale yet worthwhile inclusion, as quality steak periodically goes on sale.
This recipe caters to a crowd, serving 10-12.
Quick tip: Soak wooden skewers 30 mins before threading meat and veggies for optimal results.
6. Beef Burritos
Adore this recipe for its exceptional freezability – each burrito can be individually wrapped in plastic and aluminum foil.
It's my top choice for gifting freezer meals to new moms.
Plus, it's versatile enough to use leftover shredded pot roast or steak tips.
7. Bulgogi
This dish features thinly sliced, tender beef marinated in a harmonious blend of soy sauce, sesame oil, garlic, sugar, and various spices.
The marinade infuses the meat with a delightful combination of savory, sweet, and umami tastes, creating a mouthwatering experience that tantalizes the senses.
8. Bibimbap
Meaning, "mixed rice," bibimbap is warm rice topped with different seasoned vegetables, sauce like gochujang (korean red pepper paste), and often meat and/or an egg.
Budget-Friendly Vegetarian Summer Meals
9. Grilled Vegetable Skewers With Couscous Salad
This is a great way to use up any leftover vegetables you have on hand.
Simply skewer your favorite vegetables (such as zucchini, eggplant, peppers, onions, and tomatoes) and grill them until tender.
Serve with a side of couscous salad for a complete meal.
10. Tofu Scramble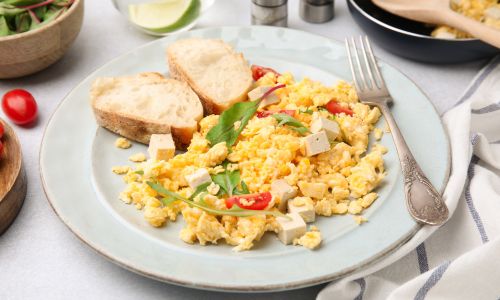 This is a great vegan alternative to scrambled eggs.
Simply crumble tofu into a pan and cook it with vegetables, spices, and herbs until it is heated through.
Serve with toast or tortillas.
11. Black Bean Burgers
These burgers are made with black beans, corn, breadcrumbs, and spices.
They are hearty and flavorful, and they can be cooked on the grill or in a pan.
12. Hummus And Veggie Wrap
A soft, whole-grain tortilla enfolds a generous spread of velvety, homemade hummus that serves as the heart of this delicious wrap.
The hummus, made from meticulously blended chickpeas, tahini, olive oil, and a dash of lemon juice, offers a creamy and savory base that sets the stage for a symphony of textures and tastes.
13. Falafel Bowls
Falafel are deep-fried balls made from chickpeas, herbs, and spices.
They can be served in a bowl with rice, vegetables, and tahini sauce.
Salads
14. Vegan Caesar Salad With BBQ Sweet Potato Croutons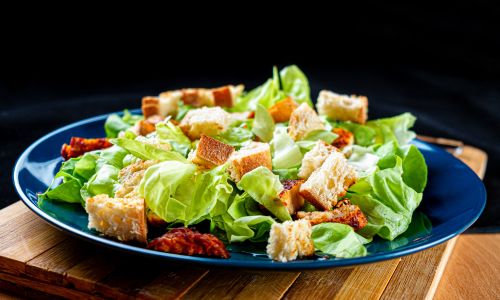 Indulge in a wallet-friendly summer delight with our Vegan Caesar Salad featuring smoky BBQ Sweet Potato Croutons.
Crisp romaine lettuce, tangy vegan Caesar dressing, and a sprinkle of nutritional yeast create a refreshing base.
Elevating the dish, these homemade sweet potato croutons, glazed with a delectable BBQ seasoning, add a delightful crunch and a hint of summer barbecue.
Savor a symphony of flavors without breaking the bank, perfect for sunny picnics or relaxed backyard gatherings.
15. Curried Cauliflower Grape & Lentil Salad
Discover the essence of summer within the Curried Cauliflower, Grape, and Lentil Salad—a culinary masterpiece that harmonizes affordability with flavor.
This dish melds the richness of curried cauliflower, the burst of succulent grapes, and the wholesomeness of lentils, resulting in a tapestry of tastes and textures.
A quintessential choice for gatherings or a swift, economic meal, this salad encapsulates the very spirit of summer.
16. Cheesy Roasted Broccoli & Chickpea Kale Salad
Elevate your summer dining with the wallet-smart Cheesy Roasted Broccoli & Chickpea Kale Salad.
Kale, the verdant superstar, dances alongside roasted broccoli and protein-packed chickpeas, drizzled with cheese for a touch of decadence.
A frugal feast for the senses.
17. Mustard Green Cherry Salad
Delve into the vibrant embrace of a Mustard Green Cherry Salad, where tender mustard greens tango with succulent cherries in a sun-kissed symphony.
This economical dish is a refreshing ode to summer's bounty, inviting you to savor the marriage of peppery notes and fruity sweetness without breaking the bank.
Sandwiches
18. Pulled Pork Sandwich
Savor summer's thrifty delight with the Pulled Pork Sandwich!
Tender, slow-cooked pork dances with smoky barbecue flavors, nestled between soft buns that soak up every drop of savory goodness.
It's the affordable taste of sunshine that'll keep your wallet and taste buds equally content.
19. Chickpea Sunflower Sandwich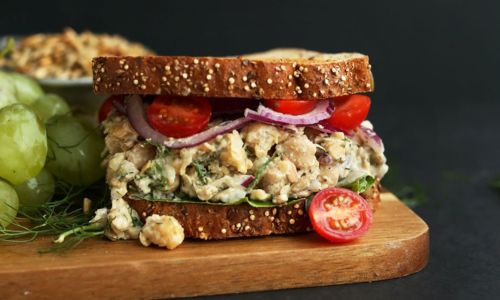 Bask in the brilliance of summer with our Chickpea Sunflower sandwich—a fusion of creamy chickpea hummus and a sprinkle of toasted sunflower seeds, nestled between slices of freshly baked whole wheat bread.
This affordable delight captures the essence of the season, delivering a refreshing and wallet-friendly experience in every bite.
20. BBQ Tempeh Sandwich
Make your summer palate dance with the BBQ Tempeh sandwich, a pocket-friendly marvel.
Delight in the marriage of wallet-conscious tempeh and the rich allure of barbecue flavors, all neatly encased in a bun.
This dish proves that enjoying the sun-soaked season doesn't have to mean emptying your pockets, delivering both taste and affordability in every bite.
Soups
21. Red Pepper Tomato Soup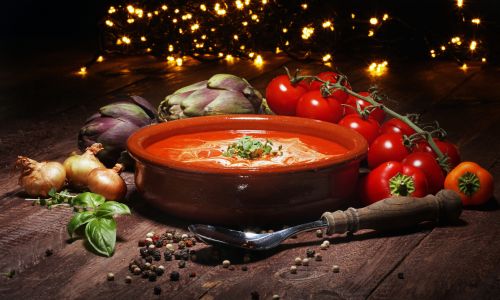 Bask in the frugal indulgence of summer with a bowl of Red Pepper Tomato Soup.
This budget-friendly delight harmoniously blends the sun-kissed sweetness of red peppers with the tangy vibrance of ripe tomatoes, creating a symphony of flavors that dance on your taste buds.
A cool and economical choice, this soup encapsulates the essence of the season without breaking the bank.
22. Roasted Cauliflower Soup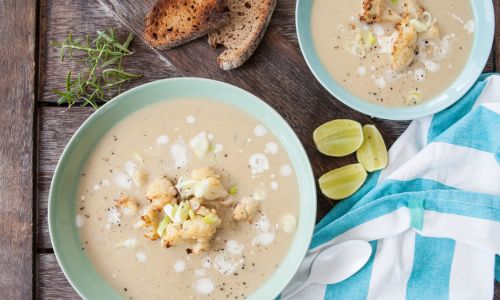 Amid the summer's glow, relish a thrifty yet exquisite roasted cauliflower soup.
A symphony of roasted flavors dances within this frugal concoction, where the humble cauliflower shines in its golden caramelized glory.
Transforming affordable ingredients into a velvety delight, it's a testament to both taste and economy.
Tips For Making Meal Planning And Preparation Easier
Here are a few tips for making meal planning and preparation easier:-
1. Plan your meals ahead of time: This will help you avoid impulse purchases and make sure you have everything you need on hand.
2. Shop at discount grocery stores: There are many discount grocery stores that offer affordable produce, meat, and other groceries.
3. Cook in bulk: This is a great way to save time and money. Cook extra portions of meals and freeze them for later.
4. Use leftovers: Leftovers can be used to make new meals, like soup, stir-fry, or quesadillas.
5. Be creative: There are many ways to make affordable and delicious meals. Get creative with your ingredients and recipes.
Conclusion
As summer's heat peaks and wallets yearn for relief, our treasure trove of budget-conscious summer meals offers both refreshment and financial solace.
From sizzling outdoor grills to clever appliance usage, we've unraveled strategies to keep your kitchen cool and your costs low. 
Pork and beef delights shine with pulled pork tacos, marinated beef kabobs, and more, while vegetarian options like grilled veggie skewers and black bean burgers celebrate nature's bounty.
Vibrant salads and innovative sandwiches stand ready to impress, while savvy meal planning ensures you're always a step ahead. 
With a dash of creativity, relish the symphony of flavors that summer provides, without compromising your budget.
Embrace the art of affordable summer dining, savoring both the season's delights and your financial peace of mind.