Trustpilot Rating – 4.5/5
This app with over 20 million users and a rating of 4.5/5 Trustpilot ratings provides you to earn while sharing your opinions. You can earn as much as 40 dollars a month by just taking 3 surveys every day. You can cash your reward points via gift cards, PayPal or bank account.

Point based Reward System

T he New Year is here with us, and you're probably looking for new ways to earn money. If so, you likely come across Survey Junkie and wonder if it is legit. Taking surveys is one of the many ways to make money online. Notably, there are dozens of popular survey sites and an equal number of spammy sites, making it difficult to choose one.
Survey Junkie is a legit and reliable survey site that can pay you to provide opinions and influence the brands you like. If you're looking to score quick money through online surveys, you've come to the right place. This article reviews Survey Junkie, how to join and take surveys, and how it pays. Reading this complete guide is crucial before creating an account with SJ! 
Is Survey Junkie Site Legit? 
Survey Junkie is a Better Business Bureau-accredited website with over 40,000 top-star reviews on Trust Pilot. 66% of Survey Junkie reviews gave five stars, while 19% gave four-star reviews, which is pretty much excellent. Furthermore, it has over twenty million community members making money through surveys, which shows that a huge community benefits from surveys with Survey Junkie. 
Additionally, this survey site lets you cash your reward points through a gift card, PayPal, or direct into your bank account. Notably, the site uses a secure socket layer, ensuring that your information is safe and no third parties can access it. 
Ways To Make Money On Survey Junkie 
Companies and brands out there are in dire need of your opinion about their products or services. Your opinion through surveys helps build future products; that is where Survey Junkie comes in. It is an aggregator site that connects you to thousands of paid surveys. 
First, sign up for the Survey Junkie account, complete your profile, and access the account. You'll have to provide the necessary information to create the account and demographic. You can join one or all the communities to start making money. The two types of communities include the SJ opinion and the SJ pulse. 
1. Survey Junkie Opinion 
This is the most popular way to make money on Survey Junkie. If you're looking to make money by providing opinions and participating in focus groups, SJ Opinion is your community. Here, you'll find hundreds of surveys to take and focus groups on joining. SJ will reward you with points for every survey you complete or focus group activity. Your profile information helps in determining your qualification for a specific survey. It uses various parameters like your age bracket, gender, location, etc., to match you with the right study. 
Survey Junkie uses a point-based system to reward you, which you redeem for cash once you hit the threshold. One point is equal to a cent, so a survey offering 100 points is the same as $1. Different entities conduct surveys on this site, so you'll likely see surveys from companies like Ipsos and i-Surveys. 
Notably, you might only qualify for some of the surveys recommended to you by SJ. However, you'll still earn participation points for your time. Note you'll only earn points for the successful submission of your opinions. Participating in focus groups can earn you more points! 
What survey types can you complete in Survey Junkie? There are general and category-specific surveys you can take. Additionally, these surveys cover various industries, including retail, technology, financial service, real estate, travel, automotive, personal care, home, entertainment, healthcare, and apparel. 
2. Survey Junkie Pulse 
SJ Pulse is another option on this site to earn rewards, and it is probably the most effortless activity. Typically, you'll permit researchers to collect information about your online activity and behaviors. You only need to download and install a browser extension on your laptop, computer, tablet, or any other device, and it will do the rest of the work. Alternatively, you can join the Survey Junkie Pulse on your mobile by opting in through the app. 
Once you set up the extension, it will collect information about your digital activity, including internet searches, sites you visit, ads you view, and shopping activities. That's the simplest way to earn rewards for things you do daily on the internet. You'll need to run the browser extension for at least thirty days to see meaningful results. 
Furthermore, there are survey activities exclusive to the Pulse community members; capitalize on those and earn more points. Remember, completing more activities is an excellent way to boost your reward points and earnings.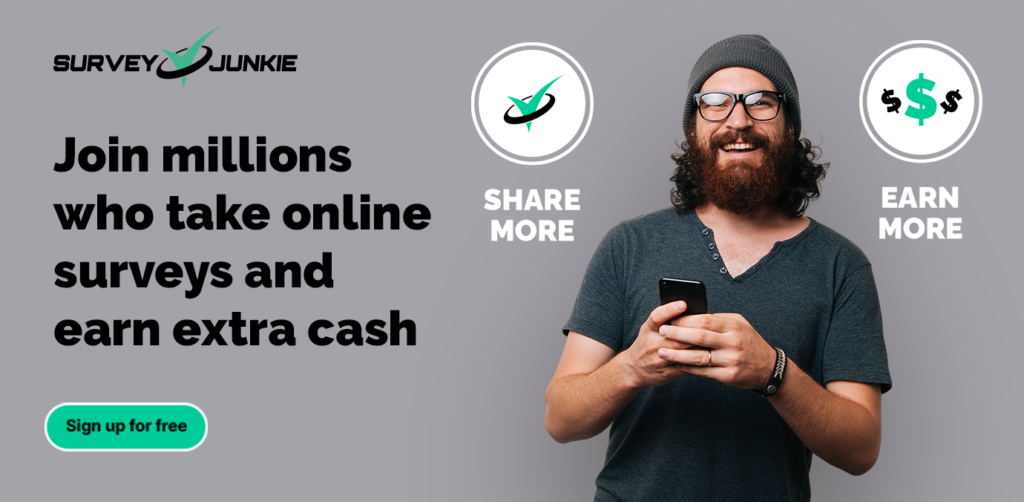 How Many Points Can You Earn On Survey Junkies In A Day? 
Let's be clear; Survey Junkie will not make you rich overnight! However, making money during your free time is worth it. You can complete your surveys while taking lunch at work, commuting back home, at night, or even early in the morning. 
The amount of $$ you can make on Survey Junkie daily depends on your efforts and the rewards points offered. Some surveys pay up to $5, with many tasks paying between 25 to 300 points. Assuming that you complete three surveys paying 50 points daily, you'll have 150 points. And this means you'll earn $1.50 on Survey Junky daily. 
How Many Survey Junkie Points Do You Need To Redeem? 
You'll need 500 points, equal to $5, to cash out or get a credit card with it, and it can take a pretty shorter time to earn the minimum threshold. There is nothing wrong if you decide to accumulate more points, and you can initiate a withdrawal anytime, provided you have 500 or more points. How Does Survey Junkie Pay Me? Survey Junkie has a pretty straightforward way to redeem your point rewards. You can cash in and transfer the money into your PayPal or bank account. Do you need a Walmart, Amazon, Target, or Starbucks gift card? Awesome! You can redeem your SJ points for a gift card. 
The extra $30, $50, or even $250 you earn on Survey Junkie monthly can go a long way in paying for your groceries, phone bills, gas, birthday gifts, dinner out, or even savings. SJ might need you to verify your identity before redeeming your reward points. But not to fret; this is a crucial step, ensuring that it is you benefiting from the surveys and not an imposter. Let's look at the positives and cons of using Survey Junkie. 
Survey Junkie Pros 
Survey Junkie is free. Sign up and use the site without paying a dime. 
Survey Junkie offers a sign-up bonus. 
It is simple to join and use Survey Junkie. 
Survey Junkie is secure, and they prioritize integrity and data protection. 
It is easy to redeem points, and you can choose a gift card or cash option. 
You can access SJ on all devices, and they even have an app. 
Survey Junkie Cons 
Conclusion 
If you're searching for an excellent way to pass the time than smashing candy on Candy Crush, try using Survey Junkie. The rewards you accumulate daily can go a long way in offsetting your birthday treat, bills, or towards your savings. Are you on our email radar? Join now so that you don't miss our resourceful newsletter.