O wning a home is still a dream pursued by millions of people worldwide, and a $1 million house is the dream of those in a financial position to pursue such a lofty thought.
The objective of acquiring a $1 million home is all about your financial situation. It would be best if you had good credit, few and small debts, a significant savings portfolio, and some income to afford it.
Let's look at all of the variables of how to buy a million dollar home.
Finances
If you buy the $1 million home with cash, then finances are not much of a problem. Your only concern in that situation is property taxes, and you need to be able to cover the property taxes required annually.
But if you are planning on acquiring a mortgage to buy a $1 million home, finances are an issue. You will need the finances to cover both the monthly mortgage charge and the property taxes.
Let's say the house you want is selling for a firm $1 million. The first question that will be asked is how much you plan to offer as a down payment. The more you show upfront, the less you will need to borrow, and the less significant will be the factors like your credit score. Maximize your down payment to make the rest of the process less financially painful.
Companies now offer to turn all buyers into cash buyers by providing the funds to make a cash offer. These companies – such as Knock or Ribbon Home – get paid back by you once you acquire your home. It allows you to avoid contingency scenarios where you have to sell your original home to buy the new one. 
Bankers will next look at your income to debt ratio. Your income can be from current employment, or it can be income from investments. But you will need to show an income that can cover the mortgage payment and your monthly credit payments. 
Your credit score must be sufficiently high to qualify for a mortgage for a $1 million home. That means you have been paying your credit card minimum balances, at least.
Besides your credit and outstanding loans, you need to consider all of your monthly expenses. Are you paying for someone's education? Do you have automobile loans outstanding? What is your household budget per month?
You are about to add a significant new number to your monthly finances. The bank or lender will look over all of those numbers to see if you qualify for the mortgage.
The Mortgage Rate
It is still an excellent time to consider purchasing a home with a mortgage because mortgage rates remain low. They have been that way since the Great Recession, and the pandemic kept those rates low to encourage borrowing and purchasing. 
But the mortgage rate you are offered will be dependent upon the numbers listed above – credit score, income level, debt level. You can shop around for mortgage rates. Or you can hire a mortgage broker whose job it is to find you the most attractive mortgage available. A lower mortgage rate is likely to have more stringent payment rules than the higher rates; read your mortgage paperwork carefully. Hiring a lawyer to look over the mortgage is a good idea, and it is especially true if you acquired a loan from a less well-known source than your local bank.
Find the information, resources, and answers you're looking for before buying your first home.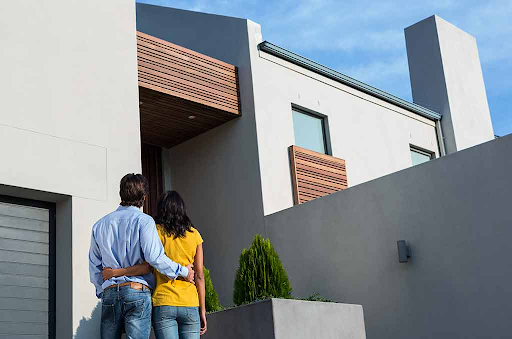 The Cost of Purchasing a Property
Don't you hate when you see the price for something and then realize there are added costs not included in the published price? That's what happens when you buy a car. Sales taxes, registration, title, dealer prep – all of those add up when you are purchasing a new vehicle.
The same is true with a home. There are closing costs (another factor when choosing a lender). There is the new and higher insurance cost (which you must prove you can acquire when applying for a mortgage). 
When you have completed the purchase of your $1 Million homes, you need to consider the cost of maintenance. Upkeep for a larger home is, naturally, more expensive. If you buy a house that needs any renovation, that is an added expense you must consider.
Why Buy an Expensive House?
You appreciate your home. So does everyone else.
Home price appreciation is a financial exercise in real estate, and it states that home prices, in general, increase over time.
The only factor that causes home prices to depreciate is a recession. We just had one, and interest rates are set in a way that we are not likely to have another one soon. So, if you trust the economy to operate normally, your $1 million home will be worth more over the long term.
Locating the house of your dreams is also a part of the exercise and the topic for another day. But, companies – such as Homesnap and Zillow – provide that service.
Purchasing a $! Million home is a nice thought, but you want to avoid being house rich and cash poor. Make a plan and take into consideration all of the above topics. 
Good luck with your search.
Here at Penny Calling Penny, we're dedicated to helping you learn to manage your money, no matter where you're at on your financial journey. Subscribe to our newsletter so you never miss a Penny, and we'll see you next time!