Do you want to know how much do nano-influencers make on Instagram? The curiosity must be doing rounds in your mind as you also want to earn a hefty amount out of it.
Are you one of those who is on Instagram and want to get paid to post content on the platform? Then the guide is for you! However, if you have less than 10,000 Instagram followers, and competing with macro or mega Instagram influencers can be quite a hassle. Luckily, you can generate a decent amount of money on Instagram despite your small number of followers.
Nano-influencers are in demand thanks to their engaged audience, authenticity, and a more targeted audience.
Contrary to the popular opinion that micro-influencers can't make much money on Instagram, you can make a ton of cash with your smaller follower count.
In this article, you will get ideas to help you boost your Instagram revenue as a nano-influencer.
How To Get Started As A Nano Influencer On Instagram?
Nano-influencer is your typical Instagrammer with followers ranging between 1000 and 10,000. This tier often focuses on a niche and has a cohesive and highly engaged community. To increase your Instagram revenue as a nano-influencer, you need to keep growing the number of your followers.
Here are some of the tips to help you get started as a nano-influencer:-
Create high-quality Instagram content: As a nano-Influencer, you need to show up on your Instagram by creating high-quality content. High-quality and unique content will keep your audience glued to your profile. Remember, creating a unique brand voice on Instagram is also crucial.
Post consistently: Another thing is to post Instagram content consistently. A consistent content calendar will boost your visibility and followers.
Join Instagram trends: As a nano-influencer, you can hop on Instagram trends to grow your account. Trends tend to get wide attention making it easy for you to get new traffic and followers.
Use geotags: Geotags can help you be visible to your local community, and it works if you run a local shop.
Offer freebies: Free giveaways are an excellent strategy to attract new Instagram followers.
Schedule posts: Timely posting is crucial, and you want your Instagram content to reach a wider audience. You can use tools like Tailwind, Sprout Social, Buffer, or Later. Be sure to keep tabs with your Instagram insights to ensure that you schedule posts when your followers are online.
Do collabs with other Instagram influencers: Established Instagram influencers have a vast audience, which means a collaboration can boost the number of your followers.
How Much Do Nano Influencers Make On Instagram?
The amount of income you can make as a nano-influencer on Instagram varies depending on your engagement rate and industry.
According to Plato, an average nano-influencer on Instagram can command up to $88 per post on average. And this means there is a potential for you to earn even more as your account grows. Research by Search Engine Journal shows that a nano influencer can make $114 per video post and $43 per Instagram story.
How To Make Money On Instagram With Less Than 10,000 Followers?
There are two significant ways to make money as a nano-influencer on Instagram. You can generate revenue directly with your Instagram content or indirectly by using other methods like offering Instagram management services.
1. Make Money With Your Instagram Content
Instagram has a creator fund program that pays content creators handsomely to keep creators on the platform. So, how do you get paid on Instagram as a nano-influencer?
2. Money On Your Instagram Lives
Do you love to go live on Instagram? You can make money from getting badges on Instagram Lives. So what are Instagram badges? These are like tokens that your supporters buy and send to you during your Instagram live broadcast. Instagram badges are in the form of hearts. Instagram badges are in three tiers; one badge for $0.99, two badges for $1.99, and three badges for $4.99.According to Data-Driven Investor, you can qualify for Badges Milestone Bonuses for going live on Instagram consistently.
3. Get Paid With Instagram Ads
Do you post videos to IGTV? You can make money as a nano-influencer through Instagram ads. If you monetize your Instagram videos with in-stream ads, you can get a 55% share of the ad revenue. The in-stream ad will run for 15 seconds, and your followers can view the ad once they play the video.
4. Partner With Brands
Another way you can create an income stream on Instagram as a nano-influencer is through brand partnerships. If you have brands that you use and love, you can reach out to them for Instagram brand partnerships. You can include a brand in your posts, videos, reels, stories, and IGTV videos. Maria Dix is an excellent example of a nano-influencer who aces the brand partnerships on Instagram.
5. Affiliate Marketing
With affiliate marketing on Instagram, you can earn commission by promoting Instagram shops through Instagram shoutouts or sharing your affiliate links to other brands.You will receive a commission once your followers purchase through your trackable affiliate link.
6. Open an Instagram Shop
Another excellent way to make money as a nano-influencer on Instagram is to sell your merchandise through Instagram shops. Instagram offers amazing shopping features to ensure that you maximize revenue from selling products on the platform. You can list your products and use hashtags to reach your target customers. Also, you can add shoppable tags to your Instagram posts to make it easy for your customers to shop.
The best part is, the tools are accessible and user-friendly. So you only need quality photos of your products and an excellent Instagram copy for your products.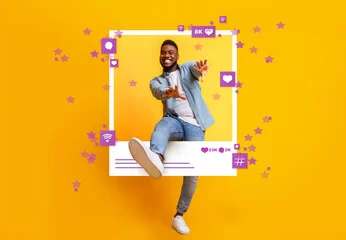 Other Ways To Make Money As A Nano-Influencer On Instagram
Sell visual content: Are you a graphic designer? There are businesses in need of visual content for marketing and other purposes. You can use Instagram to sell visual content and make extra money from your skills.
Use Instagram to get freelance gigs: Another way for you to make money as a nano-influencer on Instagram is to use it to sell your freelance services. You can offer Instagram management services, copywriting, transcription, video editing, and other services to clients on Instagram.You can use hashtags like #hiringasocialmediamanger, #copywriterneeded, etc., to get leads on Instagram.
Create and sell stock photos: Are you a photographer? Don't just post your pictures on Instagram. You can also create a photo package and sell it as stock images. Additionally, you can offer your photography services to clients on Instagram. Reach out to local businesses that are on Instagram and provide your photography services.
Crowdfund through Patreon: Another way for Instagram nano-influencers to make money on Instagram is through Patreon. You can use Instagram to send traffic to your Patreon page, where they can support you through subscription.
Sign up with influencer networks: If you find it complex to close partnership deals as a nano-influencer on Instagram, you can sign up with influencer networks. These networks bring brands to you, so you don't have to reach out to brands. Some influencer networks like Intellifluence are free to join. Other influencer networks include Grapevine Village, Inda Hash, and Tribe Group.
Use Instagram to send traffic to your website: If you have an eCommerce store or a blog, you can use Instagram to send traffic to your sales website. Whether you want to grow your email subscriber count or wish to make a sale on your Shopify store, you can use Instagram to send high-converting traffic to your sales page.
Pave The Way To Handle The Colossal Amount!
Are you ready to convert your small number of Instagram followers into a cashing machine? Nano-influencers like you can make money off of Instagram only with the right strategy
It would help if you had a niche and consistency to achieve results on Instagram. Reach out to those brands you want to work with and pitch your brand partnership deals. Don't wait to hit 100 000 Instagram followers to start monetizing your Instagram content. Start with a small number of followers, engage and provide value to your community and you start earning money with a small Instagram account.