H
ey there, my Instagram lovers!
I bet you've all been scrolling through Instagram, double-tapping your favorite influencers' posts, and thinking, "How do they make money doing this?" or "How to make money from Instagram".
Well, my friend, the answer is simpler than you think! With Instagram, you can turn your passion into a paycheck and make a fortune doing what you love.
Imagine being able to shop till you drop, travel to your dream destinations, and live your best life without worrying about finances.
Sounds too good to be true, right? Well, it's not!
With just a few simple steps, you can also turn your social media game into a money-making machine. So, grab your phone, and let's dive into the world of Instagram entrepreneurship!
Can You Seriously Cash In On Instagram? (Prepare To Be Surprised!)
Well, the numbers don't lie:
According to Hootsuite, With 1.22 billion monthly users, Instagram was the second-most downloaded app worldwide in 2021.
It's also the 7th most-visited website on the planet and the fourth most-used social media platform. That's a massive potential audience for you to tap into!
Not only that, but Instagram is dedicated to helping creators like you succeed in a competitive digital world that includes other big players like TikTok, Snapchat, and YouTube.
During Meta's Creator Week in June 2021, Meta CEO Mark Zuckerberg made it clear that their mission is to be the best platform for creators to make a living.
Source – Hypeauditor
With such a diverse user base and endless opportunities to reach your target audience, Instagram is the perfect place to monetize your content and turn your passion into profit. So, what are you waiting for?
10 Tips To Monetize Your Insta-Obsession
Let's explore 10 Mind-Blowing Ways to Stack Cash on Instagram!
Get Inspired with Real-Life Examples that will blow Your mind!
(1) Step Into The Digital Marketplace With Instagram Shop
Instagram Shop is like having your very own virtual store right on your profile. It's all about making shopping super easy and fun for your followers.
No more headaches or complicated procedures. With Instagram shopping, your followers can browse and buy your products without ever leaving the app – all they need to do is tap!
You're running an e-commerce store selling cool stuff like clothes or gadgets. Just connect your store to Instagram, and boom! You can showcase your products, tag them in your posts (up to five per post, or even 20 in a carousel), and let your followers shop directly from your pictures.
It's a win-win situation! Your audience gets a seamless shopping experience while staying hooked on your amazing content. Just integrate your E-commerce store with Instagram, and start selling your products straight to your loyal followers.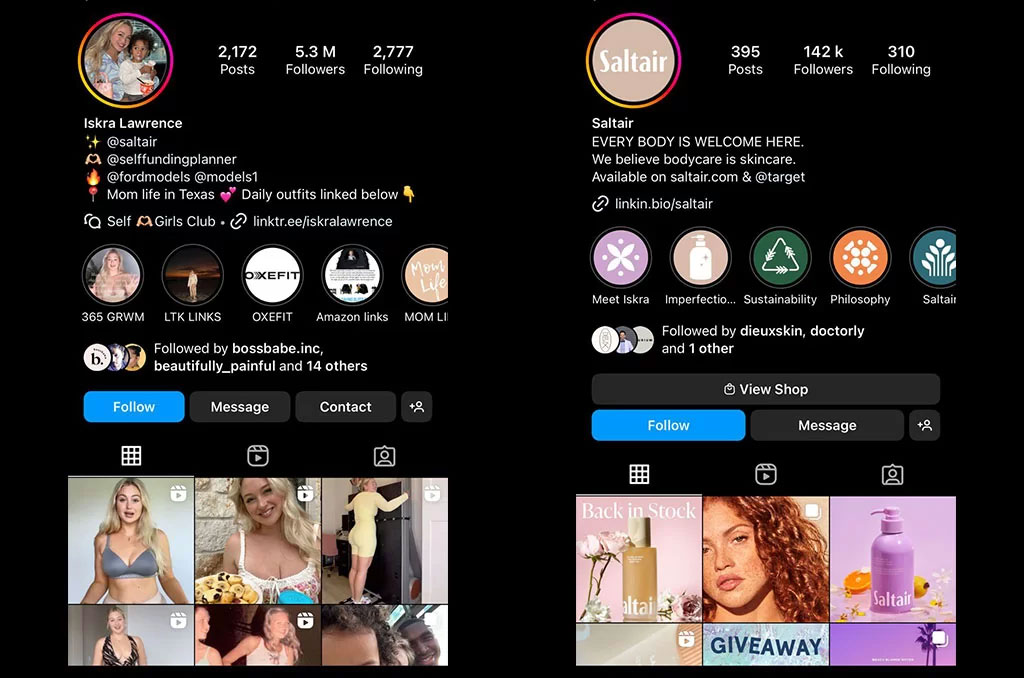 Saltair by Iskra is a perfect example of an Instagram Shop focused on skincare.
Iskra Lawrence, a well-known model and body positivity advocate, launched her own skincare line called SaltAir. Her Instagram Shop features a range of clean and nourishing skincare products designed to enhance natural beauty.
Iskra shares her skincare journey, beauty tips, and behind-the-scenes content on her Instagram profile, engaging her followers and building a community around her brand. Through her Shop, followers can easily browse and purchase products like gentle cleansers, hydrating serums, and rejuvenating face masks.
By leveraging the power of Instagram, Iskra successfully connects with her audience, educates them about skincare, and provides a seamless shopping experience. Her Instagram Shop allows her followers to effortlessly discover and incorporate her skincare line into their beauty routines, promoting healthy and glowing skin.
With her inclusive approach and dedication to promoting self-love and self-care, SaltAir by Iskra has become a go-to destination for skincare enthusiasts seeking effective and mindful skincare solutions.
(2) Monetize Your Creativity Through Subscriptions
Instagram subscriptions are a cool new way for creators to make money. It's like having a VIP club for your most dedicated fans. You can offer them special content and perks they can access by paying a small monthly fee.
With Instagram subscriptions, you can give your biggest fans exclusive stuff like behind-the-scenes posts, tutorials, early access to new products, and more.
It's like a secret club just for them!
Not only does it help you make some extra cash, but it also lets you connect with your super fans on a whole new level. They get to see the exclusive content you create just for them, and you get to show your appreciation for their support.
(3) Get Started With Live Badges
So, when your followers buy Live Badges, it's like a virtual high-five and a way of saying, "Hey, we appreciate you and your amazing content!"
These badges come at different prices, so there's something for everyone. The more badges they buy, the more they cheer you on, and the more you earn!
But it's not just about the money. Live Badges create an interactive experience too. When someone buys a badge, their profile picture stands out in the comments, making them feel special and recognized. It's like a virtual shout-out!
How To Start?
Step 1: Head over to your Profile and click on the Professional dashboard. Look for the Set up badges options button (keep in mind, this button will only appear if you're eligible for monetization).
Step 2: Now, it's time to do your magic and go live! Show off your amazing content and engage with your audience.
Pro Tip:
(i) Let your followers know when the badges are enabled. Give them a heads-up so they can start showing their support.
(ii) Share your badge goals with them. Let them know what you're aiming for and how their support can make a difference.
(iii) Appreciate their support. Take the time to thank them for the love and hearts they send your way. Gratitude goes a long way!
Are you eligible for a Live Badge? Yes, If you:
Possess a professional account (business/creator).
Be 18 years or above.
Have over 10K followers. You've got a solid fan base!
Fall under the region of access. Make sure you're in an eligible region.
Comply with Instagram's Monetization Policies and community guidelines.
So, follow these steps, engage with your followers, and get ready to make some money by collecting those hearts. It's time to turn your passion into profit on Instagram!
(4) Rock With Sponsored Posts
Ever Heard of Sponsored Posts?
They're the Secret Sauce to Raking in the dough on Instagram!
As an influencer, you have got the power to showcase awesome products and services to your followers.
And guess what?
Brands are eager to collaborate with influencers like you, who have a massive and engaged fan base. And here's the best part: you'll actually get paid for it!
Not only do you get paid for the post, but you also have the opportunity to grow your relationship with the brand. If your post performs well and drives sales, the brand may want to continue working with you on future campaigns.
Meet KayleyMelissa, a talented hairstylist and content creator rocking Instagram with a whopping 134k followers.
Guess what? She recently struck gold by partnering with Viktor&Rolf Fragrances for a sponsored post featuring their new fragrance, Flowerbomb Dew.
KayleyMelissa not only generated significant revenue through this collaboration but also played a crucial role in expanding the brand's outreach to a wider audience.
Pro Tip: Storytelling is Key
Mastering the art of storytelling in your sponsored posts is crucial. It captivates your audience and creates a powerful connection with the product.
In the caption, Kayley seamlessly weaves a relatable story by sharing her unconventional idea of using the fragrance beyond the wedding day to evoke memories of that special time in her life.
This resonates with her audience, who may also be planning their own weddings or have a fondness for wedding-related content.
Furthermore, she highlights the brand's support for a worthy cause, VOW for Girls, which adds depth and purpose to the post.
Sponsored posts like these can be a total win-win situation for both influencers and brands when done authentically and strategically. It's all about finding that perfect balance!
(5) Get On Board With Affiliate Marketing
Imagine making money on Instagram by promoting products you absolutely adore.
Sounds too good to be true?
Well, think again!
With affiliate marketing, every sale through your special link earns you a commission. It's like being rewarded for sharing your favorite stuff with your followers.
Isn't that incredible?
Trust me; it's a game-changer you won't want to miss!
Let's talk about an amazing example of affiliate marketing on Instagram featuring Patrick Starrr. He's partnered with Innisfree to promote their Green Tea Hyaluronic Acid Serum and Cream.
Patrick's post is filled with genuine excitement as he can't stop raving about how amazingly hydrating and wonderful these products are. He has us all itching to experience their magic ourselves!
Plus, Patrick has also offered something special for her audience—Coupon Code "PATRICK15" on us.innisfree.com to get an awesome 15% discount.
Not only do we get a great deal, but Patrick also earns a commission as part of the affiliate program. It's a win-win situation for both Patrick and us!
It's a prime example of effective affiliate marketing through relatable and authentic content.
Ready to get started with affiliate marketing? Here are a few platform options based on your niche:
(a) ClickBank: This affiliate platform offers a tier-based commission structure and is open to everyone. It provides a wide range of products across various categories for you to promote and earn commissions.
(b) RewardStyle: If your niche revolves around fashion and lifestyle, RewardStyle is an invitation-only influencer network to consider. It offers a competitive 20% commission and provides access to a plethora of fashion and lifestyle brands.
(c) Amazon's Affiliate Program: A widely popular choice, Amazon's Affiliate Program allows you to earn a 10% commission on qualifying purchases. With a vast selection of products, it's suitable for almost any niche.
In addition, having an Amazon storefront has become increasingly common among individuals looking to monetize their online presence. With its extensive range of products, this program caters to a wide array of niches, making it a lucrative avenue for generating income.
These platforms serve as a starting point to explore affiliate marketing opportunities. Remember to choose a platform that aligns with your niche and offers products or services that resonate with your audience.
(6) Show Some Love With Product Reviews
Imagine being paid to test out the latest products and sharing your amusing experiences. Brands will eagerly seek your services, offering financial remuneration in exchange for your clever and insightful reviews.
But here's the twist: it's not just about the money.
It's about the connections you'll build, the doors that'll swing wide open for future collaborations.
It's about positioning yourself as a trusted authority, someone brands can't wait to work with again and again.
And the best part?
Your followers will be hanging onto your every word.
Earning the trust of your followers takes time and effort.
By consistently delivering valuable content and honest insights, you become their go-to guru.
Brands recognize this trust and eagerly seek collaborations, opening doors to exciting opportunities.
Your influence and expertise make your role as an influencer both rewarding and impactful.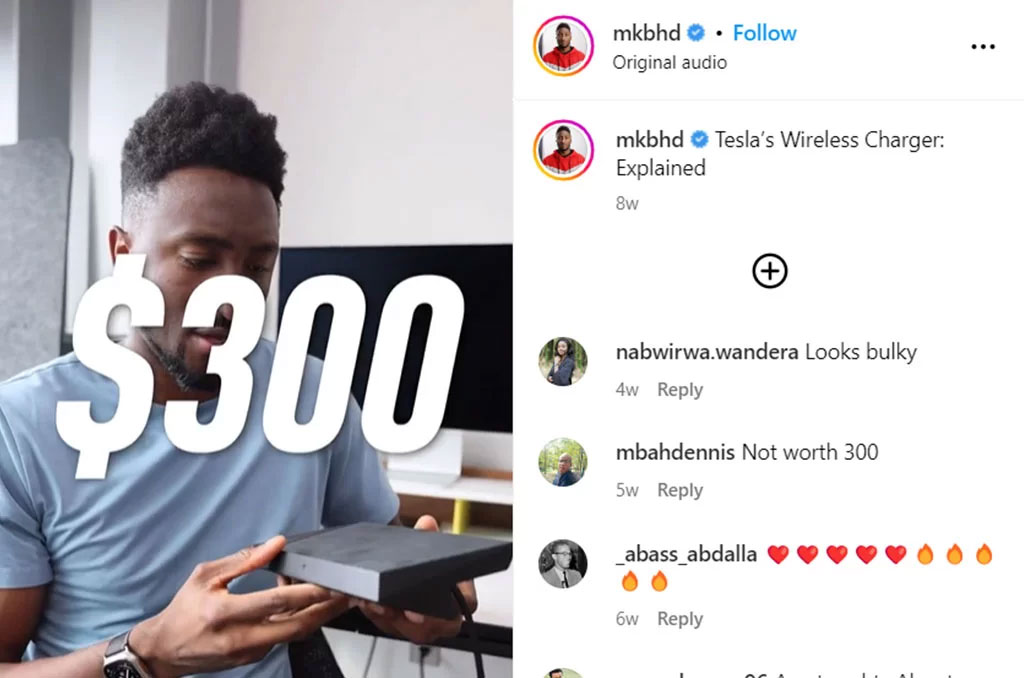 Have a look at Marques Brownlee. With his trademark expertise, He demonstrates how to effortlessly charge your devices wirelessly, bidding farewell to pesky cables.
But here's the kicker: Marques goes beyond the surface to give his audience a comprehensive analysis. He delves into all the aspects like build quality, design, compatibility, and the intelligent features that set the Tesla Wireless Charger apart.
Marques Brownlee has built an exceptional reputation through his YouTube channel. With a genuine passion for consumer electronics and a commitment to providing honest and insightful reviews, he quickly gained a loyal following.
His dedication to quality content and unbiased assessments has positioned him as a trusted authority in the tech community, solidifying his reputation as a go-to source for tech enthusiasts worldwide.
By providing an honest review, Marques becomes the go-to source for his followers and the brand alike. His insights help viewers make informed decisions while creating a buzz around Tesla's innovative product.
So, if you're also ready to turn your passion into profit, embrace the world of product reviews and unlock the potential for success.
(7) Slay The Game Of Influencer Marketing
Ever wondered how influencers make money on Instagram?
Well, here's the scoop: Brands often partner with influencers to create campaigns around their products or services.
This can range from a single sponsored post to an entire campaign featuring multiple posts, reels, stories, and giveaways.
As an influencer, this means you have the opportunity to work closely with a brand to create unique and engaging content that resonates with your followers.
@chiaraferragni is a fashion influencer with over 24 million followers on Instagram.
She has worked with various fashion and beauty brands, such as Dior, Lancôme, and Louis Vuitton, to create influencer marketing campaigns.
For instance, Chiara collaborated with Lancôme to promote the brand's new line of beauty products.
This collaboration took place during the launch of Lancôme's exquisite skincare collection, which showcased innovative formulas and captivating packaging.
Through her genuine enthusiasm and expert insights, Chiara played a pivotal role in generating buzz and driving significant interest in Lancôme's latest offerings.
The campaign included a series of posts and stories featuring Chiara using and talking about the products, as well as a giveaway for her followers to win the products.
Through these influencer marketing campaigns, Chiara not only helps promote the brands and their products but also earns money and strengthens her personal brand.
Her high engagement rate and fashion-forward content make her a valuable influencer for brands looking to tap into her audience of fashion-conscious individuals.
(8) Creating And Selling Ebooks
Okay so, you're a food blogger with a loyal following on Instagram.
You often get questions from your followers about how to meal prep for the week or how to make healthy smoothies.
Instead of just answering these questions in your DMs, you decide to create an ebook with all your tips and tricks for healthy meal prep and smoothie recipes.
You promote your ebook on Instagram, and your followers are excited to purchase it and learn from you.
One example of a food influencer in the US who has successfully created and sold digital products related to their niche is @cleanfoodcrush.
Rachel Maser, the creator behind the account, shares healthy and easy-to-make recipes on her Instagram page that are designed to help people lead a healthier lifestyle.
Rachel has created and sold several digital products related to healthy eating and meal planning, including a clean eating challenge, a recipe book, and a meal planning template.
She promotes these products on her Instagram page and website and has built a loyal following of people who are interested in her approach to healthy eating.
Through her digital products, Rachel has been able to monetize her expertise and provide even more value to her followers.
Her products have helped her followers stay on track with their healthy eating goals while also generating revenue for her business.
If you have expertise in a particular area or a unique perspective to share, there's likely an audience that is willing to pay for it. By creating digital products such as ebooks, courses, or templates, you can monetize your knowledge and provide even more value to your followers.
(9) Cash In With Sponsored Events
Sponsored events offer an exceptional experience, creating a vibrant atmosphere that resonates with attendees.
The best part: you get to try out those coveted products firsthand. Testing shades, swiping on luxurious formulas, and feeling like a beauty guru in your element.
But hold on; it gets even better!
While you're indulging in beauty wonderland, you're also documenting your experience, capturing every glamorous detail for your loyal followers.
Through captivating Instagram posts or engaging stories, you share your genuine thoughts, opinions, and personal experiences with the products.
Your followers hang onto your every word, eager to hear your expert perspective.
Not only are you providing valuable insights, but you're also giving the brand some well-deserved exposure.
And guess what?
The cherry on top is that you get paid to attend the event and share your expertise!
It's like getting rewarded for doing something you absolutely love.
Your passion and knowledge become a currency of your own.
In the world of fashion, there's nothing quite like the buzz surrounding events like Paris Fashion Week.
@aimeesong, a trailblazing fashion influencer, knows how to keep her followers on the edge of their seats.
Recently, she subtly hinted at an exciting adventure in the works: attending Paris Fashion Week with the iconic brand Dior.
By partnering with brands and attending these exclusive events, influencers can turn their love for fashion into a thriving business.
It's a prime example of how creators can leverage their expertise and unique style to make money while doing what they love.
(10) Sell Your Own Merch
Once you've become a legit expert in your niche and built a solid following, it's time to drop some dope merch.
Your fans want to represent your brand and show their support, so why not give them what they want?
Empower your audience to proudly embrace and showcase your brand, as they confidently flaunt it with a sense of pride.It's all about building that connection and cashing in on your influence.
Emma Chamberlain, the influential content creator with a massive following of 16.1 million on Instagram, has successfully expanded her brand by launching her own merchandise.
Leveraging her unique sense of style and relatable personality, Emma introduced limited edition merch for her dedicated fan base, featuring stylish sweatshirts.
Fans now have the opportunity to showcase their adoration for Emma and her content through fashionable means.
Her journey showcases how an individual can harness the digital landscape to catapult their life and career to new heights.
As a prominent fashion icon for women in their 20s, Emma has not only amassed a massive following but has also left an indelible mark on the fashion industry, sparking influential trends.
From the inception of her online presence, Emma's authentic and relatable content resonated with viewers, capturing their attention and fostering a genuine connection.
As a result, she quickly gained a devoted following that eagerly awaited her every video. This dedicated audience propelled Emma's influence and allowed her to shape fashion preferences and set trends among her demographic.
Emma's impact extends far beyond fashion, as her approachable and candid demeanor has made her a relatable role model for young women worldwide.
By openly sharing her personal experiences, challenges, and growth, she has fostered a sense of community and empowerment. Through her content, Emma has encouraged her audience to embrace their individuality, pursue their passions, and find confidence in their own unique journeys.
Furthermore, Emma's foray into entrepreneurship with her Chamberlain coffee brand exemplifies her ability to leverage her online presence into successful ventures.
By tapping into her followers' trust and support, she has expanded her influence beyond content creation and established a thriving business. This strategic move showcases the potential for influencers to transition from content creators to entrepreneurs, leveraging their dedicated fan base to drive the success of their ventures.
Emma's journey highlights the importance of authenticity, relatability, and genuine connection in building a powerful online presence.
It demonstrates that by cultivating a loyal following and staying true to one's unique voice and perspective, individuals can not only transform their own lives but also shape industries and inspire others.
Through her remarkable trajectory, Emma Chamberlain serves as an inspiring example of the immense opportunities and impact that can arise from building a well-crafted and deeply connected online presence.
Some Key Points To Remember
(i) Niche it to win it: Never underestimate the power of staying true to your niche.
By focusing on a specific area of expertise, you'll attract a dedicated following of individuals who share your interests and eagerly await your content.
Remember, quality trumps quantity every time!
(ii) Profile power-up: Speaking of quality, optimizing your profile is an absolute must. Optimize your profile like a pro.
Your bio should be magnetic; your profile picture should be captivating, and sprinkle those relevant keywords to skyrocket your discoverability.
Captivate their curiosity from the moment they land on your page!
(iii) Content is king (and queen): When it comes to content, excellence is non-negotiable.
Invest time and effort in creating visually stunning, engaging posts that captivate your audience's attention.
From stunning visuals to engaging captions, make them stop scrolling and start double-tapping.
(iv) Authenticity is everything: In a world of filters and facades, nothing resonates more powerfully than staying true to yourself.
Be genuine in your interactions, share your personal stories, and let your personality shine through your content.
Your audience craves authenticity, and they'll reward you with loyalty and engagement.
(v) Engage like a superstar: Last, but not least, engage, engage, engage!
Build genuine relationships with your audience by responding to comments and direct messages and creating opportunities for dialogue.
Conduct polls, host Q&A sessions, and make them feel heard and valued.
Remember, your followers are your biggest advocates, and their support can propel you to new heights.
Conclusion
Instagram is a goldmine for those seeking to make money online. With the right strategies and a dash of creativity, you can transform your Instagram account into a thriving business.
Whether you're driven by your passions or looking for additional income streams, the opportunities are endless. So why wait? Start your journey today and unlock the full potential of making money on Instagram.
FAQs