How can I make $1,000 a week consistently? How do I start making a lot of money? Sounds familiar? You're in the right place.
Making more money can help you reach your financial goals. You can save towards retirement, home purchase, investment, plan a holiday, make a big purchase, etc., without sacrificing your favorite lattes.
One surefire way to make extra cash is starting a side hustle; however, finding the most profitable side gig that works for you can be a challenge-thanks to tons of endless make money online and offline options.
This complete guide uncovers legit ways to make money online and offline. Whether looking for ways to make money at home, while traveling or as a night owl, we've got you covered. 
Guide To Make Money
The possibilities of making more money are endless; you can boost your take-home income from your current job or create side hustles and passive income streams.
You can get more money from your current job by negotiating for higher pay or getting a new job. 
Research shows that you can enjoy a wage increase if you switch to a new job.
According to PAW Research, an employee who changed jobs between April 2021 and March 2022 saw a 9.7% salary increase; A worker who remained in the same position in the past year lost 1.7% in their earnings.
Changing your job can be an excellent opportunity to negotiate higher wages and bonuses. 
However, you can still successfully negotiate for more money with your current employer. Improve your negotiation skills, identify and capitalize on your strong skills, and a recent win at your job, and do your research.
Use reliable sites like Salary.com to research salary ranges in your field of work. Additionally, you can get insights from career consultants or trustable people in your network about salary ranges and bonuses you should ask for from your employer.
Asking for more money is a great strategy to get the compensation you deserve, get more rewards, and make more money without switching jobs or taking a second job.
How To Know The Right Side Hustle For You To Make Money?
You're probably thinking, "how do I know the right side hustle?" Finding a profitable side hustle can be challenging when you have thousands of options to consider. Your first step is to assess your skills, hobbies, and experiences.
This makes it easier to find a side hustle you enjoy doing and is profitable. Do you like crafting? You could make and sell handmade stuff. Are you a traveler? Consider photography or remote jobs as your side hustle. You're better off offering a product or service you are uniquely qualified in. 
Another thing to consider is your available time. Starting and running a side hustle or taking a side job requires time, money, and dedication. Some side hustles require intensive time with trial and error and substantial overhead costs to generate income.
Another thing to factor in when starting a side hustle is the overhead costs. If you create and sell products, you might need starting capital. List all possible side hustle ideas and choose based on your experience, skills, availability, and overhead costs. 
Make Money Online
The internet provides tons of opportunities to make money; sometimes, you only need your laptop and a strong internet connection to start making money online.
Some ideas require skills only to get started, so you don't need thousands of dollars as starting capital. Below are proven ways to make money.
1. Blogging
Making money blogging has never been this easier; you need access to strong internet and a laptop. Blogging is creating and marketing content online to attract readers who you can convert into paying customers. You can blog about anything, from sports, entertainment, business, finance, marketing, career tips, and more. 
There are many ways to monetize a blog; all you need is a domain name, hosting, and a zeal to write the content. For instance, you can monetize through ads, affiliate marketing, sponsored blog posts, selling a digital product, or offering your blogging services to other bloggers.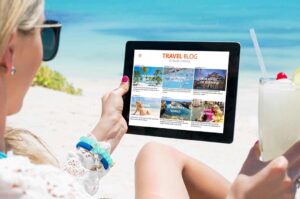 You can work on your blog part or full-time, which means you can start it while working your full-time job. Blogging can help you earn between $200 and $2,500 per month, depending on your efforts. Established bloggers make upwards of $10k per month and often have an army of writers, marketers, and strategists.
Pick your hosting plan on Bluehost and create your website to start blogging. Setting up a site nowadays is simpler; you can do it without hiring a designer.
2. Dropshipping
Do you need a business model where you don't need to handle an actual product or hold stock and do everything online? Enter dropshipping, a business model where you take and fulfill customer orders without having any physical inventory. Often, you'll act as the middle guy between a consumer and supplier/manufacturer. Dropshipping is one of the most straightforward and legit ways to make money. Furthermore, you don't need massive capital upfront to start this side hustle. And this is because you process orders only after your customer makes a purchase.
For your dropshipping business to work, you'll need a domain name for your online store, test orders, and an online marketing strategy. You can make a profit of between 20% to 30%, which can translate to $1,000 to $5,000 per month. There are many dropshipping platforms to get you started, including Shopify. Shopify can be the simplest and easiest to navigate with tools integrating AliExpress and Amazon.
3. Freelance
Freelancing is another profitable way to make money on the side or as your primary job. Freelancers provide services as independent contractors and can serve multiple clients. Furthermore, they are in charge of their business operations like marketing, setting prices, managing working hours, and sending invoices and contracts. 
As a freelancer, you can work independently from anywhere remotely, depending on the services you offer. There are many career paths for freelancers, including those that don't require experience. Upwork, for instance, has more than 2,500 career skills options for freelancers. Most popular freelance jobs include writing, web design, graphic design, transcription, marketing, sales, editing, app design and development, bookkeeping, and customer care. 
You don't need lots of money to cover overhead costs as often; you'll only need a laptop and access to an excellent internet connection. Furthermore, there are many strategies you can implement to find freelancing gigs. You can use LinkedIn or job marketplaces like Upwork to find paying freelance jobs. Additionally, you can capitalize on social media or create your website to market your services.
How much can you make as a freelancer?
The average annual income of freelancers in the US is $48750, which equals $25/hr. A freelance writer rakes in $42,000 annually, while freelance transcribers average $32,000 annually. 
4. Virtual Assistant
Do you have experience providing customer support services? You can offer these services virtually and make money as an independent virtual assistant. Virtual assistants (VA) handle the backend admin staff, like scheduling meetings for CEOs, booking travel, providing customer support, data entry, and other administrative tasks. 
Some virtual assistants focus on serving internet entrepreneurs like bloggers and online store owners. Those working with bloggers offer services like content management, graphic design, and social media management. eCommerce virtual assistant handles order processing and shipping, updating online stores, market research, inventory management, responding to reviews, and providing customer support. A remote VA can earn up to $53,589 on average.
5. Make Money Taking Surveys
Did you know that you can make money by voicing your opinions? Thousands of companies and brands need consumer insights about their products and services; online surveys offer an excellent way to get insights. 
How do survey sites pay?
They reward you with survey points for each completed survey task. You can redeem these points as gift cards or use them to check at online stores like Amazon. Some survey sites like Swagbucks offer new participants a $10 welcome deal. Remember, you can complete survey tasks at your convenient time, making it the most flexible online paying gig.
6. Make Money From Affiliate Marketing
Do you want to make money on the internet but don't have products or services to sell? You can capitalize on another person or company's products or services by marketing them and earning a commission. It can be the best way to create a passive income stream. All you need to do is sign up with your preferred company or brand as an affiliate marketer. You'll get a unique affiliate referral link you can share on social media, email, and blog, targeting the right consumer. You'll earn a referral commission if someone completes an order using your link.
You can promote software, eCommerce stores, courses, and brands. It is easier to drive traffic to your sales pages thanks to social media. You can use apps like TikTok, Snapchat, and Instagram to blast your affiliate products and services. eBay is one excellent place to make money as an affiliate marketer. One advantage of affiliate marketing is that setting it up is straightforward with no risks.
How much money can you generate as an affiliate?
A beginner affiliate marketer can earn up to $1,000 monthly commissions, depending on the efforts. Intermediates rake in up to $10k per month.
7. Sell Photos
Do you have Instagram-worthy photos or perhaps like photography? You can make money off your photos. Stock image sites are always looking for more content to sell to their customers; that is where you come in as a photographer. You don't need to be a professional snap star to earn money selling photos online. Websites like Shutterstock pay a percentage of your earnings per image, and you can upload as many photos as possible. Furthermore, you can sell other content types like videos, illustrations, and vectors.
Identifying a niche is an excellent way to make your photography business successful. You can be a product, landscape, food, pet, travel, still, or portrait photographer. There are many other stock image sites to sell your images, including Adobe Stock, Dreamstime, and Getty Images.
8. Start An Online Store
If crafting is your cup of forte, you can start an online store to sell your products. You can create an online store for handmade products, printables, digital art, stickers, home decor, journals, planners, notebooks, collectibles, pet, and baby items. Etsy is one of the best eCommerce sites to create your online store for handmade stuff. Your income on Etsy depends on your products and how you market your shop. Many Etsy sellers promote their shops through email, social media, SEO marketing, and Etsy listings.
9. Make Money Selling eBooks And Courses
Self-publishing in this era is easier than ever, which means you can write and publish your book and create and sell online courses. One advantage of creating these online products is that you create them once and sell them with minimal effort. While creating quality and valuable content takes time, eBooks and courses can create a passive income stream, making you money for years. Choose a popular topic, and create and publish your eBooks on Amazon Kindle.
10. Be An Online Tutor
Can you teach children online? Online tutoring is another excellent way to make money online. Thousands of students need online tutors to help them improve their grades, handle homework, and learn English. While teaching some subjects might require specific qualifications like a degree and teaching experience, you might not need that to start teaching English.
Many sites are looking for English tutors, like VIP KID, and you can earn up to $18/hr. Remember, they pay $7-$9/25-minute per class, and there's no limit on the number of classes you can tutor.
11. Be A Paid Tester
Do you want to get paid to test products? Paid testers try new products and provide opinions to brands and companies before these products hit the market. This is the most critical stage in product development, ensuring that it is user-friendly and achieves its purpose. You can test apps, sites, and programs and provide feedback about any issues you notice. Some user testing companies offer physical products like electronics, food items, apparel, beauty products, healthcare and automobile products, etc. The amount you take home as a tester depends on the nature of the test. For instance, focus groups earn more than people filling out surveys. 
Specific education or experience qualifications aren't prerequisites to getting paid as a tester. Plus, this can be an excellent opportunity to get free products in exchange for a paid opinion. Join uTest if you're interested in testing programs, apps, and websites. Try Testing time and Influencester if you want to get paid to test products.
12. Make Money On Social Media
Social media has grown exponentially, giving users platforms to go viral, become internet celebrities and make hundreds of thousands of dollars. If you've got people raving on your page, you can monetize your platform and make money on social media. Growing the number of your followers on social media relies on your content. Below are the best ways to monetize various social media pages, ensuring that you reap big out of your content.
One good thing about making money on social media is you can replicate the strategies across all social media apps and increase your income streams.
(A) Facebook
Whether you've got less than 10k or 100k plus followers, you can make money on Facebook. Facebook offers many ways to monetize video, image, and text content. You can also get paid to post ads on Facebook.
Make Money With Facebook Ads
Do you like making Facebook videos? You create and monetize your FB videos with ads; there are pre-roll, mid-roll, and static ads. Your FB ads income depends on the number of page views, and you can make up to $8.75 per thousand views. 
Another option to capitalize on your FB videos is Facebook Stars, which are like gifts your followers send you after watching your videos. You can redeem your stars for cash.
Make Money As An Influencer
If you've got 10k followers or can build your Facebook account to that size, you can promote branded content as an influencer. Branded content is where companies and brands sponsor you to promote their products and services on social media. Often, you can charge for brand promotions and branded content depending on your account size and the potential leads your content can generate for your client.
You can also be an influencer on all other social media sites and earn money. And this means you'll need brands to sponsor you to promote them on TikTok, Instagram, and Snapchat.
Affiliate Marketing On Social Media
Another way to cash in on social media is through affiliate marketing. If you've affiliate products, apps like Facebook can be the best platform to promote them. You can create a group, run a page, or use paid ads to put your products in front of millions of consumers on Facebook. The important thing to note about Facebook affiliate marketing is that you can't promote affiliate links but blog posts. 
You need to create a Facebook page to access ad manager and analytics tools to help you run successful campaigns.
Affiliate marketing on TikTok and Instagram works similarly. However, on TikTok, you'll need to join the TikTok Shop Affiliate. It helps you find products to market and has tools that integrate with your videos and live streams. 
Instagram is also introducing something similar to TikTok's affiliate marketing. Once you set up your affiliate, you can pick products eligible for commission and promote them on Instagram. You earn your commission and can access it after the return period lapses.
Facebook And Instagram Marketplace
Do you have items to sell online but don't know where to start? Facebook Marketplace can be the best and free place to sell pre-loved, handmade stuff, affiliate products, or flip flea market and flea market findings. Whether you've got old furniture, toys, sporting, and fitness equipment, clothing, shoes, electronics, or office supplies, you can convert clutter to cash by selling them on this platform.
The incredible thing about Facebook Marketplace is that it integrates with the FB app, which means you can interact with your customers and build credibility.
Instagram is a subsidiary company of Meta and often has similar features as Facebook. You can set up an Instagram shop and sell your items. Take advantage of Instagram Reels—due to their virality nature—to promote your Instagram shop.
Paid Events
Did you know that you can make money from paid events on Facebook? You can host paid online events on Facebook if you're a subject matter expert. Whether you're a finance expert, fitness guru, chef, or coach, you can create your courses and recipes and teach people on Facebook at a fee.
Subscriptions
Facebook is launching an Interoperability Subscriber Groups feature, offering more ways for creators to make money on Facebook. 
This monetization tool allows you to create and share premium content for your paying fans. Subscription groups can save time as your fans can enjoy your premium content without leaving the Facebook app. Furthermore, you can use social media to drive and convert traffic to sign up for your paid subscriptions.
(B) TikTok
If you aren't living under a rock, you know that TikTok is the epitome of short viral videos. And this has created famous TikTok personalities like Khaby Lame. There are many ways for TikTok-ers like you to earn money with short videos.
TikTok Creator Fund
TikTok Creator Fund is a monetization strategy for people with over 10k TikTok followers and over 100k video views in the past month. Get a slice of the $200 million worth of creator funds to reward content creators like you for their efforts on the app. Your Creator Fund earnings depend on many factors, including video views, engagement, and adherence to community guidelines.
Virtual Gifts
Accepting virtual gifts is another popular way to make money online. Your TikTok fans can show appreciation by sending your virtual gifts, which you can cash. Typically, your fans purchase these gifts from TikTok and use them to react to videos they like. You can collect virtual gifts through your TikTok lives or videos. The good news is you only need a thousand followers to activate this feature.
Brand Sponsorship
Brand deals and sponsorships are another great way to make money on TikTok. When you join the creator marketplace, you can find thousands of brands to promote and a referral commission. Averagely, you can earn anything between $5 and $2,500 per sponsored video on TikTok.
Make Money Offline
Are you looking for an offline side hustle? There are many lucrative options to help you supplement your current income.
13. Babysit And Get Paid
Can you provide child care services? Babysitting can be a lucrative side hustle for you. On average, a babysitter can make $17 per hour. Sittercity is one of the best places to check out for babysitting jobs upwards of $25/hr. Also, you can use this job site to find nannying jobs, pet sitting jobs, special needs care, and senior and child care gigs. It is free to sign up, and you can contact and interview for the jobs with the local families. Although you don't get paid to house and pet sit, you can save money on accommodation by signing up to Trusted House Sitters – the global pet care exchange for pet people who love to travel.
Rover is the best job site for pet lovers, and you can offer services like boarding, petsitting at your client's home, dog walking, drop-in visits, or doggy daycare.
14. Offer Delivery Services
Dozens of delivery apps are looking for independent contractors to offer delivery services. If you have a valid driver's license and a vehicle, you can download one of the delivery apps and sign up for the gig. On average, you can earn $19.12/hr and upwards of $54,000 annually.
Deliver groceries on Instacart and make some extra cash. You're in charge of your hours, and you can shop and deliver at your convenient time. To sign up, you'll need to go through a background check, get your approval to shop, and hit the road running. You can also deliver food and packages with apps like DoorDash and Amazon Flex.
15. Sell Your Old Stuff
Do you have old stuff and don't know where to dispose of them? You can flip clutter into cash online or can host a yard sale. Sell practically anything pre-owned on eBay or other online marketplaces like Facebook and Instagram. You can vend things like furniture, designer apparel, bags, electronics, games, toys, and kids' clothes and make money.
The best thing about selling old items is that it helps dispose of clutter, cleans out any trash, and creates a breathable space.
Conclusion
There are thousands of options for making money, whether online or offline, and you need to identify skills you can monetize, create time and work hard for your side hustle to be successful. This guide to making money is just the tip of the iceberg.
Sign up for our newsletter to get more information and ideas to make money.