T ikTok has taken the social media world by storm, with its short videos and viral trends capturing the attention of millions of users worldwide. But did you know that TikTok can also be a platform for making money?
With its growing popularity, TikTok offers a range of monetization opportunities for creators who are willing to put in the time and effort.
In this blog, we'll explore 10 ways to monetize your short videos on TikTok, from sponsored content to merchandise sales, and provide you with tips and tricks to help you succeed on this fast-paced and dynamic platform.
So, if you're looking to turn your TikTok hobby into a source of income, keep reading to discover how to make money on TikTok
10 Ways To Make Money On TikTok
1. TikTok Creator Fund
You're probably wondering; does TikTok pay? The answer is yes!
Typically, the first thing you can think of as a TikTok-er is how to get paid directly by TikTok.
TikTok appreciates its content creators through the TikTok creator fund.
TikTok will deposit funds into your TikTok wallet with the creator fund program. 
The amount you can make with this program varies depending on your TikTok video performances.
TikTok put aside $200 million to pay content creators on TikTok, and it anticipates growing this amount to $1 billion in the next three years.
So, what do you need to join the TikTok creator fund?
Requirements To Join TikTok Creator Fund
If you're interested in getting a scoop of TikTok creator money— and getting TikTok to pay you through Paypal or Zelle—, you need to meet these minimum requirements.
You are a US, Italy, UK, France, Italy, or German citizen.
Are 18+ old.
Your TikTok account should have 10,000 followers.
You have accrued 100,000 in TikTok video views in the last thirty days.
Your content meets TikTok community standards.
Once you meet all the TikTok creator fund eligibility requirements, you can log in to your TikTok app and apply.
How Much Money Can You Earn With The TikTok Creator Fund?
The way TikTok pays its creators isn't cut from the same cloth. There are many variables to determine the amount of money you can earn from one TikTok video.
According to one TikTok creator fund member—Preston Seo, you can get anything from $9 to 38$ per day from the TikTok creator fund. And according to one source, you could earn 2-4 cents (USD) per thousand views.
Again, this can fluctuate depending on several factors that TikTok considers when calculating your earnings on the app.
2. Brand Deals And Sponsorships
Another way to turn your TikTok profile into a money-making machine is to secure brand deals and let other businesses pay you to promote them on TikTok.
There are different ways to earn income through partner sponsorships on TikTok.
First, TikTok offers a nifty feature for creators, TikTok Creator Marketplace. 
You need an invite from TikTok to join TTCM(TikTok Creator Marketplace).
And this is where TikTok links you to businesses and brands that need to run TikTok campaigns on the app.
Once you join TTCM, TikTok will make your profile available for brand sponsorships.
You can get a direct invite from a sponsor to run a campaign, or you can use TTCM tools available to search and apply for open campaigns.
If a brand is excited to work with you, they'll send over an invite with campaign instructions.
You create the campaign and get paid on TikTok.
@andreaespadatv , for instance, works with brands like Bang Energy to create sponsored posts.
You should note, though, that TikTok will take a service fee from your earnings on TTCM.
How Much Money Do TikTok Creators Make For Brands Deals And Sponsorships?
With TikTok brand deals and sponsorships, it means that your figures on the app—engagement rate, likes, shares, and followers—are crucial.
Also, brands can either pay you in cash or reward you with a product or a service.
TikTok stars—depending on the influencer tier— are making anywhere from $5 to $2,500 per TikTok post.
And of course, famous TikTok-ers like Khaby Lame and Charlie D'Amelio could charge anywhere between $25,000 to $100,000 per TikTok video.
3. Affiliate Marketing
Another excellent way to generate revenue on TikTok is to promote your affiliates.
Affiliate marketing is an excellent side hustle, and it works best when you have a more effective engagement rate on social media.
With the virality nature of TikTok, you can share your affiliate links and get paid every time a customer purchases through that link.
Cody is an excellent example of a TikTok creator doing affiliate marketing as one of the ways to monetize their TikTok video.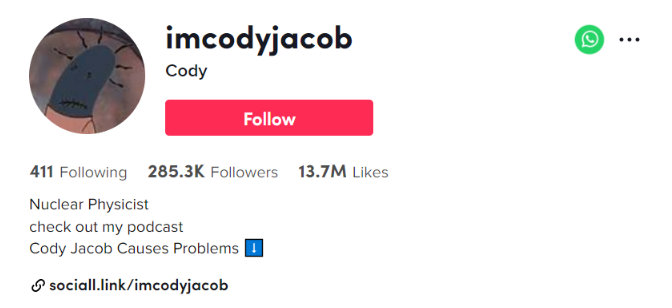 One of @imcodyjacob's videos went viral —8.4 million views in four days— and TikTok users wanted to know the store to get the hat. And, of course, Jacob recommended an affiliate.
The amount you can make from your affiliate marketing on TikTok depends on the commission your brand offers.
4. TikTok Page Management
Do you know how to manage a TikTok page? Because of TikTok's meteoric growth, many brands and small businesses want to market on the platform but lack time to do it.
You can offer TikTok page management services to other businesses and charge a fee.
As a TikTok page manager, you are in charge of helping your client create and post content regularly. You can bill an hourly fee or on a per-project basis.
It would be best to have a portfolio like your TikTok profile to win clients' trust.
The best part about TikTok page management is managing more than one client's TikTok account. And that means you can make more money.
5. Promote Your Business On TikTok
Do you run a Shopify, Amazon, Etsy, or your online shop? You can leverage the TikTok platform and woo your raving TikTok fans to your store.
One of your product or service videos could go viral and bring you many customers. More sales, more profit, right?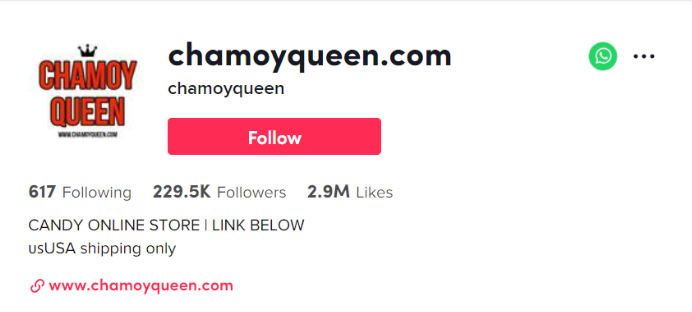 An excellent example is Chamoy Queen, a family business that deals with candy.
These online candy shop owners use TikTok to market their tasty treats.
You don't need to meet any followers or video likes threshold to market your business. Create a profile for your business and market from day one.
The most crucial thing is to be consistent and create unique content that reflects your business.
It could be crafting, art, a brick, and motor store, consultancy, beauty, fashion, carpentry, etc.
6. Earn Through Virtual Gifts
Another way to have TikTok pay you is through virtual gifts.
This monetization strategy is similar to Facebook Stars.
TikTok allows users to buy virtual gifts on the TikTok app. If the user likes your content, there is an option to send you the gifts.
You can exchange these gifts for diamond coins and cash them out through PayPal.
There are two ways to get virtual gifts on TikTok, and that is through your TikTok Lives and typical TikTok videos.
Earn Money On TikTok Through Live Gifts
Once you access the TikTok live feature, your followers can join you and send you the gifts.
Typically, your followers need to recharge their coins balance on the TikTok wallet.
They can then send them to you in the form of cool stickers—to represent diamonds(TikTok gifts).
Once you receive enough TikTok live gifts, you can cash them out on TikTok.
Notably, only an eighteen-year-old viewer can purchase and send you gifts on your TikTok life.
Make Money On TikTok Through Video Gifts
TikTok video gifts work the same as live gifts, only that you can add the gifting feature to your regular TikTok content.
When your followers click the gift box in the comments section, they'll be able to send you diamonds.
You can attach the video gift feature to each of your videos and maximize your earnings.
7. Collect Tips On TikTok
Another way to make money as a TikTok creator is to use the tip feature and get tips from your followers.
You create and post videos on TikTok. If your TikTok followers like your content, they can send you tips to show how much they appreciate your TikTok content.
Once you activate the Tips feature, it will be available on your profile.
TikTok will take the service fee from the tips you get as transaction costs.
8. TikTok Fun Subscription On Patreon
If you've been on TikTok for quite a while, you've probably seen some creators requesting their followers to follow them on other platforms like Instagram.
You can use the same strategy to compel your TikTok fans to subscribe to your Patreon page.
A faithful, loyal TikTok follower will be willing to spend a few dollars a month to support you through Patreon.
If you get a few die-hard TikTok fans to subscribe to your Patreon, you can be sure of consistent income.
Of course, Patreon is a different platform from TikTok, where you nature and connect with your loyal fans.
9. Collect Donations
TikTok takes the trophy when it comes to sourcing funds from the public.
Instead of sending your followers to subscribe to your Patreon page or Instagram, you can put your CashApp on your profile and let people send you money directly. 
In the comment section, you can also leave your CashApp or PayPal, or whichever payment option works for you, and pin it to the top. Any follower can send you money to create authentic and quality content.
Another way is to create a Go Fund Me page and request your followers donate. And you should have a compelling reason to move followers to fund you.
One TikTok creator—@isaiahgarza—, uses TikTok to collect donations so he can help the less fortunate.
Another excellent case is Dora Moono Nyambe—@doramoononyambe. She uses TikTok to crowdsource funds to manage her school in Mapapa, Zambia.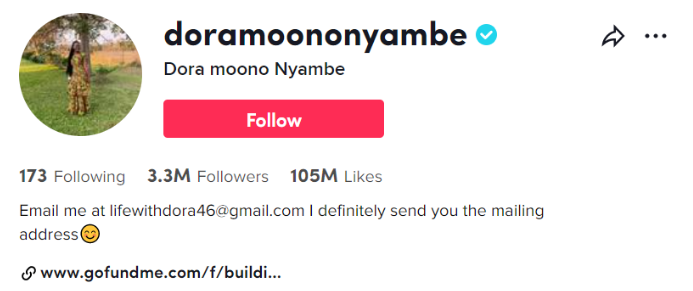 10. Be An Influencer Manager
Are you excellent at managing talent? You can be a talent manager and work with influencers on TikTok.
Many influencers are looking for brand partners and vice versa. And this can be pretty hectic for a TikTok creator. 
You can help link an influencer with brands and charge a fee for the service.
Influencers prefer an individual manager over agencies because agencies charge more management fees.
How Many TikTok Followers Do You Need To Make Money On TikTok?
The short answer is you need 10,000 followers to get into the TikTok creator fund and earn money directly from TikTok.
Conclusion
In conclusion, making money on TikTok is not just a dream but a reality for many content creators.
Whether you're a dancer, comedian, or beauty influencer, there are many opportunities to monetize your short videos and turn your TikTok hobby into a profitable business.
By building a loyal following, engaging with your audience, and diversifying your revenue streams, you can make money on TikTok and achieve financial independence.
However, success on TikTok requires persistence, creativity, and a willingness to adapt to the ever-changing trends and algorithms of the platform.
So, keep experimenting, stay authentic, and have fun creating content that resonates with your audience, and who knows, you could be the next big TikTok star.