Trustpilot Rating – 3.6/5
Kashkick is a highly regarded platform that offers users the opportunity to earn rewards effortlessly through various online activities. Boasting an impressive Trustpilot rating of 3.6 /5, it has gained recognition for its user-friendly interface and reliable payout system. Whether it's taking surveys, watching videos, or participating in other engaging tasks, Kashkick provides a wide array of options for users to choose from. This platform stands out for its commitment to prompt payments and a dedicated support team that ensures a seamless and rewarding experience for its users. With Kashkick, turning your spare time into valuable rewards has never been more convenient.
Quick Facts About KashKick
KashKick pays to take surveys and play games.

It pays in cash and not reward points.

Signing up for KashKick

is easy and fast.

KashKick offers four ways to make money – complete surveys, play games, take offers or do the extras.

Its minimum cash out is $10.
Do you want to join KashKick? Making money online is very popular these days, many of which seem too good to be true. 
KashKick reviews can help you determine if it's legit or a scam. 
KashKick is a legitimate platform that can help you generate decent income by completing surveys, playing games, or doing extras.
What Is KashKick And How Does It Work?
KashKick is an online platform that pays to do various tasks. 
You sign up and complete surveys, play games, test websites, or grab offers. 
Unlike other online reward sites, KashKick offers monetary pay instead of redeemable rewards. 
Withdraw your money once you hit a minimum of $10
KasKick Pros 
Creating a KashKick account is straightforward.

KasKick has a low minimum threshold to withdraw earnings. You can get the funds once you earn a total of $10.

Generous referral program.

Earn quick PayPal cash.

You can estimate payments beforehand. KashKick displays the amount each activity pays in dollars.
KashKick Cons
They don't have a KashKick app yet.

It's only available to people in the US.

It might take a while to earn a decent amount.

Funds processing time is one to three days.
KashKick Reviews On Signup Process
Signing up with KashKick is quick and straightforward. 
You can create an account with your PayPal, email, Facebook, or Google account.
We took less than a minute to create a KashKick account using Google account.
Once your account is live, you can see offers, surveys, games, and other tasks that pay.
Remember, you'll need to complete setting up your profile before completing surveys or playing games. 
Updating your profile helps match you with the right surveys. 
KashKick Reviews On Features
If you're looking to monetize your free time, KashKick is the right place, thanks to its several ways to make money. 
This website can pay you to play games, take paid offers, complete surveys, and more.
1. KashKick Games
Playing games is one of the ways to make money with KashKick. 
Technically, you'll need to download and play games on your phone to earn money.
If you love playing games, then Kashkick will pay you. Some of the popular and high-paying games include;
Monopoly

RAID

Club Vegas Slots

Family Island

Travel Town

Dice Dreams

Domino Dreams

Solitaire

Board Kings

House of Fun

DragonScapes
How Much Do KashKick Games Pay?
KashKick games' pay varies depending on the levels you complete. 
After completing all the game levels, the website will show you the total reward. 
For instance, the DragonScapes game shows a total earnings of $120 on the website. 
However, the levels you finish will determine the total income. 
If you play up to level 26 within the first ten days of installing the app, you'll earn $20. 
Keeping the app on your phone longer and completing all the levels increases your earnings.
2. KashKick Extras
Another exciting way to make money on KasKick is through the extras. 
KashKick works with other reward companies like AdGem, TapJoy, RevU, and GRL Surveys.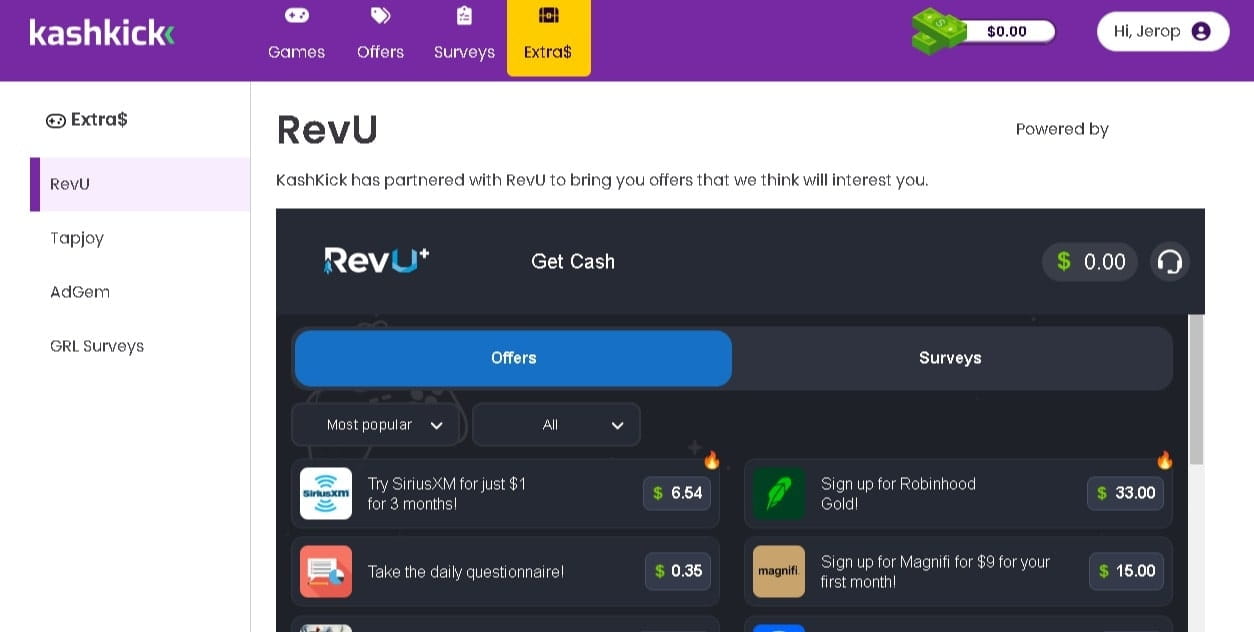 AdGem, for instance, has multiple games that pay to play. 
There are games for Android or Apple to match your device. 
GRL Surveys will pay you for your opinion through KasKick extras. 
These surveys range from easy to quick and hot. 
Complete short surveys and earn if you've got a limited time.  
RevU also pays to perform many tasks, including surveys and playing games. 
Some activities offered by this platform pay upwards of $64.
3. KashKick Surveys
Surveys are some of the paying tasks on KashKick. 
Earn money by giving your opinions to brands that need them. 
Filling out KashKick surveys is a great way to monetize your free time. 
You can complete as many as possible, most of which take five to ten minutes to fill.
The difference between surveys on this platform and other websites is that you earn real cash, not points.
Finish setting up your profile to access paid surveys on the platform. 
How Much Do KashKick Surveys Pay?
KashKick surveys earnings vary, and you can earn an average of $3 per survey. 
4. KashKick Offers
Another way to make money on the KashKick website is through its various offers. 
These can range from surveys to signing up with other products or downloading apps.
For example, you can upgrade to Rewards Checking Plus and make $100! 
There are many tasks to match your specific needs.
5. KashKick Referral Program
KashKick will pay you 25% of new user earnings for every new user you bring. 
Invite your friends, colleagues, and whoever to join KasKick and earn a commission.
KashKick Reviews On Customer Support
KashKick has a 57% five-star rating of the 597 reviews on Trustpilot. 
Most of these reviews agree that KashKick has excellent customer support.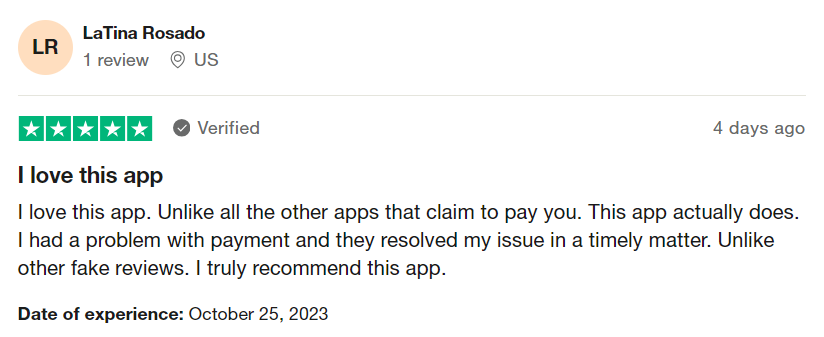 Reliable customer support is crucial when signing up with online reward platforms. 
You could run into issues like fund withdrawal, so responsive customer care is vital. 
However, some of the lowest Kaskick reviews indicate a problem with its customer care. 
One user claims their account was closed upon requesting a $20 withdrawal.
Is KashKick The Right Website For You?
KashKick can be the best to make extra coins during your free time. 
Note that this reward website accepts users with valid US PayPal accounts.
They pay primarily through PayPal, so you must have one. 
KashKick is suitable for you if you want to create income during your leisure time.
Furthermore, this website can help you find amazing deals like sign-up bonuses and discounts.
Create an account immediately, provided you have a smartphone and spare time. 
Do You Pay To Play On KashKick?
KashKick is free to join and participate in its reward programs. 
However, some games require you to pay a subscription to advanced levels.
You can always pick free surveys, games, and offers. 
Read the terms and conditions before participating in a specific task.
KashKick V/S Swagbucks
KashKick and Swagbucks are reward sites, but the difference is that the former pays in dollars, and the latter pays in reward points.
Let us compare KashKick and Swagbucks side by side.
| KashKick | Swagbucks |
| --- | --- |
| Pays through PayPal only. | Offers gift cards and PayPal. |
| | |
| The minimum amount to withdraw is $10. | The minimum to withdraw is $3. |
| Rewards in $ and not redeemable points. | You earn redeemable points. |