N othing feels cutesy than working right to your stylish home bar donning your pajamas and mixing yourself a cocktail. 
Installing a home bar is an excellent idea if you would love to hang out and enjoy your favorite cocktail in the comfort of your home.
However, building a home bar can be pretty pricey. Home Advisor says you can expect to spend an average of $8,000 to install a custom or premade home bar. 
Additionally, the prices could increase if you consider installing a wet bar.
Luckily, the below home ideas are excellent if you're looking for a DIY home bar ideas on a budget.
Best Indoor Home Bar Ideas on Budget
1. Bar Cart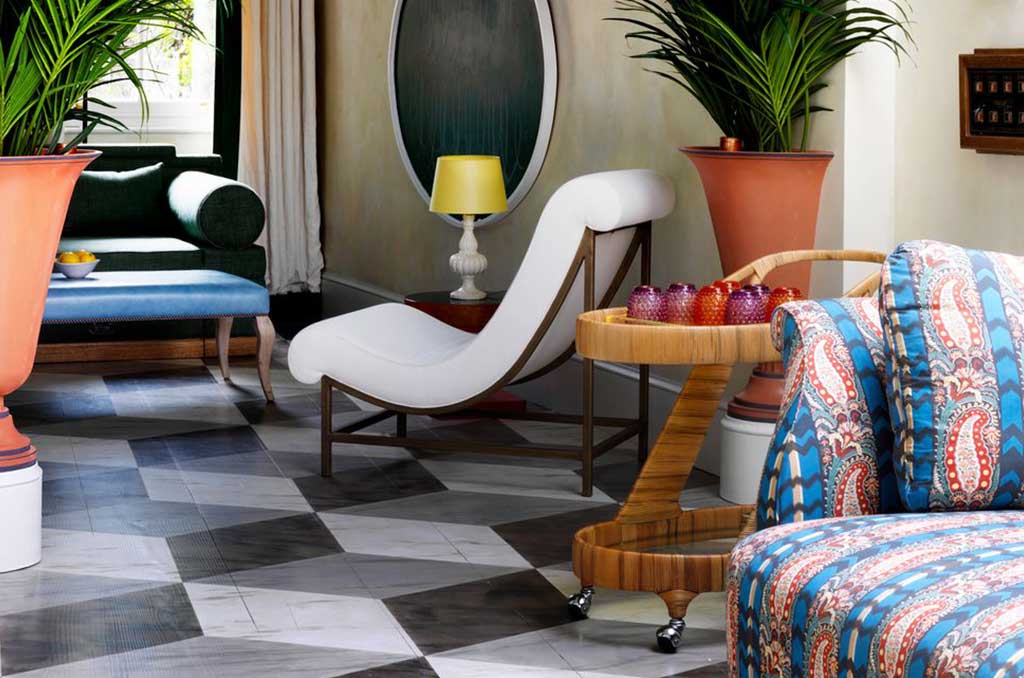 One of the easiest ways to create a bar area in your home is by using a bar cart. 
A bar cart in your living room adds functionality and is a stylish decorative piece. 
The compact size of the cart makes it easy to move around and can be easily tucked away when not in use.
2. Floating Shelves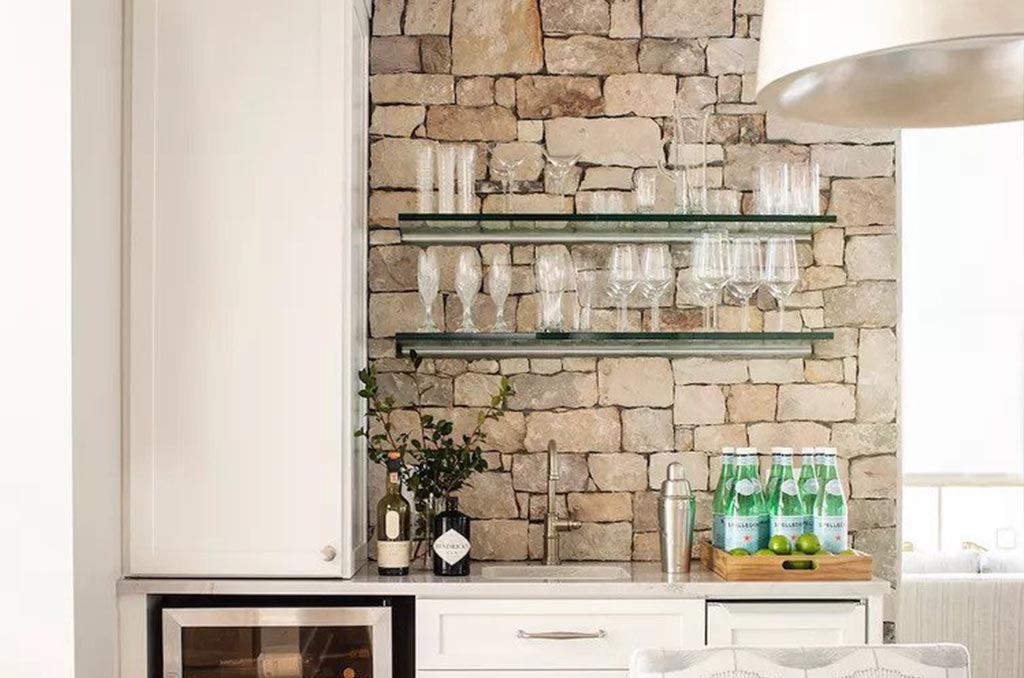 If you have limited floor space, floating shelves can be an excellent alternative to traditional bars. 
Mounted on a wall, these shelves can provide ample storage space for bottles, glasses, and other bar essentials while occupying minimal space. 
The sleek and modern design of floating shelves makes them perfect for contemporary homes.
3. Upgrade Your Bookshelf
Looking to create a stylish home bar without breaking the bank? 
Consider repurposing your old bookshelf or library shelves into a sleek and functional bar. 
With pre-built shelves perfectly sized to fit bottles, transforming a bookcase into a home bar is easy and cost-effective. 
All you need is a bit of dusting and organization to create a chic and functional bar space using items you already have at home.
4. Home Bar Beneath The Staircase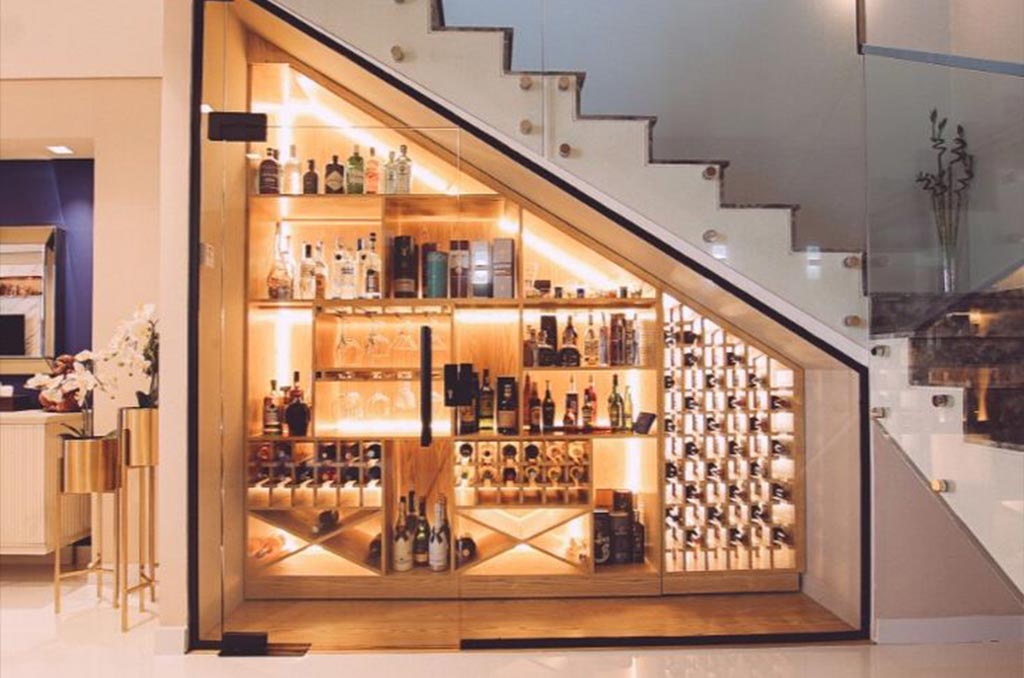 With some creativity and simple additions like outlets, a mini-fridge, and other bar accessories, you can transform this underutilized space into a stylish and functional home bar. 
Not only is this an inexpensive option, but it also allows you to use an odd and often overlooked space in your home.
5. Repurpose A Cabinet
Repurposing a cabinet is another fantastic idea for creating an indoor bar. 
An old china cabinet or bookshelf can be transformed into a stunning bar. Adding shelves and glass holders can create a stylish and functional bar that blends in with your home decor.
6. DIY With Rack
For those who love DIY, creating a bar with a rack is a great way to show off your skills. 
A simple metal or wooden rack can be repurposed into a stunning bar by attaching wooden boards to the top and sides. 
This DIY project is perfect for those wanting to personalize their bar area and create a unique piece.
7. Bookcase Bar
A bookcase bar is a creative way to blend in your bar with your book collection. 
This design uses a bookcase to house bottles, glasses, and other bar essentials. 
With clever styling and a few decorative touches, you can create a unique and elegant bar that will envy your friends.
8. Crate Bar
Another unique idea is the crate bar. 
This design uses wooden crates to create a rustic and charming bar. 
The crates can be stacked, arranged, and painted to create a functional and stylish bar area that creates a cozy home ambiance.
9. Basement Bar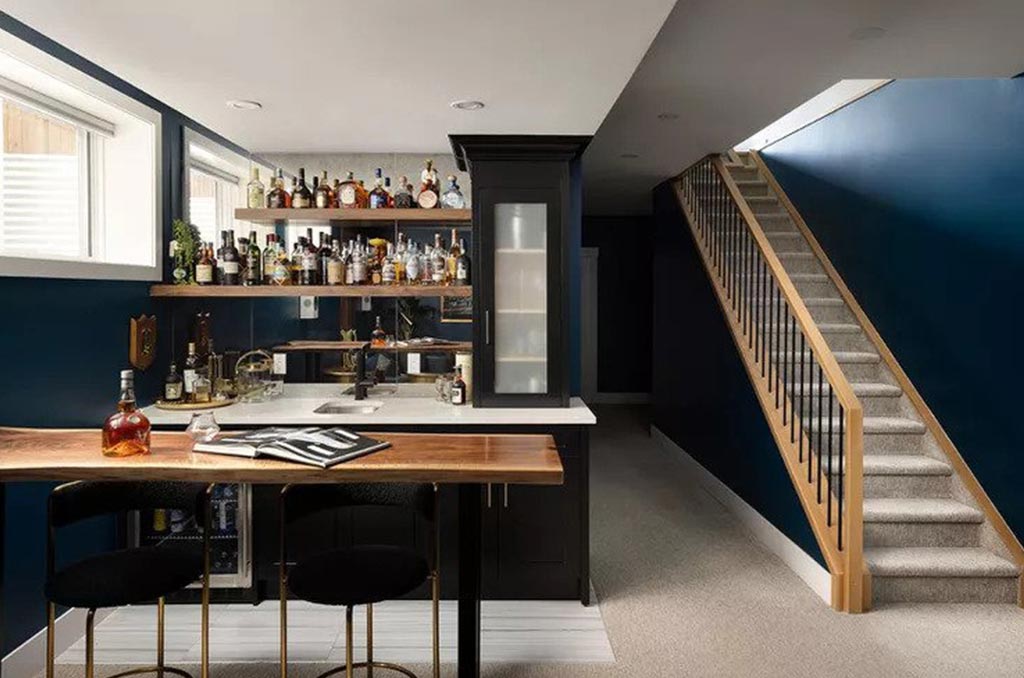 For those who have a basement or garage, converting the space into a bar area can be a great idea. 
With ample space, you can add a pool table, dartboard, and other games to create a full-fledged entertainment area.
This design is perfect for those who love to entertain guests.
10. Upgrade Your Dresser To A Bar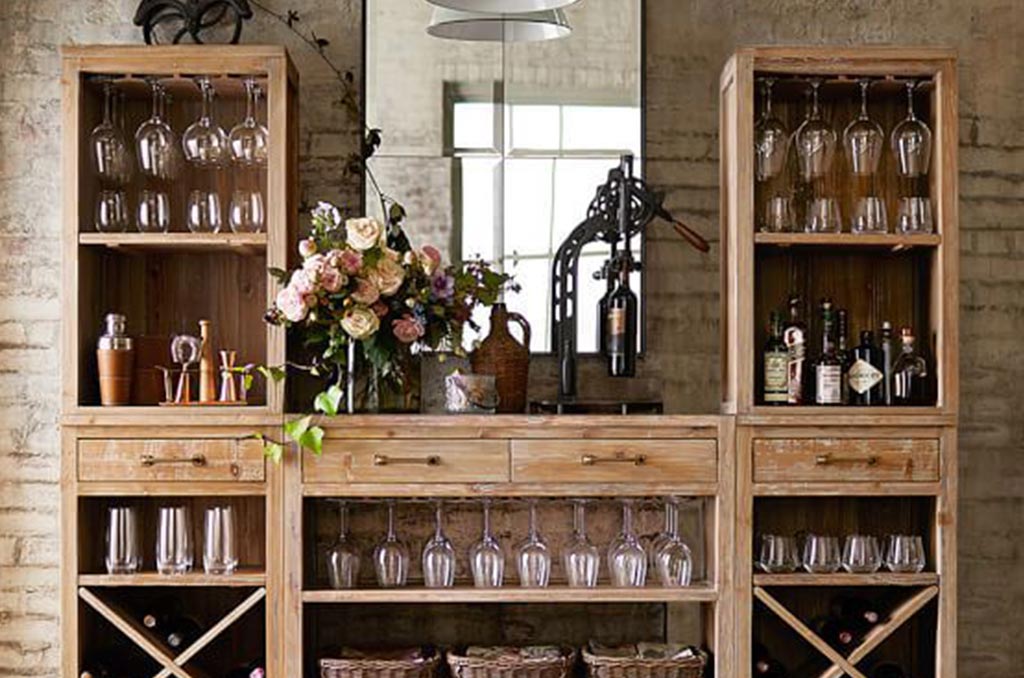 By removing the dresser drawers, you can create shelves and turn them into a functional home bar. 
The top area of the dresser can serve as the mixing and serving space. 
To enhance its appearance, consider adding a fresh coat of paint or other bar accessories to make it look more sophisticated.
11. Balcony Or Terrace
A balcony or terrace bar can be an excellent option if you live in an apartment or have limited outdoor space. 
A small bar table and chairs can transform your outdoor space into a cozy and intimate bar area. 
With a few potted plants and string lights, you can create a charming and inviting bar perfect for relaxing after a long day.
12. Garage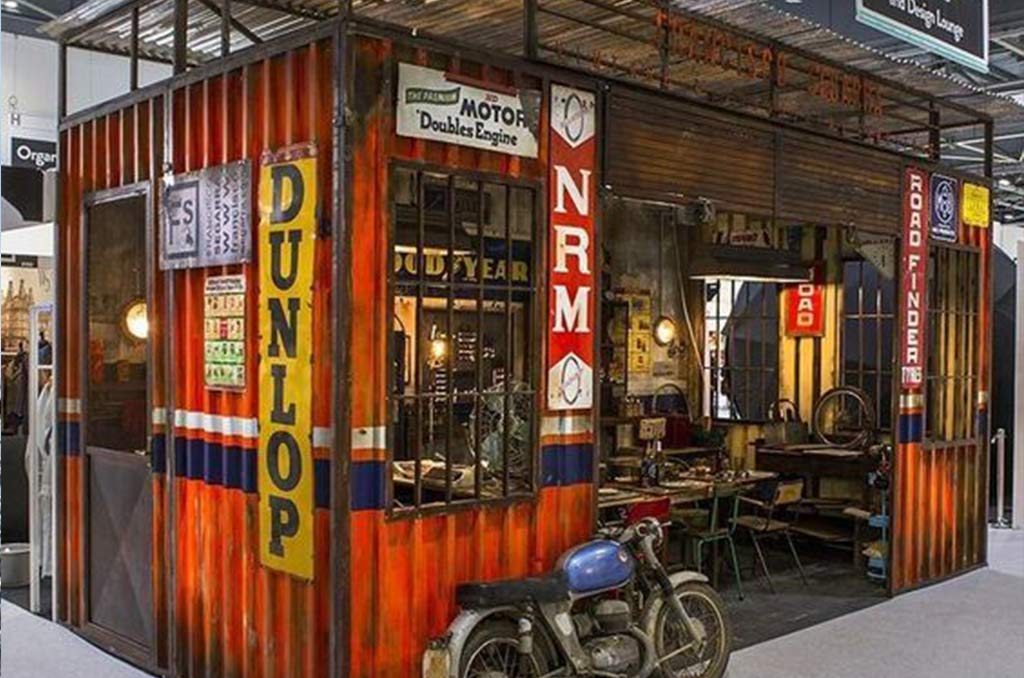 Converting your garage into an indoor home bar is an excellent idea as it transforms unused space into a stylish and functional area for entertaining guests and relaxing with friends and family. 
The garage's open space offers plenty of design potential. With proper insulation, lighting, flooring, and seating, you can create a cozy and inviting atmosphere for enjoying a drink or two.
Best Outdoor Home Bar Ideas on Budget
1. Tiki Hut Bar
A Tiki Hut Bar is perfect for any outdoor living space or backyard. 
These bars typically feature a thatched roof, bamboo or wooden walls, and tropical-themed decor. 
Tiki bars often have a relaxed and laid-back atmosphere, making them ideal for outdoor entertaining. 
They're perfect for hosting summer parties, barbecues, and outdoor events. You can also add some outdoor lighting to create a magical ambiance for your guests.
2. Poolside Bar
A poolside bar is a popular choice for homeowners who want to enjoy their pool while sipping a refreshing beverage. 
These bars can be built right next to the pool, and they often feature a swim-up counter, which allows you to enjoy your drinks without leaving the pool. 
Poolside bars can also be customized to fit your style and taste, with features such as refrigerators, ice makers, and storage cabinets.
3. Rustic Bar Shed
A rustic bar shed may be the perfect option if you're looking for a unique and cozy bar experience. 
These bars typically feature a wooden exterior and can be designed to look like a cozy cabin or cottage. 
Rustic bar sheds often have a cozy and intimate atmosphere, making them perfect for small gatherings or events.
You can add some comfortable seating, a small fridge, and a few decorative elements to create the perfect rustic bar experience.
4. Portable Bar
A portable bar is an excellent option for homeowners who like to entertain but don't have a permanent outdoor bar area. 
These bars can be moved around the yard or even taken to a park or beach for a fun outdoor gathering.
Portable bars can come in various shapes and sizes; some even come with built-in wheels for easy transport. 
They can be made from various materials, such as wood, metal, or plastic, and can be decorated to fit any style.
5. Sports Bar
A sports bar is a perfect addition for homeowners who love to watch sports with friends and family.
These bars can be designed to fit any sports theme, such as football, basketball, or baseball. 
Sports bars often feature multiple TVs, comfortable seating, and sports memorabilia. 
They are perfect for hosting game day parties, creating a fun and exciting atmosphere for your guests. 
You can add a pool table, dartboard, or other games to create a complete sports bar experience.
6. Pallets To An Outdoor Bar
Transforming pallets into a bar is a simple yet effective idea. 
You can create a charming and practical bar by securing the pallets to a sturdy area like the patio and adding a concrete top. 
Consider painting the pallets and incorporating lighting accessories to add some visual interest.
7. Potting Bench
Another great option is repurposing a potting bench into an outdoor bar cart. 
These benches often feature multiple shelves and pegboards, making them perfect for organizing drinks and bar essentials. 
Plus, the wheels make creating a mobile bar cart for outdoor use easy.
8. Bar Next To Grill
If you already have an outdoor grill, consider creating a wet pallet bar next to it for a complete outdoor entertaining space. 
You can take inspiration from DeGoey Designs' outdoor wood bar made from pallets, including a sink for added convenience.
Is It Worth Having A Home Bar?
In an era where going to a social gathering like your favorite cocktail lounge is a risky business—yikes, COVID—a home bar is imperative.
You should consider installing a home bar because it offers the flexibility to entertain yourself and your guests whenever you want.
You don't have to worry about visiting your local bar and cramming your guests in a public space.
A home bar also brings the night-out experience right into your home. 
Perhaps the most important reason is that a home bar provides more security and privacy. You don't have to deal with strangers and worry about your safety.
Furthermore, a home bar can save you money. It is much cheaper to purchase your drinks in stocks from a wholesaler than to spend your money at a local pub.
What To Consider When Setting Up A Home Bar?
First You should consider some crucial factors when designing a home bar on a budget.
First, think of the design style you need for your home bar. Are you looking for a vintage, rustic, or contemporary home bar design?
Also, you need to consider the type of home bar you want to install. There are two types, and these are dry and wet home bars.
A typical dry home bar has a preparation space, seating, and storage. On the other hand, the wet bar features a sink and running water.
Space is another thing to consider when installing a home bar. How much space do you have to install a home bar? Typically, the space available can help determine whether you need a permanent or mobile home bar. Also, the area you have will determine the size of the bar that fits your home.
Another thing is to consider storage. A secure place to keep your drinks, glasses, and other bar accessories are imperative to make your bar experience a breeze.
Importantly, you need to consider the room to install your bar. The common areas for a home bar include the kitchen, dining, basement, shade, patio, and living room area. Whichever place you choose to put your home bar, remember that there are endless home bar ideas to play with and create your dream bar.
Lastly, you need to consider the bar fixtures and accessories.
Conclusion
To sum up, designing a home bar on a budget is a smart way to host parties and enjoy your favorite drinks without overspending.
Using affordable materials and incorporating your flair, you can establish a chic and practical home bar that complements your taste and personality. 
With some creative thinking and DIY skills, you can convert a modest area of your home into an intimate and welcoming bar zone that you and your guests will adore. 
Whether you're a wine aficionado or a mixologist, these home bar ideas are worth exploring.
So, let's toast to an affordable and fashionable home bar. 
Cheers!